Selke Hall
Introduction
Built in 1967, Selke Hall was named after the highly acclaimed Professor of Education, Dr. Erich Selke. This suite-style dorm can house roughly 306 students and is one of the only air-conditioned dormitories on the University of North Dakota's campus. Selke Hall is part of the West Green Dorm Complex and is attached by tunnel to Noren Hall and the Wilkerson Dining Center.
Images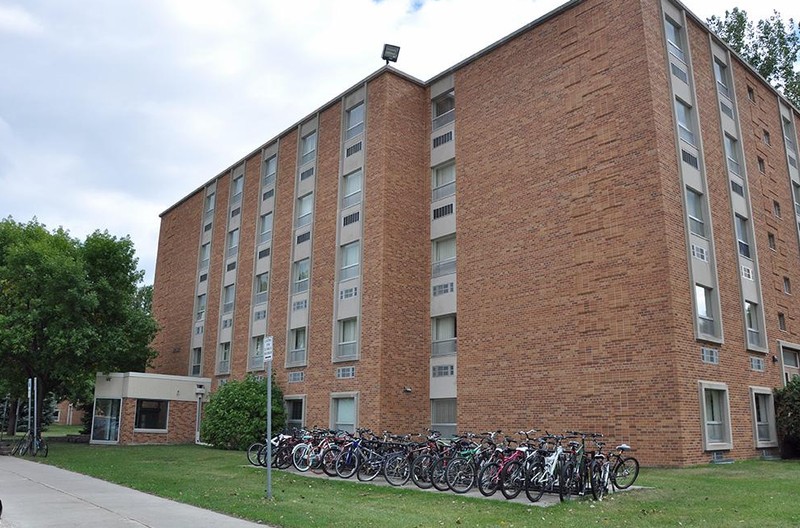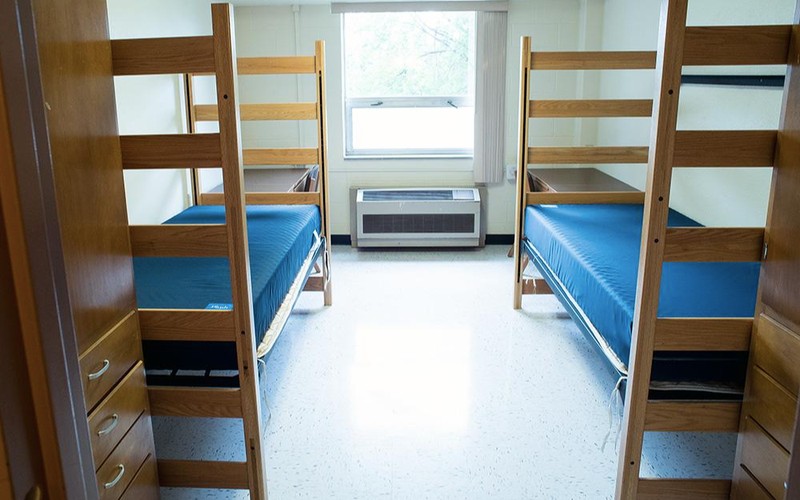 Typical layout of a suite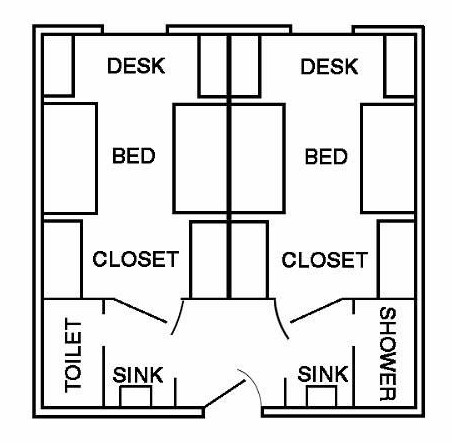 Common area (1 per floor)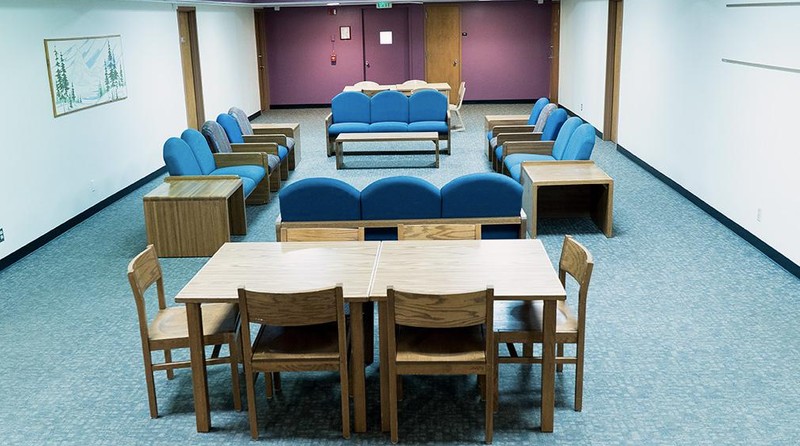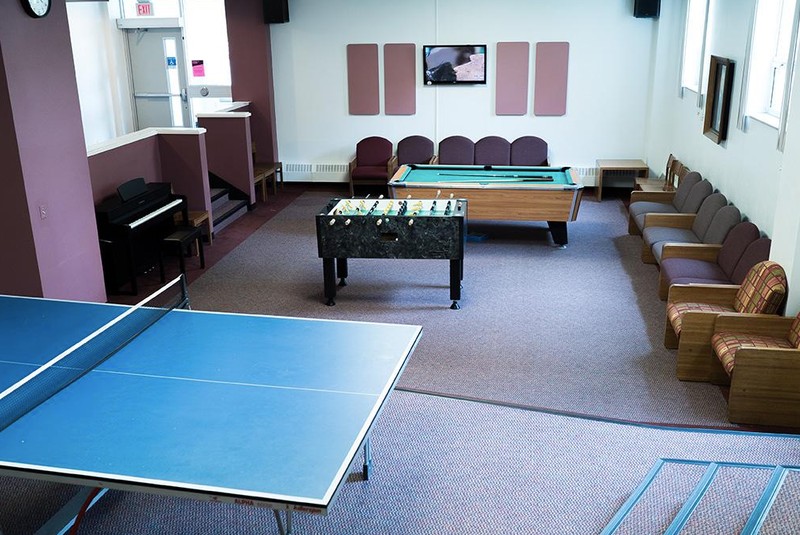 Study areas / Laundry facilities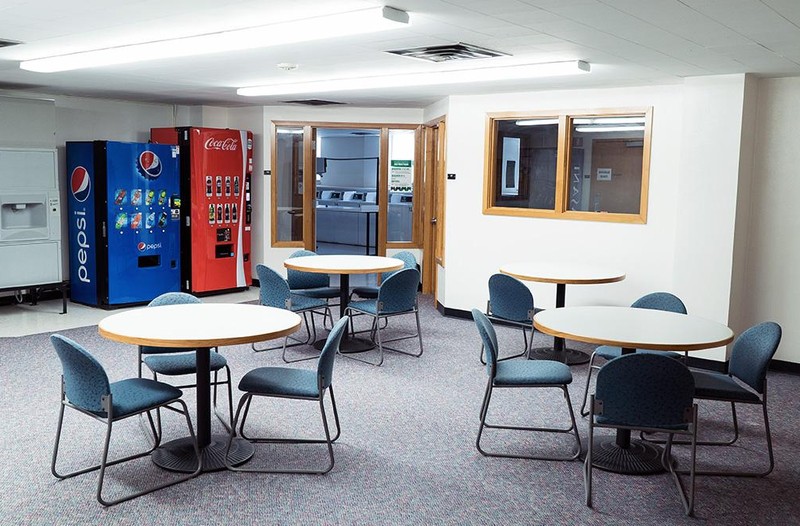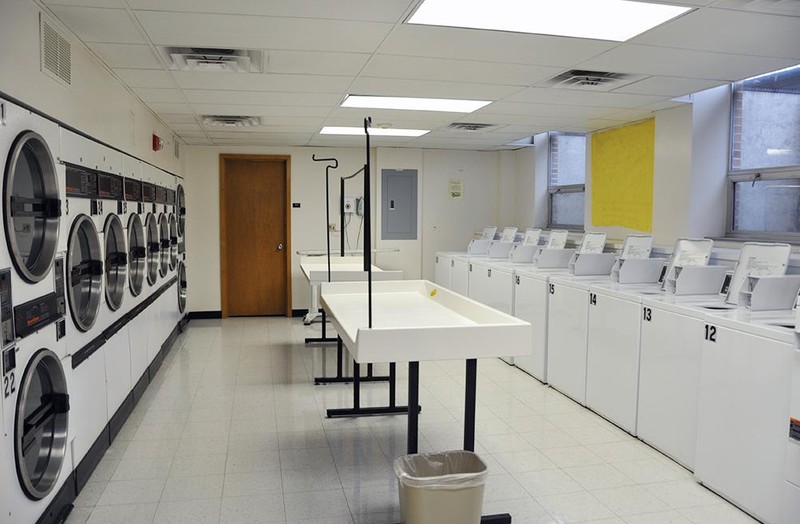 Backstory and Context
Selke Hall is one of the largest dormitories on the University of North Dakota's Campus. The dorm is part of the West Green Dorm Complex, along with Noren, West, and Brannon hall. These dorms are connected by a tunnel to the Wilkerson Dining Center, the main dining hall on campus. Selke hall is referred to as "suite-style" meaning one unit has two or three bedrooms and a shared bathroom. The building has kitchenettes on every floor. On the main floor, there are laundry facilities, a tv lounge, and gaming rooms. The hall was formerly a woman's dorm and nicknamed "psychedelic Selke" due to the bright colors on the walls, wall-to-wall carpeting, and short bathtubs.
The dorm was named after Dr. Erich Selke, who was a very accomplished man with a long history with the university. 
Dr. Selke was a professor of Education at UND, Director of the Teacher Placement Bureau, President of the North Dakota Education Association, and Acting Dean of the College of Education. He was one of the first to receive a Distinguished Teacher Award from the University. He had been described as:
"A tall, ruddy man, with an open friendly manner, he communicated to his students a lively interest and established a cordial, easy relationship tinged with affection" (3)
Born in Lacrosse, Wisconsin, He had received his B.A, M.A, and Ph.D. from the University of Minnesota. In his lifetime, He published a book called The Civics of North Dakota and contributed articles to many journals. He retired in 1956 and died on September 26th, 1966. 
Sources
1- Nastasia, Sorin and University of North Dakota, "UND Housing: Serving You for 125 Years" (2010). UND Departmental Histories. 103. https://commons.und.edu /departmental-histories/103
2- Unknown, "Dormitory to Be Selke Hall, Namesake Dies Monday." The Dakota Student, September 27, 1966. 
3- University of North Dakota, "Erich Selke." Buildings and Landmarks of UND Collection. May 6, 1969.
4- University of North Dakota. Selke Hall, und.edu. Accessed April 26th 2021. https://und.edu/student-life/housing/residence-halls/selke.html.
Image Sources
https://und.edu/student-life/housing/residence-halls/selke.html

https://und.edu/student-life/housing/residence-halls/selke.html

https://und.edu/student-life/housing/residence-halls/selke.html

https://und.edu/student-life/housing/residence-halls/selke.html

https://und.edu/student-life/housing/residence-halls/selke.html

https://und.edu/student-life/housing/residence-halls/selke.html

https://und.edu/student-life/housing/residence-halls/selke.html

Additional Information