Dolores Huerta Peace & Justice Cultural Center (2022)
Introduction
The Dolores Huerta Peace & Justice Cultural Center is scheduled to open at this location in 2022. It will serve as the new headquarters for the Dolores Huerta Foundation. Currently, the property houses the Self-Help Federal Credit Union, which is being incorporated into the design plan for the $20 million cultural center. Dolores Huerta is a legendary activist who was at the forefront of the farm workers movement to improve the lives and working conditions of farm laborers in the United States. Along with César Chávez, in 1962 Huerta co-founded the National Farm Workers Association (NFWA), which became the United Farm Workers Union (UFW). It was the first and largest union for farm workers in the nation.
Images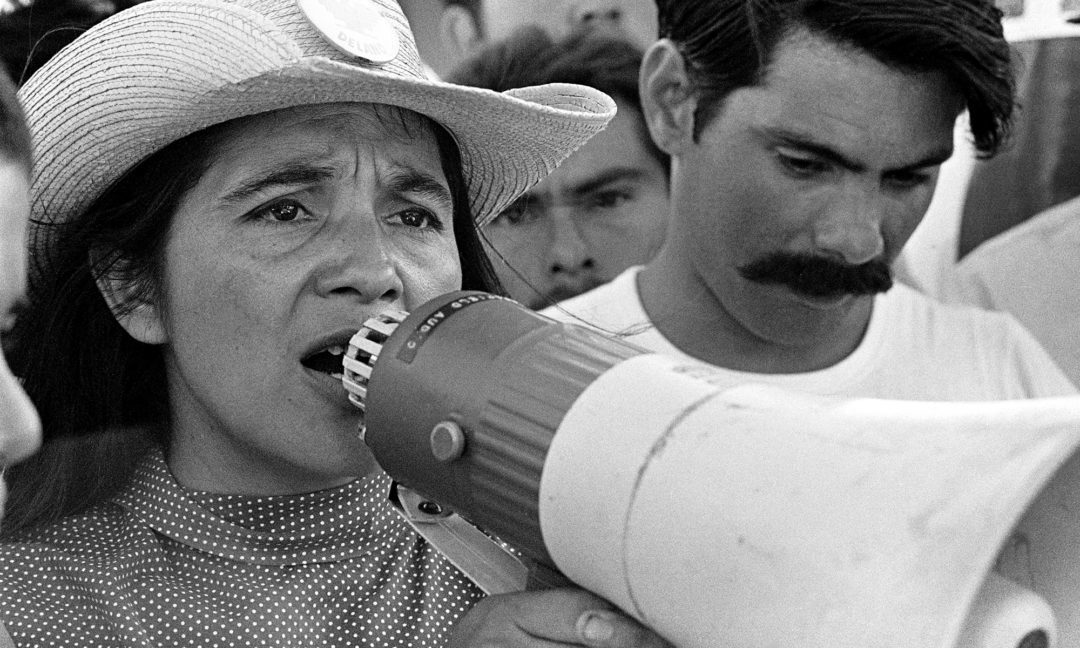 Dolores Huerta at the 1965 Delano Grape Strike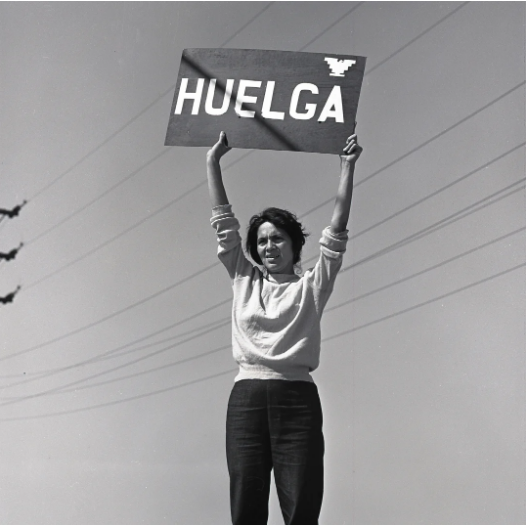 Dolores Huerta, ca. 1970s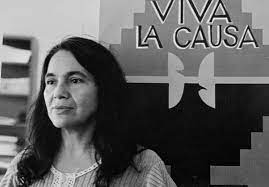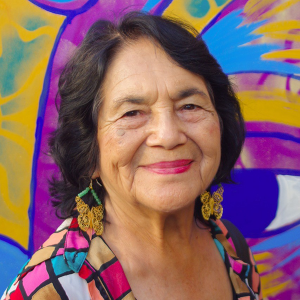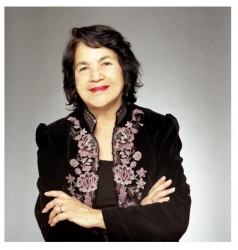 Backstory and Context
Dolores Huerta was born in 1930 in Dawson, New Mexico. Her father was a farm worker, miner, and union activist who was elected to the state legislature in 1938. After her parents divorced when she was three years old, Dolores moved with her siblings and her mother to Stockton, California. Her grandfather helped to raise Dolores and her brothers while her mother worked as a waitress and also in a cannery. Her mother was eventually able to purchase and operate a small hotel and restaurant. The town of Stockton where the family lived was a diverse place and their community was comprised of Mexican, Filipino, Chinese, Japanese, and African-American working families. Her mother was committed to civic affairs and community organizing, often showing compassion by allowing low-wage workers to stay at her hotel without payment.
After receiving an associate teaching credential during college, Dolores began teaching primary school. However, she noticed that many farm workers' children were coming to school barefoot and hungry. This prompted her to begin community organizing and to seek economic justice for the farm workers in the region. In 1955, Dolores founded the Agricultural Workers Association, as well as the Stockton chapter for the Community Service Organization (CSO). Through a mutual acquaintance affiliated with the CSO, she was introduced to César Chávez, who was also organizing farm workers. Together, they founded the National Farm Workers' Association (NFWA). This was a precursor to the United Farm Workers' Union (UFW), which they subsequently established together a few years later after resigning from the CSO. The United Farm Workers' Union was the first and largest farm workers' union in the United States. Huerta served as President until 1999.
In 1965, Dolores Huerta worked to organize the Delano Grape Strike, which lasted five years and involved over 5,000 workers. During the strike, she was beaten and needed to be hospitalized. Despite the gender bias and ethnic discrimination that she faced, Huerta remained a leader in the UFW movement. She led the contract negotiations that ended the grape strike. Throughout the 1960s and 1970s, she continued fighting to improve the lives and working conditions of farm workers through access to healthcare, workers' compensation, and unemployment benefits. In addition, she fought to eliminate the use of pesticides in agriculture, aware that exposure to toxic chemicals was negatively impacting the health of farm workers.
During the 1970s and 1980s, Huerta began lobbying for greater legislative representation for farm workers. In 1975, her political efforts also led to the passage of the California Agricultural Labor Relations Act, which gave farm workers collective bargaining and union rights. By the 1990s and 2000s, Huerta was working towards greater Latinx political representation, especially advocating for Latina women in political leadership roles. During her work with the United Farm Workers' Union, Huerta coined the phrase "Sí, se puede!" which means "Yes, we can!" in Spanish. President Barack Obama later used this phrase during his 2008 presidential campaign. Although it has often been misattributed to César Chávez, President Obama acknowledged Dolores Huerta as the origin of the phrase.
In her approach to social activism, Huerta has maintained a commitment to non-violence, including non-violent direct action. At several points in her life, she has been the target of attacks by law enforcement during strikes or boycotts which she organized and participated in. In addition, her unwavering commitment to the welfare of others caused complications in another significant aspect of her life: her role as mother to eleven children. In interviews, she has spoken about how her work necessitated certain compromises that affected her children. However, most of her children still chose to follow in her footsteps by becoming teachers and activists.
An independent documentary film titled Dolores was produced in 2017. It is a retrospective of Huerta's life. From November 2019 to February 2020, an exhibition titled, Dolores Huerta: Revolution in the Fields / Revolución en los Campos began to travel the country, organized by the Smithsonian Institution Traveling Exhibition Service and the National Portrait Gallery in Washington D.C. This bilingual exhibition (English and Spanish) features archival photographs, interviews, and historical context for Huerta's work. In conjunction with the traveling exhibition, there is a free mobile app with further educational content available for download.
Huerta has been awarded with nine honorary doctorates. In 1998, she received the Eleanor Roosevelt Human Rights Award, and in 2012, she was awarded the Presidential Medal of Freedom by President Obama. As of 2021, the Dolores Huerta Foundation is anticipating the future opening of the Dolores Huerta Peace & Justice Cultural Center in Bakersfield. It will feature art, music, dance, and digital design studios, as well as a self-help federal credit union on the ground level. The cultural center will also include a community organizing training academy, a child development center, and an outdoor amphitheater. In this state-of-the-art space, people will be able to gather to exchange ideas, learn, and participate in the civic, political, and cultural initiatives of the Dolores Huerta Foundation.
Sources
Dolores Huerta, Dolores Huerta Foundation. Accessed April 21st 2021. https://doloreshuerta.org/dolores-huerta/.
Michals, Ed., Debra. Dolores Huerta, Women's History. Accessed April 21st 2021. https://www.womenshistory.org/education-resources/biographies/dolores-huerta.
Price, Robert. Huerta's $20 million downtown cultural center looks 'promising', February 20th 2020. Accessed April 21st 2021. https://www.bakersfield.com/columnists/robert-price/huertas-20-million-downtown-cultural-center-looks-promising/article_32e80b1c-5450-11ea-b135-2b2655c6100c.html.
Price, Robert. $20 million cultural center and amphitheater coming to 21st and H streets, courtesy of Dolores Huerta Foundation, KGET. February 24th 2020. Accessed April 21st 2021. https://www.kget.com/news/local-news/20-million-cultural-center-and-amphitheater-coming-to-21st-and-h-streets-courtesy-of-dolores-huerta-foundation/.
Rothman, Lily. Pioneering Labor Activist Dolores Huerta: Women 'Never Think of Getting Credit' But Now That's Changing, TIME Magazine. March 27th 2018. Accessed April 21st 2021. https://time.com/5211356/dolores-huerta-pbs-documentary/.
Image Sources
Dolores Huerta Foundation

Harvey Wilson Richards/ Harvey Richards Media Archive

Cathy Murphy, Getty Images

Dolores Huerta Foundation

Additional Information