Fitchburg Youth Library Mural by Monique Guthrie and Erin Cregg, 2020, acrylic paint on brick
Introduction
User Uploaded Audio
The Fitchburg Youth Library Mural uses a progressive and highly inclusive adaptation of Greek mythology to capture Fitchburg's remarkable diversity. Contrary to what well-known Greek Gods are normally depicted as, Guthrie and Cregg incorporated various skin tones to reflect on today's society. Continue reading to learn more about Guthrie and Cregg's artistic process behind their mural.
Images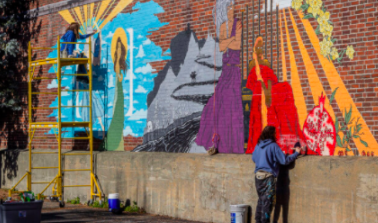 Backstory and Context
User Uploaded Audio
The Fitchburg Youth Library Mural welcomes all library-goers through its celebration of culture and mythology. This 900 square foot mural was completed during the summer of 2020 and was executed by Monique Guthrie and Erin Cregg. In total, Guthrie and Cregg spent 4 months and over 700 hours creating their artwork. The mural employs a modern twist on specific Greek gods that incorporate different skin tones to radiate a sense of inclusion. Since the mural resides on a wall of a youth library in Fitchburg, it was important to mirror its diversity within the painting. When viewing the mural from left to right, one sees this unique interpretation of Zeus, Hera, Hades, Persephone, Artemis, Apollo, Poseidon, and Athena. This project was funded and located with a grant from the Community Development Block Project in Fitchburg.
Having a space that allows proper representation for both the Greek community and the general diversity within Fitchburg was essential for the artists. Illustrating the iconic Greek Gods Zeus, Poseidon, and Athena in different skin tones provides a contemporary perspective on Greek mythology that empowers everyone. Specifically, Monique states, "We wanted to represent the Greek gods to highlight the Greek community… and if any kid can look up and see themselves in art, it is just such an empowering feeling." Art is a potentially transformative medium, and provocative public art can have such an impact on the surrounding community. 
Being able to give back to the community of Fitchburg was essential to Guthrie and Cregg. From family ties to a general love for Fitchburg, their connection to this community is unbreakable. When asked about the initiative to create this specific mural, Guthrie states "We both grew up in the area... I can see the growing arts community and how it makes Fitchburg lively… It has grown to have a nice art and cultural scene." Both artists want to help further the growth of their community by showcasing their eye-catching mural. Their time and dedication have not only transformed a red brick wall into a masterpiece but has highlighted the richness of Fitchburg's artistic and diverse population. 
Sources
Artist website: www.moniqueguthrie.com/mural-art. 
Writer: Declan Coleman
Speaker: Ryan Normand