Welcome to Fitchburg by Jon Allen, 2017, acrylic paint mural on brick
Introduction
User Uploaded Audio
This next artwork on the tour is Jon Allen's acrylic paint mural titled Welcome to Fitchburg. The postcard like mural immediately captures the viewer's attention and brightens up its surroundings with its bold reds and yellows, while the lettering showcases captivating aspects and imagery from Fitchburg's past and present.
Images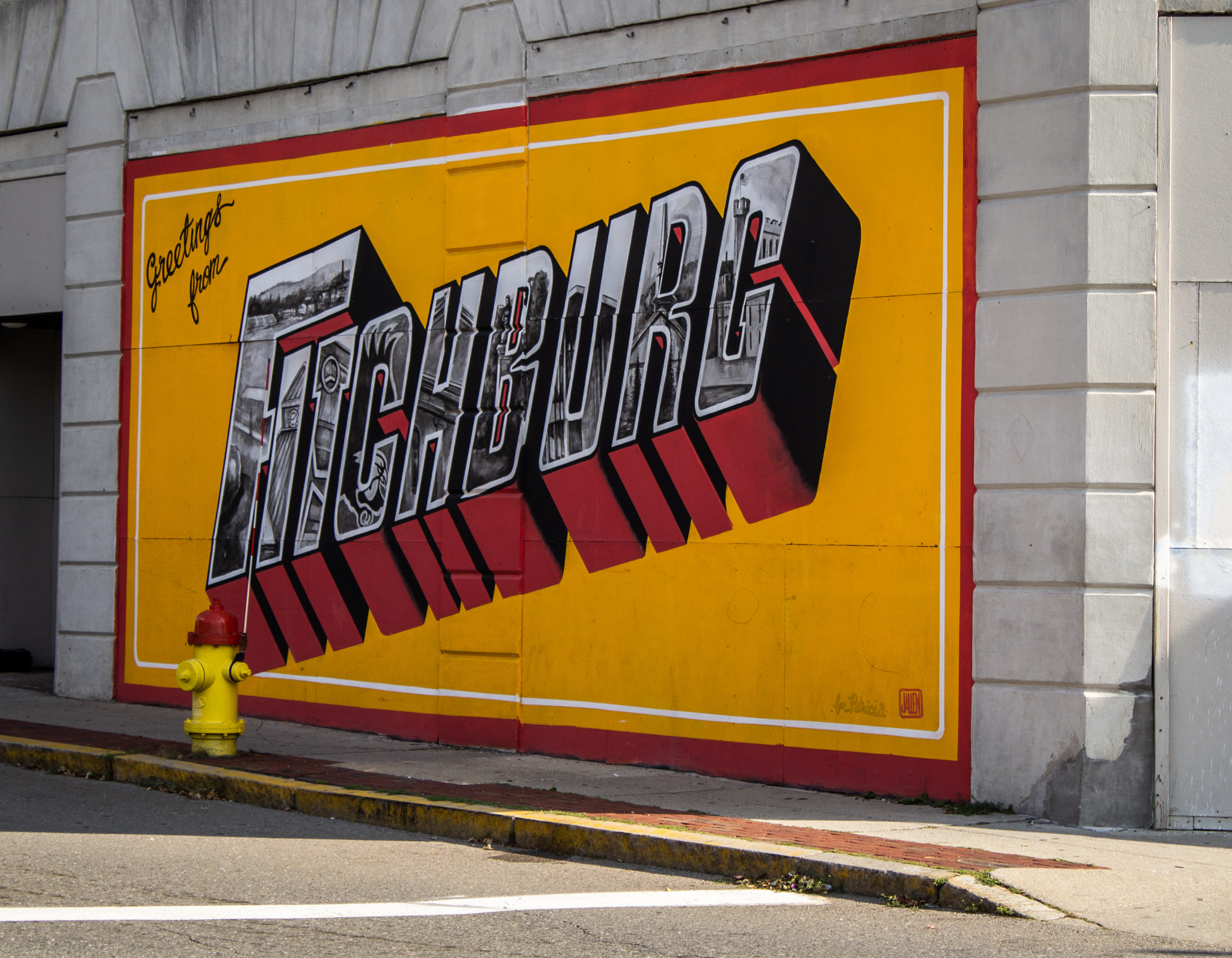 Photo by Stateoftheburbs.com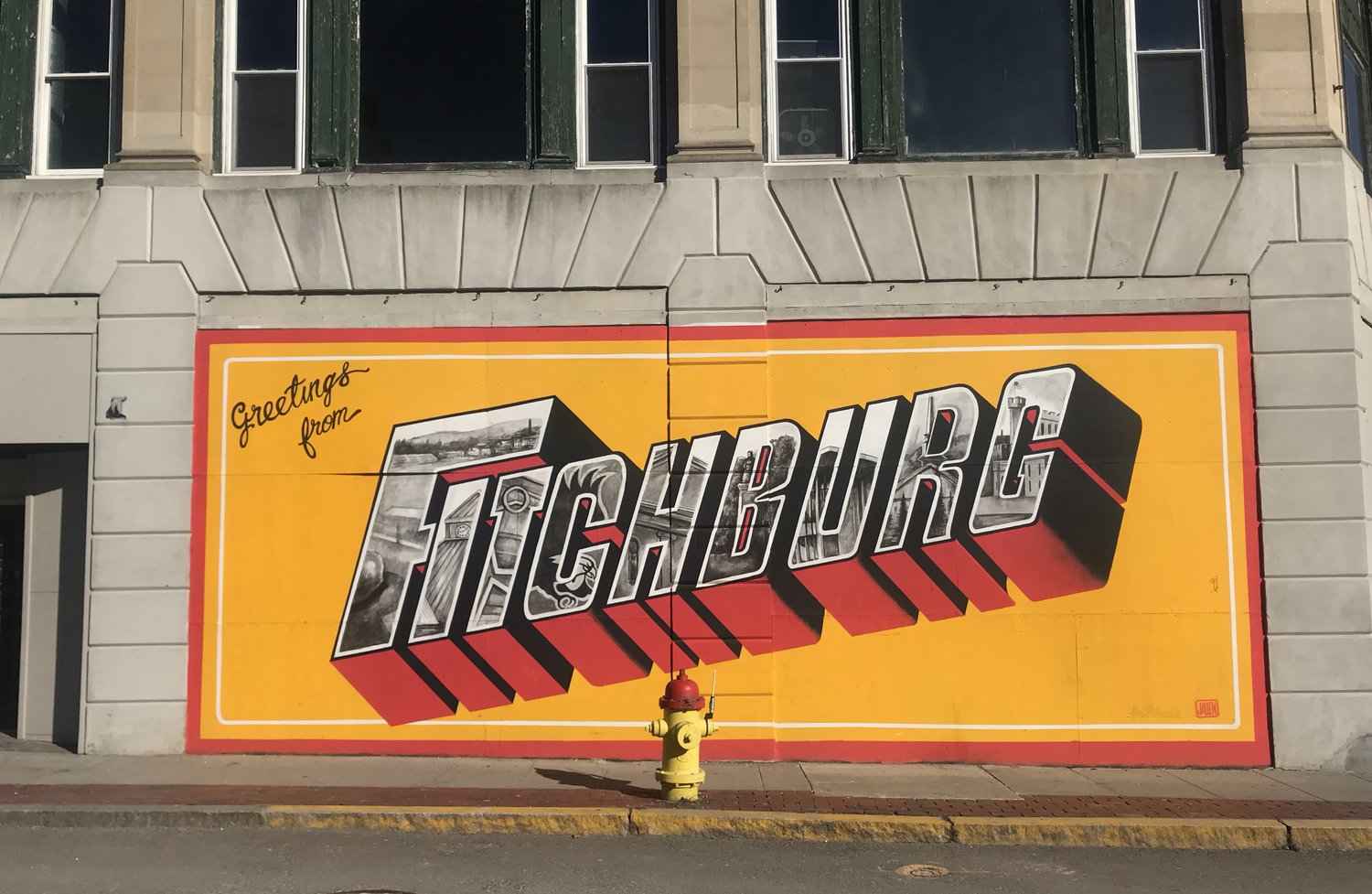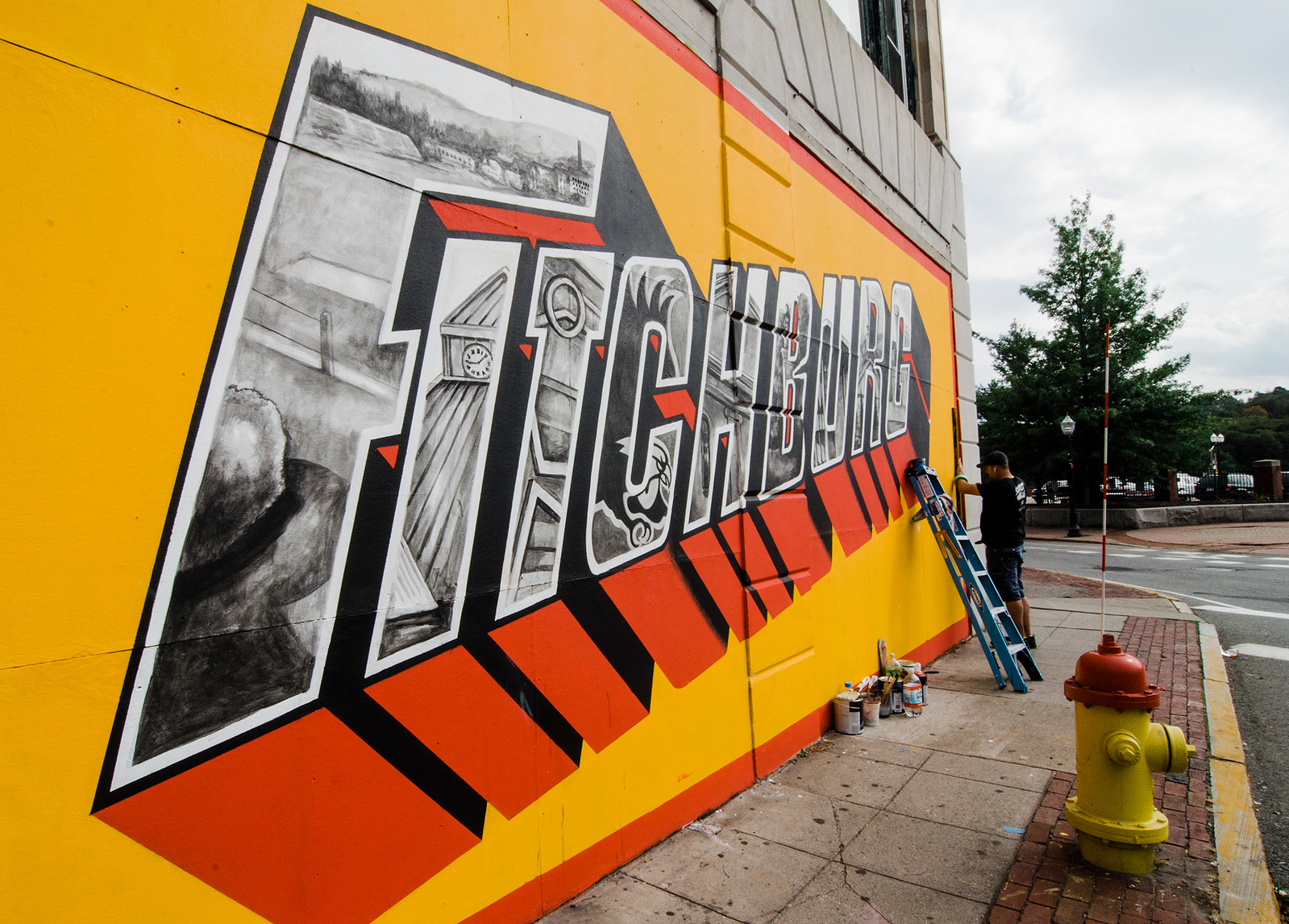 Backstory and Context
User Uploaded Audio
Welcome to Fitchburg uses local iconography and imagery to greet newcomers as well as long time residents to the city. This mural was completed with the collaboration of Jon Allen, a local Fitchburg artist and NewVue Communities. NewVue is a local non-profit focused on civic engagement. The punchy pop art mural was started in the middle of August 2017, and the process lasted about a month and a half, finishing in late September. NewVue partnered with Allen and donated numerous materials to make Allen's vision a reality and beautify the city of Fitchburg. The artwork gives the once plain wall a new bright, bold, and inviting greeting for viewers.
Allen grew up in the Ashburnham and Fitchburg area. Being an integral part of the art community in Fitchburg, Allen consistently works on beautifying the city with the addition of vastly different murals, such as Welcome to Fitchburg. NewVue offered to supply Allen with multiple tools and acrylic paints to complete this artwork. The massive mural located on Pritchard Street resembles that of a postcard and within the lettering are scenes depicting different aspects of Fitchburg. These depictions range from Fitchburg State University to old mill buildings and smokestacks connecting to Fitchburg's origins as a mill town. Originally, the design was supposed to be a visual walking tour of the city of Fitchburg. Allen reflects on how NewVue, "originally wanted a map, like a visual walking tour mural… —but I suggested the postcard-looking typography with different elements of Fitchburg inside the lettering and they liked that."
With the exploding red and orange contrasting the grey lettering, the mural stands out and livens up the area. This burst of color draws your eyes immediately, with the real beauty and soul of the art lying inside. Welcome to Fitchburg depicts the strong sense of human connection and community within the city. 
Sources
Artist website: https://www.jonallenart.com
Writer: Ryan Gaetz
Speaker: Ryan Normand
Image Sources
Stateoftheburbs.com

https://mng-sen.smugmug.com/New-mural-in-downtown-Fitchburg/i-3Hws5jc -Ashley Green