Walking Main, The Leverenz Building, 1002 - 1004 Main Street and the 900 block of Kincaid
Introduction
1002-1004 Main and 900 block of Kincaid. Built in 1922, the Leverenz building has changed very little. The display and transom windows have been updated. The brick pilasters and cornice still have their distinctive 1920's style. The Main Street corner entrance had a recessed alcove. The Spartan Agency entrance has been recessed and the bulkhead redone. The Kincaid Avenue store fronts have been redone with recessed entrances and bulkhead planters.
Images
Leverenz Building, Main Street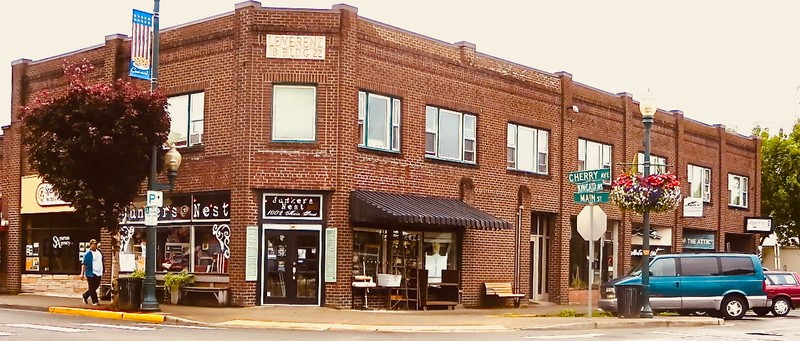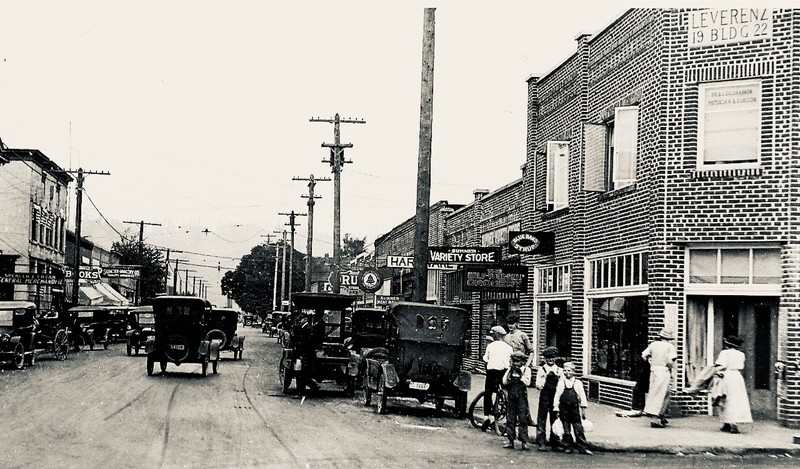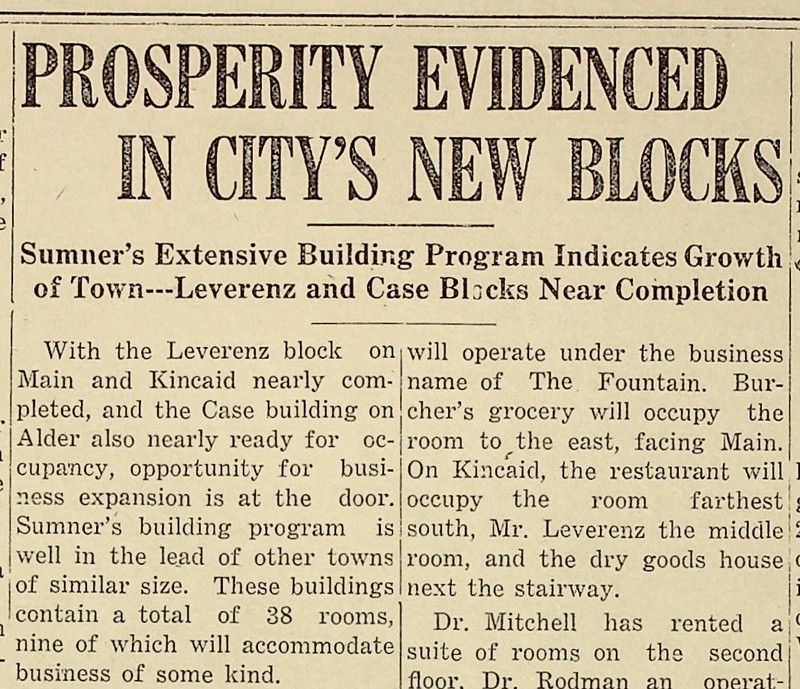 Backstory and Context
The Sumner News Index reported on the first firms in the building. The prime corner storefront was occupied by The Fountain Confectionary and Cafe, owned by Stahlhut & Freidline, It was formally The Sugar Bowl located in another building downtown, The east storefront facing Main was taken by a grocery, owned by M.J. Burcher of Pullalup. (The Help Your Self Grocery). On the Kincaid Avenue side there was Rodger's Dry Goods, Leverenz Toggery and a restaurant, The Club Cafe, in the storefront furthest south. Note that this added up to three storefronts however the Kincaid side has four storefronts. 
The second floor was mostly medical. In the corner location was Dr. Mitchell and Dr. Rodman with an operating room and a shared reception room. Also on the second floor, Dr. Maude Sandy in the two rooms at the south end. The Sumner lending library was given a large room on the second floor.
This building was and still is the most active business center in Sumner.
Over the years the 1002 Main street storefront had other occupants, Frank Sollar's Drug, replaced Beaver's Thrifty Drugs in 1947, Later came The Country Weaver, The Corner gift Box, Paper Muse and Blue Iris Beads, 
The east storefront, 1004 Main has housed Howard Insurance Co. and Washington Gas & Electric. In 1935, the State's Hot House Rhubarb Code Manager, Don Frank, had an office at 1004 Main.
In later times the Kincaid storefronts served as an informal incubator for retail start ups. with businesses establishing themselves and then moving to other locations downtown.The best example was Golden Rule Antiques and Gifts which later moved to Main Street as Golden Rule Bears and became one of the premier teddy bear businesses on the west coast. Other businesses on the Kincaid side were J. Mitchell Photography, Flanigan Insurance, Puget Sound Energy, the post office and the Sumner News Review. The Antique Angler, The Collectable Cat, Joanne's Barber Shop and Out of the Attic.  
Present day. The east storefront is The Spartan Agency, for three generations Spartan has activity supported downtown Sumner. They are a prime example of what makes Sumner strong. The corner storefront is Junker's Nest, a shop featuring home decor, collectables, and antiques. On the Kincaid Ave. side is the Sumner Main Street Association, along with Butterfly Kiss Photography, My Pampered Life and Mode Boutique. 
Sources
Sumner News Index, 
Sumner News Review, 
Puyallup-Sumner Phone Directories, 1925, 1938 
Sumner Historical Society, Sumner High School Annual Collection
Sumner Historical Society, Photograph Collection
Image Sources
Sumner Historical Society, Photograph Collection

Sumner Historical Society, Photograph Collection

Additional Information