Chesapeake and Ohio Coaling Tower
Introduction
The Chesapeake and Ohio Coaling Tower was used to refill the coal reserves of steam engines passing through Thurmond. Trains could pull directly under the structure, at which point a series of gates opened and coal poured into the train via redirectable chutes. In addition to a five hundred ton coal capacity, the coaling tower was also equipped to unload wet sand and replace it with dry sand. The sand was used in the engine along with the coal to keep everything running smoothly. The Fairbanks, Morse, and Company from Chicago designed the structure. An unrecorded New York construction firm built the tower in 1922. The total cost of the coaling station was about $85,000. At seventy feet tall, it would have likely been the tallest building in Thurmond. The Chesapeake and Ohio Railroad (C&O) continued using the cooling tower well towards the middle of the twentieth century, even after other railroads had quit coal entirely. C&O's continued reliance on coal was due in part to how much of the product the railroad transported. However, the coaling tower was eventually abandoned in 1960. Though the physical appearance of the tower has deteriorated, it remains in stable condition, and is one of the most iconic extant structure from Thurmond's heyday.
Images
The tower today. Though its appearance is decrepit, it is structurally sound.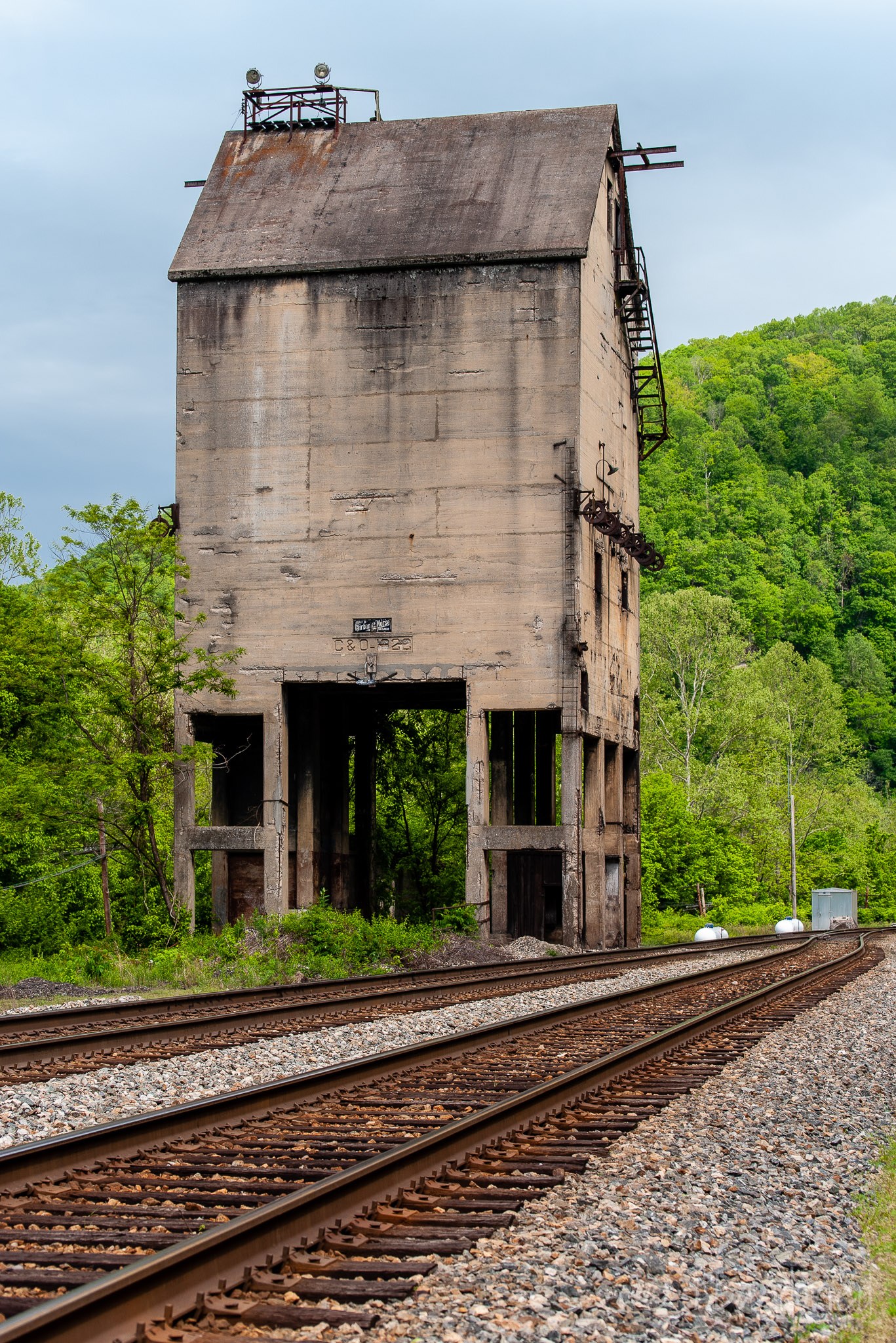 The coaling station under construction in the early 1920s.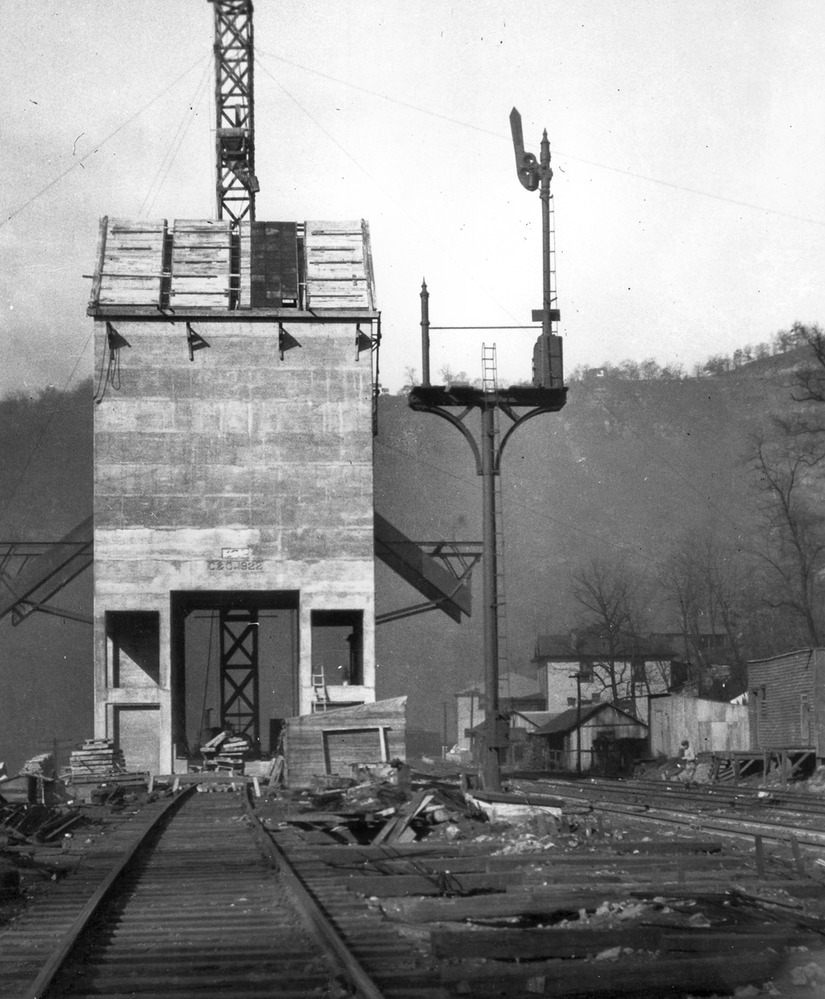 These diagrams of the tower depict how coal moved through the structure. Sources
Chesapeake & Ohio Railroad, Coaling Station, Astride tracks west end Thurmond Yards, Thurmond, Fayette County, WV, Library of Congress. January 1st 1988. Accessed April 29th 2021. https://loc.gov/pictures/item/wv0321/.
Harper, R Eugene. Thurmond Historic District, National Register of Historic Places. September 15th 1983. Accessed April 29th 2021. http://www.wvculture.org/shpo/nr/pdf/fayette/84003520.pdf.
Hitchcock, James. Plans of Chesapeake & Ohio Railroad Coaling Station, Free Model Railroad Plans. Accessed April 29th 2021. https://freemodelrailroadplans.com/buildings/trackside-buildings/plans-of-chesapeake-ohio-railroad-coaling-station/.
National Park Service. "Thurmond Historic Structures Assessment New River Gorge National River West Virginia." Accessed April 29th 2021. http://www.quid-tum.com/documents/thurmond_assessment_report.pdf.
Thurmond Walking Tour, National Park Service. January 6th 2020. Accessed April 29th 2021. https://www.nps.gov/neri/learn/historyculture/thurmond-walking-tour.htm.
Image Sources
Abandoned. Accessed April 29th 2021. https://abandonedonline.net/location/thurmond/.

"Coaling Tower Under Construction." Ca. 1922. National Park Service. Accessed April 29th 2021. https://www.nps.gov/media/photo/gallery-item.htm?pg=0&id=3E9984E4-155D-451F-676B224AC4047EE8&gid=3D726CBE-155D-451F-67157F056D2286BB.

Historic American Engineering Record. Accessed April 29th 2021. https://i1.wp.com/freemodelrailroadplans.com/news/wp-content/uploads/2014/08/Coaling_station_sections_00002a.gif.

Additional Information