Hotel Thurmond/Lafayette Hotel (1891-1963)
Introduction
The Hotel Thurmond was built at this site in 1891 as a simple frame construction. It contained twenty-five guest rooms and was the first lodging business to operate in Thurmond. Its role servicing those arriving by rail was evident in its placement directly abutting the tracks. In 1901, Hotel Thurmond was replaced with the Lafayette Hotel — pronounced "lay-flat" by locals. The Dun Glen Hotel, the first major hospitality competitor in Thurmond, was also completed in 1901, making it likely that the Lafayette was a response to the erection of the Dun Glen. The Lafayette boasted thirty-five guest rooms, seven bathrooms, steam heat, and four hundred electric lights. The ground floor also operated as a storefront for several businesses, including Thurmond's post office. However, these amenities still paled in comparison to the one hundred guest room Dun Glen and its reputation for epicurean extravagance. The Lafayette outlived the Dun Glen, which burned to the ground in 1930. However, the Lafayette was subjected to the same fate when a 1963 fire ravaged the building and adjacent Armour and Company Wholesale Meat Plant. No trace of the Lafayette Hotel remains and the plot of land has sat empty for almost sixty years.
Images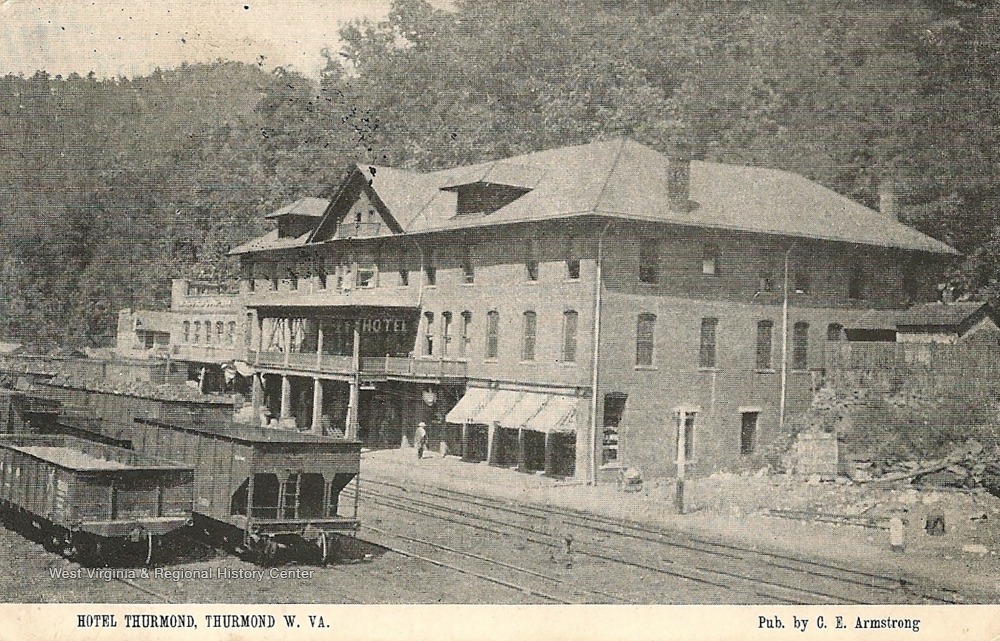 Sources
Harper, R Eugene. Thurmond Historic District, National Register of Historic Places. September 15th 1983. Accessed April 29th 2021. http://www.wvculture.org/shpo/nr/pdf/fayette/84003520.pdf.
National Park Service. "Thurmond Historic Structures Assessment New River Gorge National River West Virginia." Accessed April 29th 2021. http://www.quid-tum.com/documents/thurmond_assessment_report.pdf.
Thurmond, Abandoned. Accessed April 29th 2021. https://abandonedonline.net/location/thurmond/.
Thurmond Walking Tour, National Park Service. January 6th 2020. Accessed April 29th 2021. https://www.nps.gov/neri/learn/historyculture/thurmond-walking-tour.htm.
Tyson, Daniel. Thurmond "a different way of life" (With Video), The Register-Herald. December 27th 2016. Accessed April 29th 2021. https://www.register-herald.com/news/thurmond-a-different-way-of-life-with-video/article_b53e7bfb-7bf3-5756-868e-befe725e2e40.html.
Image Sources
"Train Carts on Tracks in Front of Hotel Thurmond, Thurmond, W. Va." West Virginia & Regional History Center. Accessed April 29th 2021. https://wvhistoryonview.org/catalog/045331.