Jesse R. Zeigler House
Introduction
Constructed in 1910, this home is the result of a chance meeting between Reverend Jesse Ziegler and Frank Lloyd Wright on a voyage to Europe. The home is one of Wright's final Prairie Style homes and represents his only work in the state of Kentucky. The home was constructed during a trip abroad when Wright felt he had hit a creative wall that might require the kind of inspiration that often comes from travel. The primary sketches were drawn by Wright while traveling and then sent back to Wright's Illinois office. As a result, Wright did not oversee the construction but the house exemplifies his famous Prairie Style design.
Images
Ziegler House designed by Frank Lloyd Wright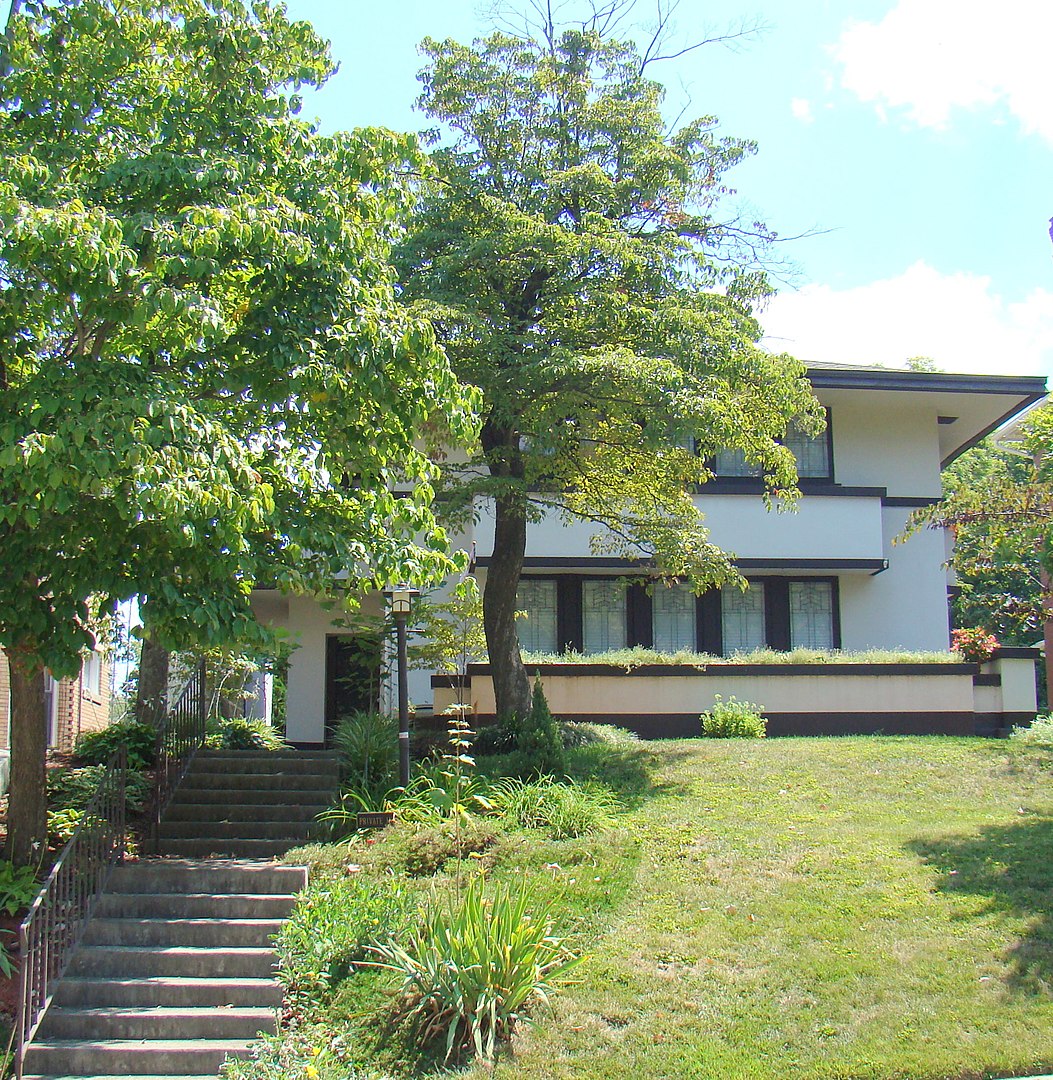 Ziegler House designed by Frank Lloyd Wright. Photo by Cristina Carbone of SAH Archipedia at https://sah-archipedia.org/buildings/KY-01-073-0099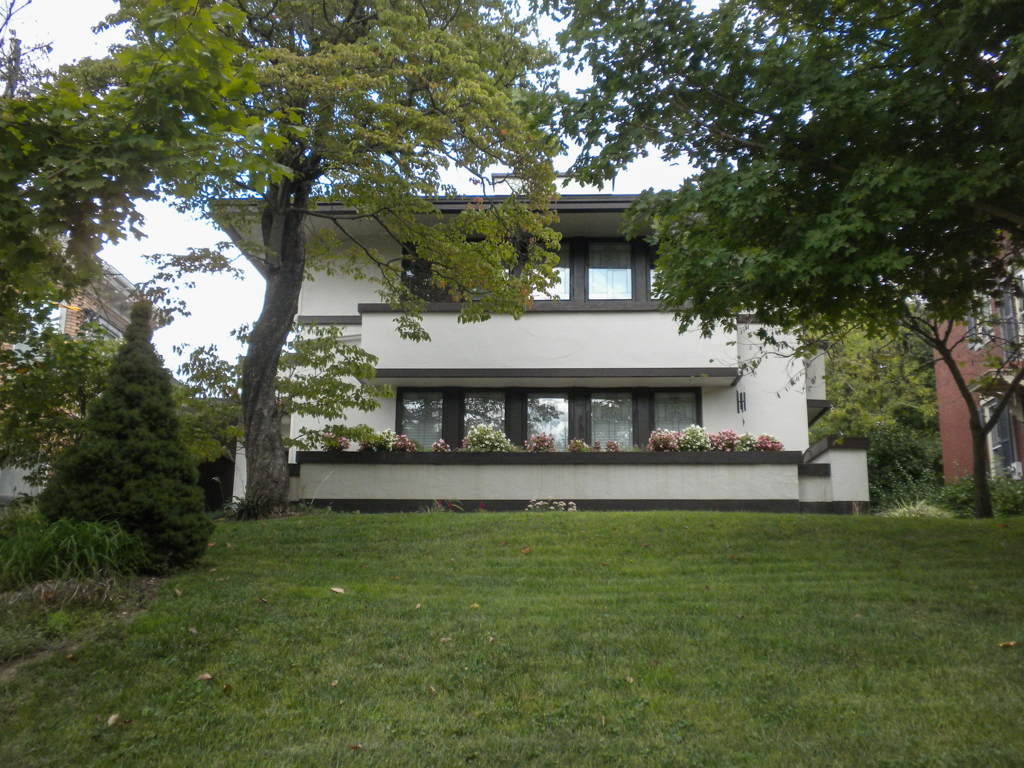 Blueprint of the Ziegler House first floor designed by Frank Lloyd Wright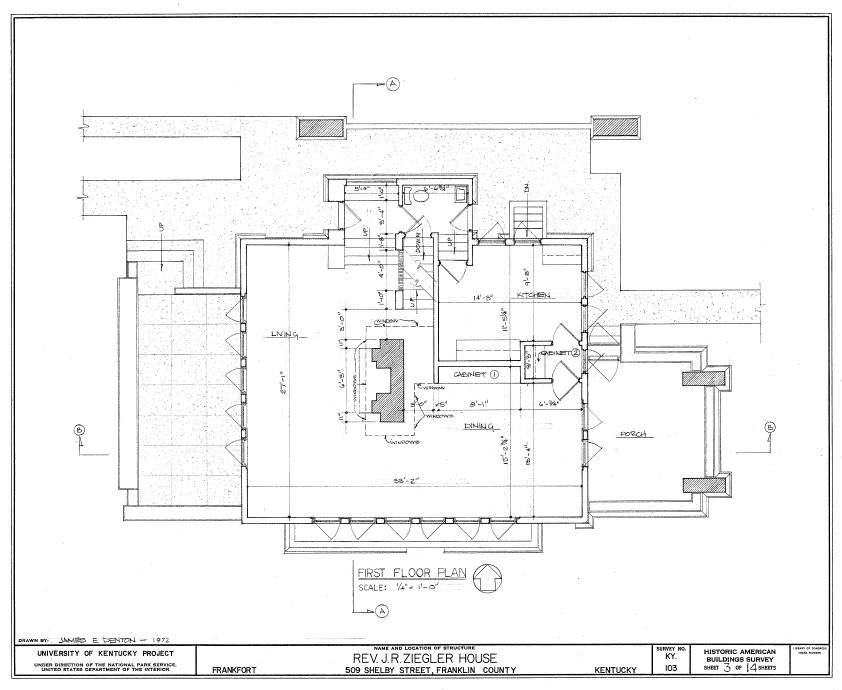 Blueprint of the Ziegler House second floor designed by Frank Lloyd Wright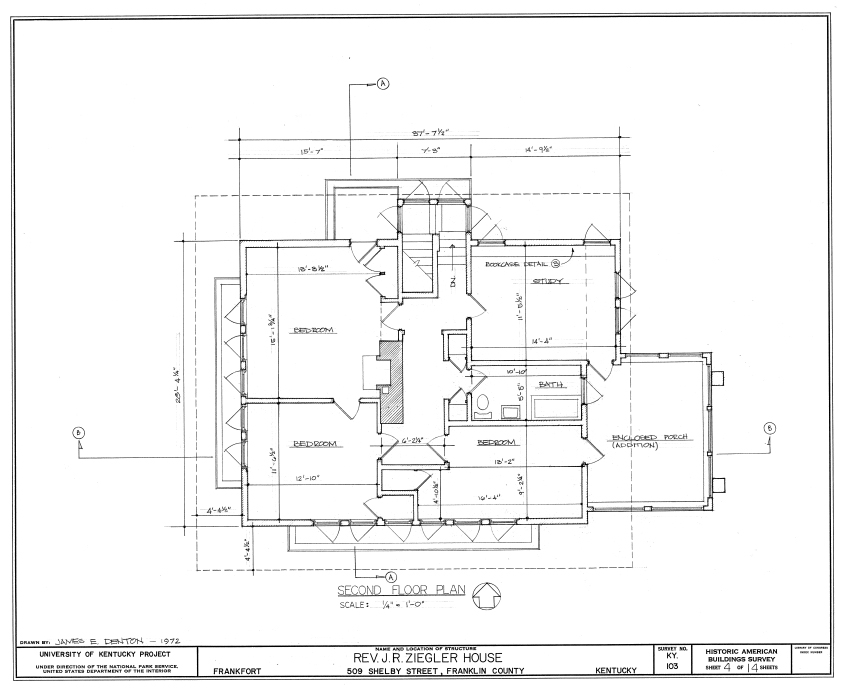 Backstory and Context
The Zeigler house is the only building designed by Frank Lloyd Wright in Kentucky, coming during the end of his "Prairie Houses" phase. As a quintessential Prairie-Style home, it's an example of one of the many Lloyd developed and hoped could become a model for popular suburban housing. 
In 1909, as Wright noted in his autobiography, the architect felt exhausted and at a creative dead end, and reported that he even felt that he had lost interest in his work. His solution involved a complete break from his normal life as he decided to spend a year in Europe with the intent of leaving his work behind. While on the voyage across the Atlantic, he met Reverend Jessie R. Zeigler, a young Presbyterian minister from Frankfort, Kentucky. Zeigler asked Wright to design a house for him, and Wright responded by drawing a few preliminary sketches of the home while en route to Europe. Wright continued to Italy to complete his sabbatical while Ziegler returned to Frankfort with Wright's drawings.  
Though Wright's direct connection to the house ended with those preliminary designs, he did send the sketches to his office in Oak Park, IL, where they were completed. Zeigler then hired a builder to construct the house using Wright's design. In 1949, Carl Sclarenco presented a paper, "A Prairie House in Kentucky, " to Professor Walter L. Creese of the University of Louisville about the home. In preparing to present the paper, Sclarenco reached out to Wright, who responded in 1948: 
My dear Mr. Sclarenco: 
I did build the house, and we have the drawings. The plans were sent to the Zeiglers, and they employed a builder.
I never saw the house until my visit to Lexington last spring. It all seems normal except the strange cabinet above the fireplace. Some liberties taken there?
Sincerely yours,
Frank Lloyd Wright
The house was not only one of Wright's last Praire House designs, it became the architect's first building erected south of the Ohio River. The Zieglers lived in the home for a few years before leaving Frankfort in 1916. The property changed hands several times during the Interwar Period, often used as a rental property. Because of its connection to Wright and its prime location in Frankfort (not far from the Capitol Building), distinguished guests often stayed in the home, including Judge Simeon Willis, who later became the governor of Kentucky. 
From the late 1940s through today, the home has been privately owned and well-maintained. To see the home today is to see a fine example of Wright's work, but also a monument to a chance meeting between a reverend and a famous architect who, ironically, took a voyage to get a break from his work. 
Sources
Carbone, Cristina. "Reverend Jessie R. Ziegler House." Society of Architectural Historians. SAH Archipedia. Accessed May 4, 2021. http://sah-archipedia.org/buildings/KY-01-073-0099. 
Langsam, Walter E. "Nomination Form: The Reverend Jesse R. Zeigler House." National Register of Historic Places. nps.gov. 1975. https://npgallery.nps.gov/GetAsset/2e56b8f2-c919-4d02-94a5-e9a5b9861cba. 
"Rev Jesse R. Zeigler House." Frank Lloyd Wright Sites. franklloydwrightsites.com. Accessed May 4, 2021. https://franklloydwrightsites.com/kentucky/zeigler_house.html.
Image Sources
By FloNight (Sydney Poore) and Russell Poore - self-made by Russell and Sydney Poore, CC BY-SA 4.0, https://commons.wikimedia.org/w/index.php?curid=4577965

Cristina Carbone of SAH Archipedia https://sah-archipedia.org/buildings/KY-01-073-0099

By James E. Denton; in collaboration with the University of Kentucky - Historic American Buildings Survey, Public Domain, https://commons.wikimedia.org/w/index.php?curid=10767802

By James E. Denton; in collaboration with the University of Kentucky - Historic American Buildings Survey, Public Domain, https://commons.wikimedia.org/w/index.php?curid=10777705

Additional Information