Wright's Tavern
Introduction
Wright's Tavern was built in 1747 by Ephraim Jones. Jones operated the tavern until 1751 and twenty three years later, it was the site of the first meeting of the Massachusetts Provincial Congress. In April 1775, the tavern was the assembly point for Concord's Minutemen before the Battles of Lexington and Concord. The building has been well-preserved since the colonial period and is historically significant given the building's association with the Battle of Lexington and Concord at the start of the American Revolution.
Images
Wright's Tavern, built in 1747 at Concord, played a colorful role in events leading up to the War for Independence, and in the fighting which marked the war's first day (National Park Service)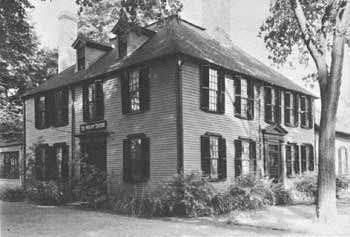 Information plaque from the front of the Tavern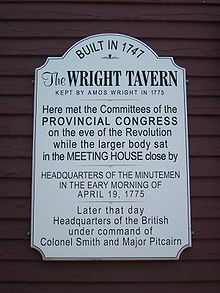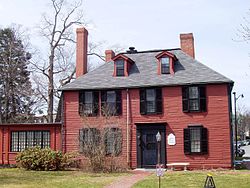 Backstory and Context
Wright's Tavern was managed by Amos Wright at the dawn of the American Revolution. On April 19, 1775, local militia gathered here prior to the skirmish at Concord's North Bridge.
The Massachusetts Provincial Congress met prior to this time in October 1774, at the First Parish Church. Wright's Tavern also served as a meeting place for committees of the Congress during the 5-day session.
Sources
(1) http://www.cr.nps.gov/history/online_books/colonials-patriots/sitec21.htm
Additional Information