First National Bank
Introduction
Constructed in 1938, this downtown building is significant for its architecture as well as its association with the National Bank of Greenville, the first national bank chartered in the state of South Carolina. The institution later changed its name to First National Bank. In terms of architecture, the building is Greenville's only major example of an Art Deco structure and is now a branch location of TD Bank.
Images
Built in 1938, the historic First National Bank building is an excellent example of Art Decor architecture. It is now home to a TD Bank branch.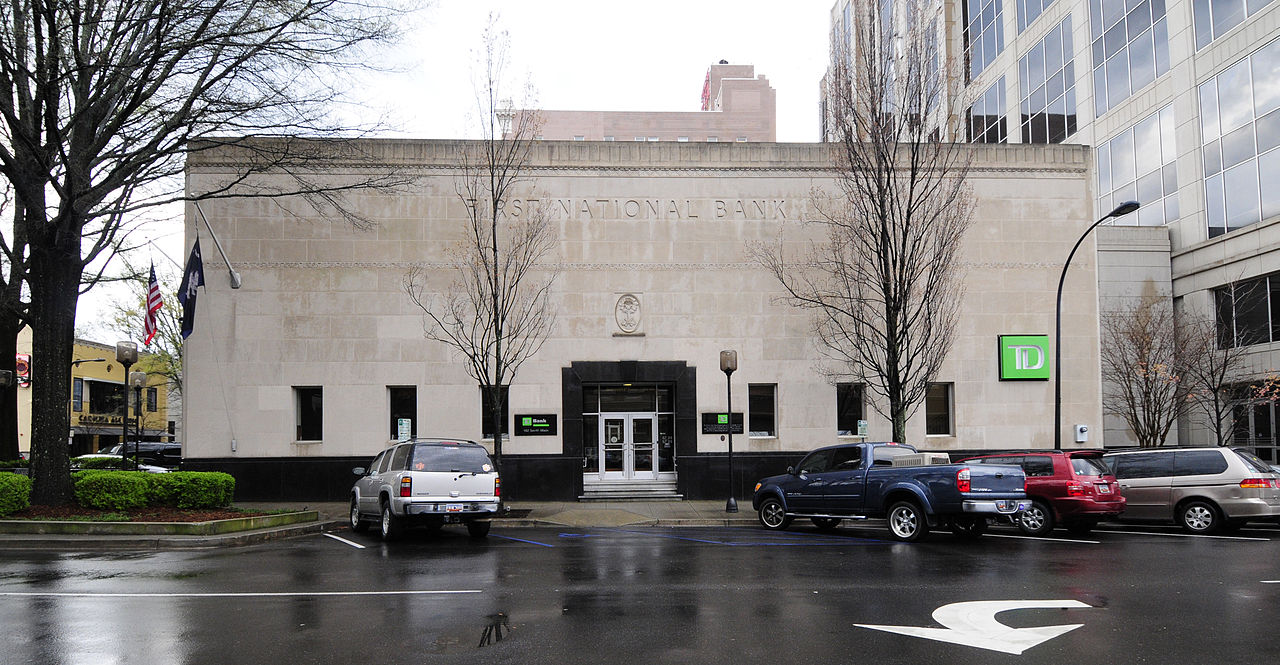 Backstory and Context
The National Bank of Greenville was founded by Hamlin Beattie in 1872 and remained the only bank in Greenville until 1887. Beattie's grandson and bank president, Fountain Fox, commissioned the construction of a building in 1917 at the corner of Main and McBee Streets. The bank remained there until the present building was erected in 1938. Architect Silas L. Trowbridge designed the new building (he also designed the 1917 building). It is two-and-a-half stories tall and features a sandstone exterior with a polished Black granite door frame and base, decorative sunburst aluminum grill above the main entrance doors and in the flanking windows, fluted aluminum columns topped with eagles on either side of the doors, and a sandstone eagle above the Black granite keystone above the main entrance. The building was expanded in 1952 and added to the National Register of Historic Places in 1989.
Sources
Bainbridge, Dr. Judith T. "First National Bank." National Park Service - National Register of Historic Places Nomination Form. December 21, 1989. https://en.wikipedia.org/wiki/First_National_Bank_(Greenville,_South_Carolina).
"South Carolina's First National Bank." The Historical Marker Database. Accessed May 5, 2021. https://www.hmdb.org/m.asp?m=17337.
Image Sources
Bill Fitzpatrick, via Wikimedia Commons: https://commons.wikimedia.org/wiki/File:First_National_Bank_Historic_Building.jpg

Additional Information