Tillman Hall
Introduction
Tillman Hall is the original building on the Winthrop University campus. Originally known as Main Building, it was built in 1894 and given its current name in 1962 after former governor and avowed white supremacist, Benjamin Tillman. In addition to being the focal point of the campus, it is also one of the few surviving examples of Richardsonian Romanesque architecture in the state. It appears the building currently houses administrative offices. It was added to the National Register of Historic Places 1977.
Images
Built in 1894, Tillman Hall was the first building erected on the university's campus.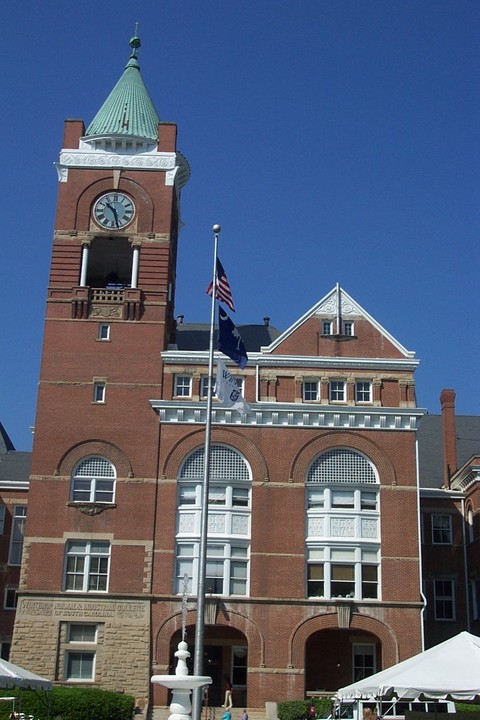 Backstory and Context
Winthrop University
Winthrop University was founded in 1886 as the Winthrop Training School for Teachers. It was located in the chapel of the Presbyterian Theological Seminary in Columbia, SC. The effort to establish it was led by Dr. David Bancroft Johnson, who received help from philanthropist Robert C. Winthrop and the Peabody Education Foundation, which was headed by Robert C. Winthrop, for whom the school was named. In late 1891, the state acquired the school and renamed it the South Carolina Industrial and Winthrop Normal College, thus becoming the first state-sponsored college for women in South Carolina. The school was renamed to Winthrop College, the South Carolina School for Women in 1920. In 1972, the school became co-ed and its name was shortened to Winthrop College. It became a university in 1992.
Tillman Hall was built between 1894-1895. The three-story building (it also has a basement and attic) forms a "T" shape and features a square bell and clock tower, and double-arched vestibule at the main entrance, and several arched windows on the third floor. Over the years, Tillman Hall has housed classrooms, an art gallery, a swimming pool, the library, offices, and a museum.
Benjamin Tillman
Benjamin Tillman (1847-1918) served as governor from 1890-1894 and then as U.S. Senator from 1895 to 1918. He was born on his family's large plantation in northwestern South Carolina, a region known as the Upcountry. The family was wealthy and owned dozens of slaves. As an adult, Tillman was staunchly against African Americans acquiring civil rights. He was a leader of a paramilitary organization called the Red Shirts that operated in the late 19th century. The Red Shirts used violence and intimidation to support the Democratic party, which supported white supremacist policies, and to oppose all efforts to grant civil and voting rights to African Americans.
The most notorious incident Tillman was involved in was the "Hamburg Riot" massacre in 1876, during which he and other white men murdered six African Americans. The purpose of the incident was to intimidate African Americans from voting in that year's governor's race (the Democratic candidate won, marking the end of the Reconstruction era in the state). While in office as governor and senator, Tillman often encouraged violence African Americans, perhaps most notably in an 1892 speech in which he declared "I would lead a lynching." He also supported legislative policies to disenfranchise African Americans.
In June 2020, the Winthrop University Board of Trustees sent a resolution to the state requesting to allow the university to rename Tillman Hall as Main Building. According to state law, two-thirds of the state legislature must approve of any removal of flags or memorials to historic individuals or events on any public property.
Sources
"History and Traditions." Winthrop University. Accessed May 10, 2021. https://www.winthrop.edu/aboutus/history/index.aspx.
Stevenson, Debbie. "Tillman Hall." National Park Service - National Register of Historic Places Nomination Form. December 2, 1977. http://www.nationalregister.sc.gov/york/S10817746007/S10817746007.pdf.
"Tillman, Benjamin Ryan." South Carolina Encyclopedia. June 28, 2016. Last Updated January 19, 2019. https://www.scencyclopedia.org/sce/entries/tillman-benjamin-ryan.
"Virtual Tour." Winthrop University. Accessed May 10, 2021. https://www.winthrop.edu/virtualtour/building-tour-tillman-hall-1894.aspx.
"Who Was Ben Tillman." Historic Columbia. Accessed May 10, 2021. https://www.historiccolumbia.org/Tillman.
Image Sources
Wikimedia Commons: https://commons.wikimedia.org/wiki/File:Tillman_Hall.JPG

Additional Information