Manhattan Carnegie Library Building
Introduction
This historic library opened in 1904 thanks in part to a matching grant from Andrew Carnegie and community funds. The library opened with a collection of 1,000 items and with Mary Cornelia Lee as the library's first director. She served nearly forty years, while the library building was constructed nearly fifty years after Manhattan established its first library association during Kansas' territorial period. That era of Kansas history was famous for violent struggles, something industrialist Andrew Carnegie knew well; his steel company used a variety of methods to pacify their workforce. An 1892 strike at one of Carnegie's mills culminated in hired "detectives" killing several striking workers. Later in life, Carnegie embraced the role of philanthropist, spending ninety percent of his fortune (more than $330 million in 1915 dollars) on community projects, including thousands of libraries. More than sixty of those Carnegie-funded libraries were erected in Kansas, including the Manhattan Carnegie Library building in 1904.
Images
Manhattan Carnegie Library Building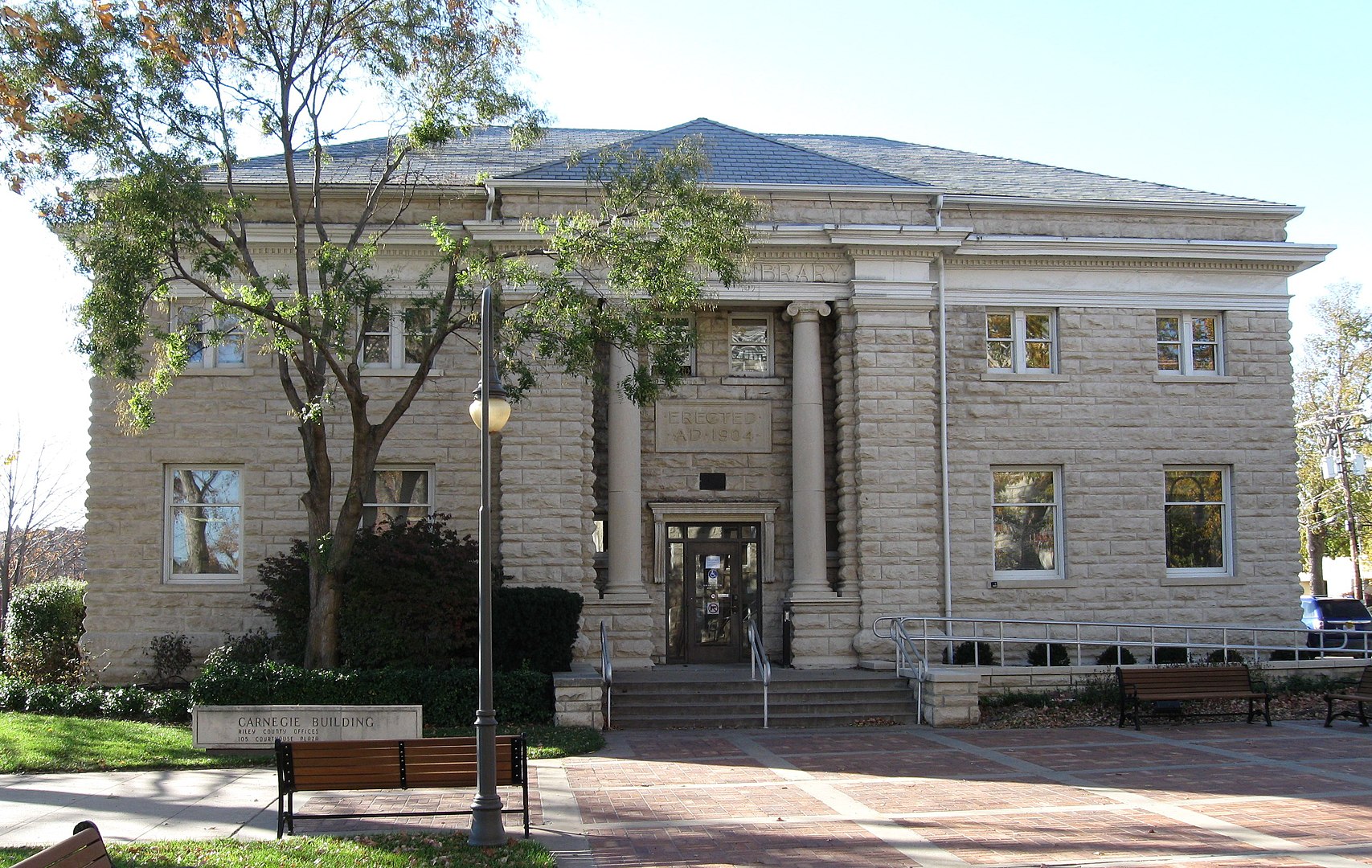 Backstory and Context
Manhattan, Kansas, developed a library organization in 1856, even before becoming a state. Membership to what became the Manhattan Library Association was open, for a fee of $1.00, to "all persons of good moral character." The Manhattan Library Association submitted a grant to the Carnegie Corporation in 1903, hoping to build a new, expansive library. The Neo-Classical Manhattan Carnegie Library Building resulted, one of sixty-three Carnegie libraries constructed in Kansas during the first three decades of the twentieth century. The community received their $10,000.00 Carnegie Library grant in 1903 and finished construction on the library in 1904.  
Industrialist (and exceptionally wealthy) Andrew Carnegie (1835 -1919) enjoyed a complicated relationship with laborers and the lower class. In 1882, Carnegie and Henry Clay Frick hired men who used violence against striking steelworkers during the Homestead Steel Strike. In response to workers seeking better pay and improved working conditions, Carnegie's hired men used violence that culminated in one of the worst labor conflicts in American history.
Seven years later, in 1889, Carnegie wrote "The Gospel of Wealth." In the article, he explained spelled his views on philanthropy: "In bestowing charity the main consideration should be to help those who help themselves." His well-documented philanthropy amounted to $333 million (ninety percent of his fortune), most of which went to public buildings and community projects, which he deemed "the improvement of mankind." Much of his wealth went to building libraries. Indeed, more than $56 million of his wealth went to constructing more than 2,500 libraries. Though many of his laborers said, "What good is a book to a man who works 12 hours a day, six days a week?" Carnegie felt that raising wages would not help as workers would probably spend it on better food or drinks instead of what he thought they "needed." 
Ultimately, The Carnegie Corporation significantly impacted the development and expansion of public library systems worldwide. Between 1886 and 1921, Carnegie funds assisted in the construction of 1,681 city and 108 college libraries in the United States. Kansas ranks approximately eleventh in the number of Carnegie Libraries built. The Carnegie Corporation approved the grant, which led to the opening of the Manhattan Carnegie Library in 1904. The library opened with a collection of 1,000 items. Mary Cornelia Lee served as the library's first director and held the position until 1942. She oversaw the addition of a children's room in 1931 and the substantial expansion of its collection. By 1937, the library's growth showed to the town that the Carnegie Building was too small, but it took nearly three decades for Manhattan to construct a new library building. The city started planning for a modern building in 1964 and, finally, in 1969, the Manhattan Library moved from the historic Carnegie building to a new building, which also served as the headquarters for the newly established North Central Kansas Libraries System; the library opened with a collection size totaling 55,000 items. 
During the 1960s and 1970s, the historic building transitioned into a government office building used by the city. Today, it mainly functions as the County Attorney's office. Thus, the building has served the community for more than a century.
Sources
Bobinski, George S. "Carnegie Libraries: Their History and Impact on American Public Library Development." ALA Bulletin 62, no. 11 (1968): 1361-367. http://www.jstor.org/stable/25698025.
Hagedorn, Martha Gray. "Nomination Form: Manhattan Carnegie Library Building." National Register of Historic Places. nps.gov. 1987. https://npgallery.nps.gov/GetAsset/b1956f5b-4372-4fb4-b3c7-2b7ae742f6e5. 
"Library History: Overview." Manhattan Public Library. Accessed May 11, 2021. https://www.mhklibrary.org/history/. 
Stamberg, Susan. "How Andrew Carnegie Turned His Fortune Into A Library Legacy." NPR.org. May 21, 2009. https://www.npr.org/2013/08/01/207272849/how-andrew-carnegie-turned-his-fortune-into-a-library-legacy. 
Standiford, Les. Meet You in Hell: Andrew Carnegie, Henry Clay Frick, and the Bitter Partnership That Transformed America. New York: Crown, 2010.
Image Sources
By HornColumbia - Own work, CC0, https://commons.wikimedia.org/w/index.php?curid=12052119

Additional Information