Samuel Vinson Homestead
Introduction
The Samuel Vinson Homestead is located in Huntington and is currently occupied by the 4th owners of the property. Originally home to Samuel Vinson, was a prominent figure in the Wayne County area and a successful business man who served in the Civil War as well. Vinson Middle School, as it is known today is in remembrance of Samuel Vinson. During an interview with the current owners, it is said that the owners after Mr. Vinson died on the Titanic in 1912.
Images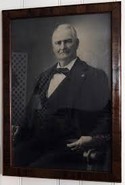 Backstory and Context
Mr. Vinson was born in Wayne county, West Virginia, February 10, 1847, the son of William and Jane (Chambers) Vinson, also natives of Wayne county. The Vinson family is an old one in West Virginia, the original settlement and homestead being in the valley of Big Sandy river, overlooking the banks of what is now Lawrence county, Kentucky. James Vinson, the grandfather of our subject, was a pioneer, a native of North Carolina, where his father died when he was a boy. When he was twelve years old, in about 1800, he joined a party of Kentuckians who were driving a large number of hogs from Kentucky to North Carolina and on to Jamestown, Virginia, where they were sold. After the sale of the hogs the boy was paid for his services and requested to return home, but his intense interest in traveling and desire to see the world influenced him to follow with the party through Virginia and Pennsylvania to Kentucky. He stopped in the mountains of Big Sandy to hunt and continued so doing for several years and worked at whatever he could find to do, alone among strangers and an orphan. There he remained and grew up in the wilds.
After his marriage to Rhoda Sperry, a native of Wayne county, West Virginia, he located on a farm in Big Sandy valley and in that county lived the remainder of his life. One of his sons, Lafayette, owns and resides on the old homestead and is the only one of eight children living. James Vinson was a member of the Virginia regiment and served in the war of 1812.

William Vinson, the third of the eight children and the father of our subject, was reared at the old homestead. He became a merchant and operated a general merchandise store at Fort Gay with great success for several years and in 1856 he located in Kentucky, at the Forks of Big Sandy, where he bought a large tract of land and engaged in the timber industry successfully, rafting logs down the Big Sandy and Ohio rivers to the Cincinnati and Louisville markets. He became well fixed financially and influential and died on the farm in Lawrence county, Kentucky, in 1881, at the age of sixty-eight years.
He was of a military turn of mind and prior to the Civil war served as colonel of a regiment of state militia for several years and in 1861 he was colonel of the Fourteenth Kentucky Volunteer Infantry Regiment. He was in active service about two years, taking part in all engagements of the regiment during that time and being recognized as a successful commander. At the end of that time, owing to sickness contracted in service, he was compelled to resign and return home and was an invalid the rest of his life. He had three brothers who served in the Confederate army, Lafayette, Frank and Samuel S. Lafayette and Samuel were captured and made prisoners at Lexington about the close of the war but through the influence of their brother, Colonel Vinson, were soon released and returned home.
Samuel was very aggressive in war, being twice wounded and having many narrow escapes, going into places where very few would follow. During his service he rose to the rank of captain of his company, which was not the only recognition of his active usefulness, as he was appointed United States marshal of West Virginia by President Cleveland.

Sources
http://genealogytrails.com/wva/wayne/bios.html http://files.usgwarchives.net/wv/wayne/bios/Vinsons.txt