Federal Building and U.S. Post Office
Introduction
Though Spokane exists in a region far from other metropolitan centers, such as Seattle or Portland, the region grew substantially between 1880 and 1902; population increased from 1,000 to 50,000 and it was apparent that trend would continue. The 1902 planning of the Federal Building (completed in 1909) demonstrates a federal and local recognition that Spokane needed a place that could handle a post office, courts, IRS offices, land sales, and more. All told, the building exists as a historical reminder of when Spokane grew from a frontier town to inland Washington's metropolitan hub.
Images
The Federal Building and U.S. Post Office was built in 1909 and is still used for its original purposes today.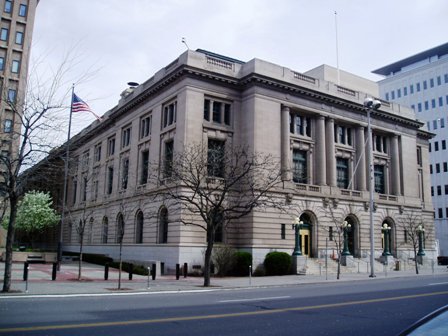 Backstory and Context
The Federal Building and U.S. Post Office stand as one of the few examples of formal architecture enjoying appreciable design in the Spokane region. The substantial population growth in Spokane around the turn of the twentieth century fostered a need for a government building that could handle everything from land sales and taxes to postal requirements and matters of law.

The building's history as the first major work of Federal architecture demonstrates Spokane's growth. After the Civil War and into the early 1870s, new settlers trickled into the area along the Spokane River. By 1881, Spokane Falls was incorporated, enjoying a population of 1,000 residents. By the time of the proposed construction of the Federal Building, in 1902, Spokane had grown substantially to 50,000 inhabitants, with an apparent path towards increased growth. Indeed, planners projected 125,000 people would call Spokane "home."
Growth in a region somewhat isolated from many other U.S. population centers proved to be a logistical challenge, thus the need for a Federal building that could handle government business such as matters of law, land sales, taxes, mail, government inspections, and railway needs.
Discussions began in 1902, but several years of debate regarding cost and location transpired. Therefore, it took until 1909 for the building to first open its doors. Renovations to the structure in 1941 included modern lighting, elevators, and an improved HVAC system. By 1994, improvements focused on the need to update its interior public spaces.
Sources
Bak, Kristine. "United States Post Office, Courthouse, and Custom House." National Park Service, National Register of Historic Places. 12-8-83. https://npgallery.nps.gov/GetAsset/158bffe4-903d-4b7e-962d-afd5f8d1d2b1.

"Building Overview." U.S. General Services Administration. Retrieved 4-16-15. https://www.gsa.gov/historic-buildings/federal-buildinguspo-spokane-wa.
Additional Information