Frederick Miller's Plank Road Brewery
Introduction
Now operated by the MillerCoors joint venture, the Miller Brewing Company has been a staple of Milwaukee for over 155 years. Its founder, Frederick Miller, began by leasing and then purchasing the Plank Road Brewery, in which he used a unique yeast strand that he carried over from Germany (and which is still used today). Today the free Miller Brewery Tour allows visitors to walk through the Miller Valley, see the brewing process, and explore the history of the company.
Images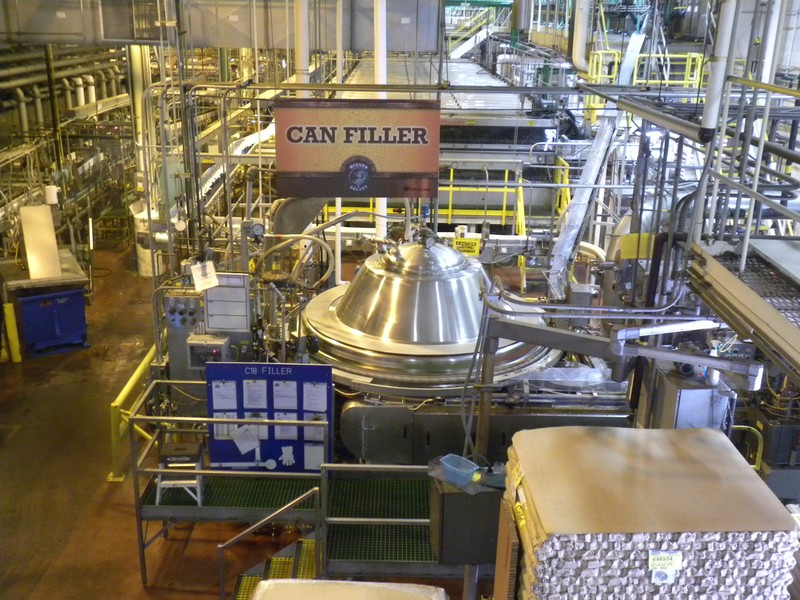 The caves where beer was kept cool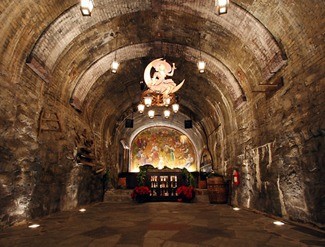 Historic photo of the brewery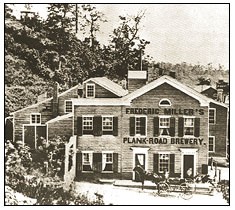 Frederick Miller's Plank Road Brewery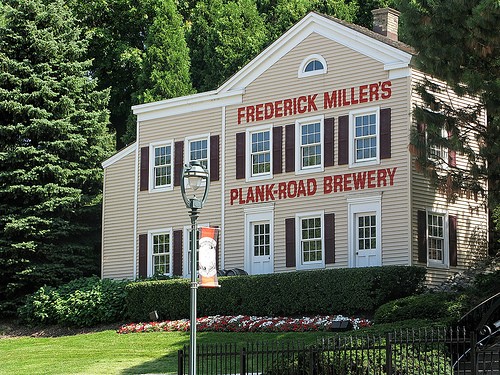 Backstory and Context
By the time Frederick Miller (formerly Friedrich Eduard Johannes Müller) arrived in America in 1850, the 26-year-old man had already established himself as a successful beer maker in Germany. Having learned the trade from his uncle, before coming to America, Miller had leased the royal brewery of Sigmaringen, Germany, brewing beer, "By gracious permission of his highness." With such a reputation and experience, Miller was more than ready to begin brewing in a new land. In 1850, Miller brought with him to America, his wife, their new son, and some of the German yeast he had used to brew beer in the past.

Five years after his arrival in America, in 1855, Miller first leased (and later purchased) the Plank Road Brewery outside Milwaukee, beginning his American brewing endeavors. The brewery was ideally situated in what is today knows as Miller Valley. It had a good water source and access to other natural resources, important for large-scale brewing.

Under Frederick Miller's direction from 1855 to 1888, when Miller passed away, the Miller Brewing Company grew from an annual production of level of 300 barrels to 80,000 barrels. Miller's success were in large part due to a successful expansion and modernizing of the cave storage rooms that the original Plank Road Brewery had begun. Even after his death, this cave system continued to be used until 1906, when modern refrigeration took over.

Miller apparently also took great pains to see to healthy employees. Because of the remote location of the brewery at the time (removed from Milwaukee's center), Miller established a dormitory for the unmarried workers. In a letter home to family in Germany, Miller described the daily meals of the workers, "Breakfast for single men (married men eat with their families) at 6 o'clock in the morning consists of coffee and bread, beef steak or some other roasted meat, potatoes, eggs and butter. Lunch at 9 o'clock consists of a meat portion, cheese, bread and pickles. The 12 o'clock midday meal consists of soup, a choice of two meats, vegetables, cake, etc. The evening meal at 6 o'clock consists of meat, salad, eggs, tea and cakes."

While Miller's business life succeeded on enormous terms, his personal life held significant pain. His wife, Josephine died in April, 1860, of unknown causes, though a cholera epidemic swept through the town during the time. Miller was left alone to take care of Louisa, who was only 2. The couple had had six children together, but all died in infancy, except Louisa, who died of tuberculosis at the age of 16.

Miller married Lisette Gross the same year, and they too had many children who died in infancy. They were survived by only five: Ernst, Emil, Fred, Clara and Elise.

In an 1879 letter, Miller, reflecting upon his life, wrote the following, "Think of me and what I had to endure - I have lost several children and a wife in the flower of their youth. I myself was at death's door several times and still God did not foresake me. Instead I was manifestly blessed in the autumn of my life.

"Whenever I think of all of them, how they were taken away from me so quickly and unexpectedly, then I become sad and melancholy...

"Whenever I think about it, I realize we must submit ourselves without murmur or complaint to the unexplainable wisdom of God and that such wisdom transcends human understanding."
Sources
http://www.fundinguniverse.com/company-histories/miller-brewing-company-history/ http://www.beerhistory.com/library/holdings/millerhistory.shtml http://www.millercoors.com/Who-We-Are/Timeline.aspx http://www.millercoors.com/Who-We-Are/Proud-History.aspx
Additional Information