Surfing Legend Kelly Slater
Introduction
On November 17, 2010, the city of Cocoa Beach, Florida dedicated a statue in honor of local resident, and eleven time surfing world champion Kelly Slater. That day was also proclaimed as "Kelly Slater Day". The 9 1/2 foot bronze statue was created by a local artist, Natasha Drazich, and took two years to create. The statue is one of only 24 around the world dedicated to the sport of surfing. Another statue of Slater may be found in front of the legendary Ron Jon Surf Shop, also in Cocoa Beach, Florida.
Images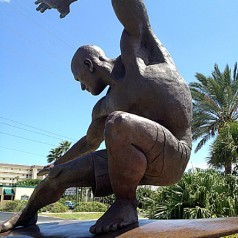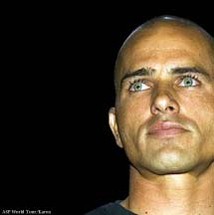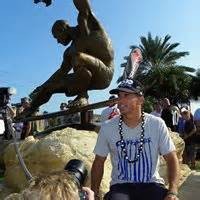 Ron Jon Statue Kelly Slater

Backstory and Context
Known as the greatest surfer of all time Kelly Slater was born on February 11, 1972 in Cocoa Beach, Florida. Slater began surfing at an early age in the Atlantic Ocean. Beginning with the small, yet challenging waves, at Cocoa Beach, Slater went on to become the youngest world surfing champion at the age of 20. To date he has won eleven world championships and countless titles. For more than twenty years Slater has traveled the world surfing and encouraging others to learn to surf.

Slater has been honored with not one, but two statues in his hometown. A bronze statue was created by a local artist and is prominently displayed on A1A where the road splits into separate north and south lanes. Dedicated in 2010 by the mayor of Cocoa Beach the event was attended by several prominent residents and local surfers. November 11 was proclaimed "Kelly Slater Day".

The second statue, a gigantic concrete structure, is found in front of Slaters first employer, Ron Jon Surf Shop in Cocoa Beach, Florida. Not only is Slater's surfing memorialized in stone, the museum located in Ron Jon's water sports shop features the accomplishments of Slater. Slater began working at Ron Jon Surf Shop handing out free soft drinks and painters caps.


Sources
http://spacecoasthiddengems.com/adventure-point/kelly-slater-statue http://www.surfline.com/surfing-a-to-z/kelly-slater-biography-and-photos_909/ http://www.surfline.com/surf-news/kelly-slater-statue-unveiled_50270/ http://www.kswaveco.com/kelly-slater/
Additional Information