Nisqually Prairie
Introduction
The Nisqually Prairie was the sight of the original 1833 Fort Nisqually. The Hudson's Bay employees regarded the area for its beauty. It is not a natural prairie, however, the land was purposely burned by the Sequalitchew Tribe to create a prairie environment that offered a wider variety of resources than those typically found in the area.
Images
Nisqually Prairie interpretive sign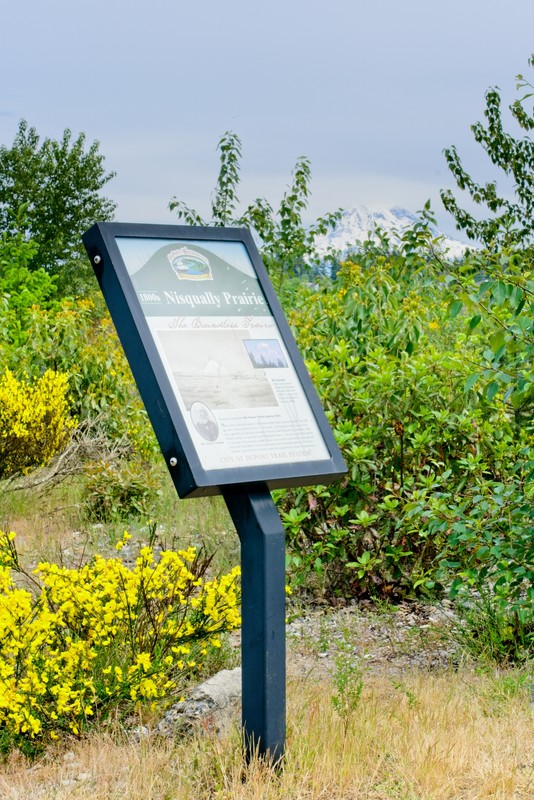 Backstory and Context
The Nisqually Prairie was chosen as the site for the 1833 fort due to it being halfway between Fort Langley and Fort Vancouver. This cut down on travel time for Native Americans looking to trade and provided security for travelers. At the time, the Nisqually region was considered the ideal spot for collecting furs from animals like beavers, bears, and minks, making it the prime spot for a trading post.
Great consideration was put into making sure the 1833 fort site would not upset the Sequalitchew Tribe. Built a half mile away from their village and on top of the bluff, it ensured interactions would remain peaceful.
In 1906, the E.I. DuPont de Nemours purchased 3200 acres of land in the region to expand the company westward. Being on the west coast made it easier for shipments to reach places like Alaska and countries in South America. DuPont built a dynamite and Black powder plant with a company town for their employees. The Nisqually Prairie was decided as the location for the plant because it was close to the Puget Sound and was sparsely populated, with the town being built further east. The plant remained in use until 1976 when the land was sold to the Weyerhaeuser Company.
In 1991, Weyerhaeuser, the DuPont Company and the Department of Ecology began a clean-up of the powder works site. The end result was a golf course being opened in 2007 called The Home Course. Old Fort Lake and remnants of the plant are located on the course.
Sources
Carpenter, Cecelia Svinth. Fort Nisqually: A Documented History of Indian and British Interaction. Tahoma, WA. Tahoma Research , 1986.
Image Sources
DuPont Historical Society

Additional Information