Pester Airport, Sky Ranch Acres, and Dr. Charles Carothers
Introduction
At the confluence of 112th and Holdrege streets on the eastern outskirts of Lincoln, a small airport sits near a unique aviation-themed neighborhood.
Facing southward from Holdrege Street, onlookers notice Sky Ranch Acres to their right. On the left, onlookers see Pester Airport. Here, some residents find that their personal planes are just as useful as their cars. Indeed, these residents can taxi their planes from the grassy 1,700-foot Pester Airport runway, through the aviation-themed streets (Cessna Lane, Piper Way, Beechcraft Road, etc.) into their basement-level hangars. In fact, some residents commute across the city in their planes. As one resident put it, "I just jump in the plane and fly across the city. It's about a four-minute trip in a plane. And it takes 20 to 25 minutes drive."
Many pilots have taken off in their planes from Pester Airport. But perhaps none more famous that Dr. Charles Carothers: a local dentist who doubled as an aerial acrobat. Read on to learn about this fascinating and tragic story.
Images
Dr. Charles Carothers holding the first place trophy of The Americas International Aerobatic Championship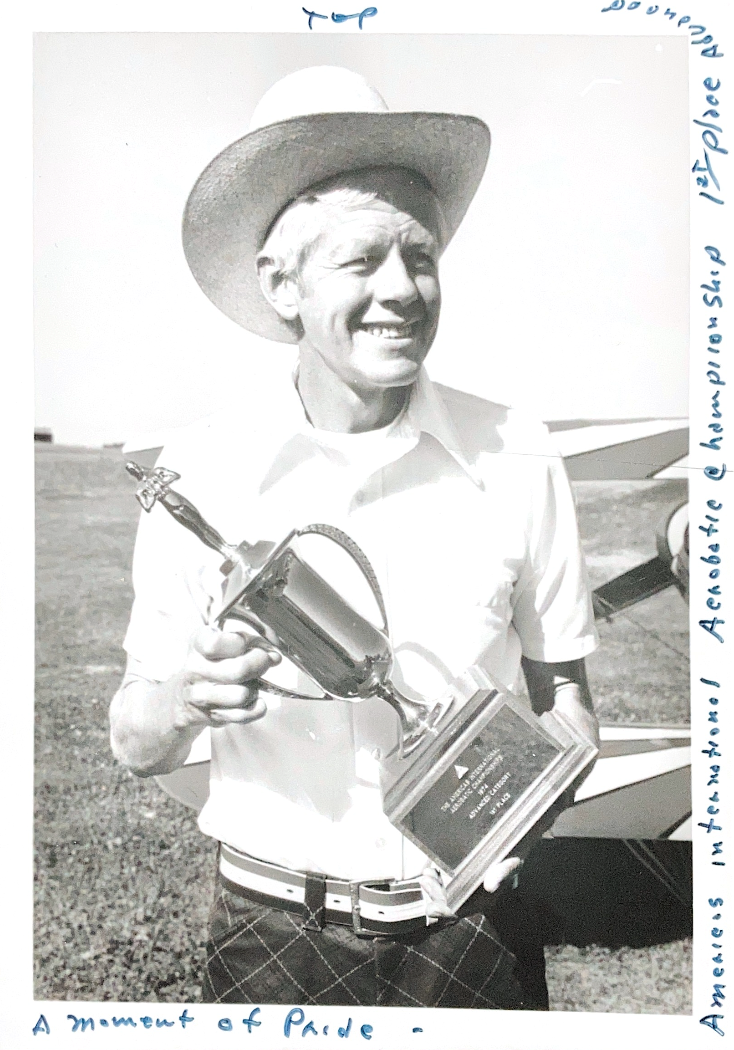 First page of a newspaper article about Dr. Charles Carothers entitled, "Flying Dentist Drills Daily," written by Tom Ash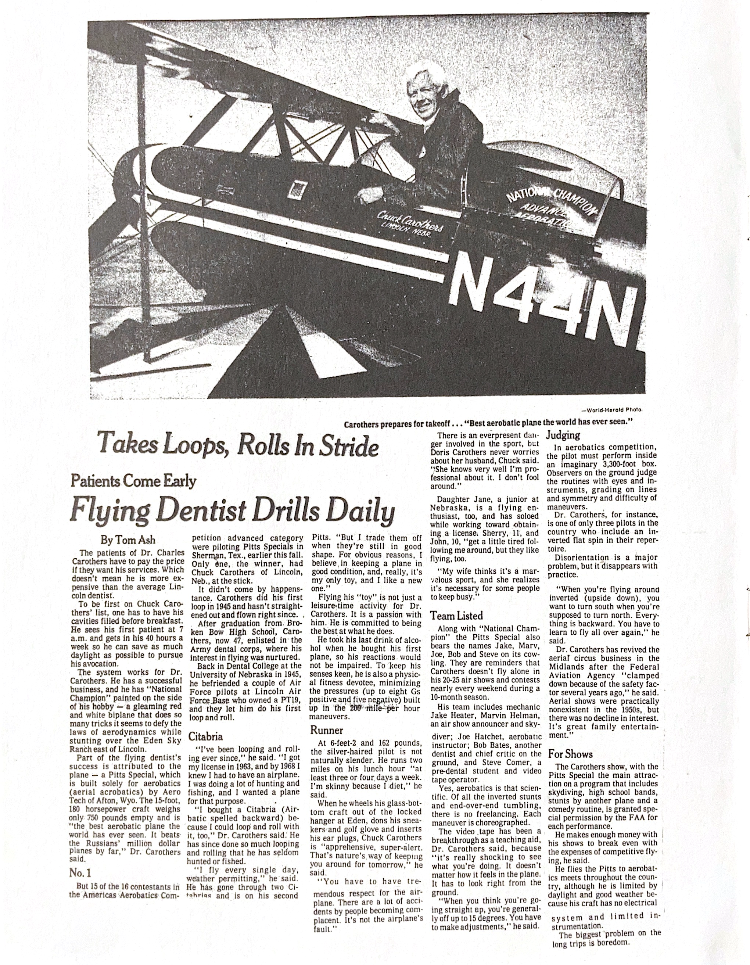 Second page of a newspaper article about Dr. Charles Carothers entitled, "Flying Dentist Drills Daily," written by Tom Ash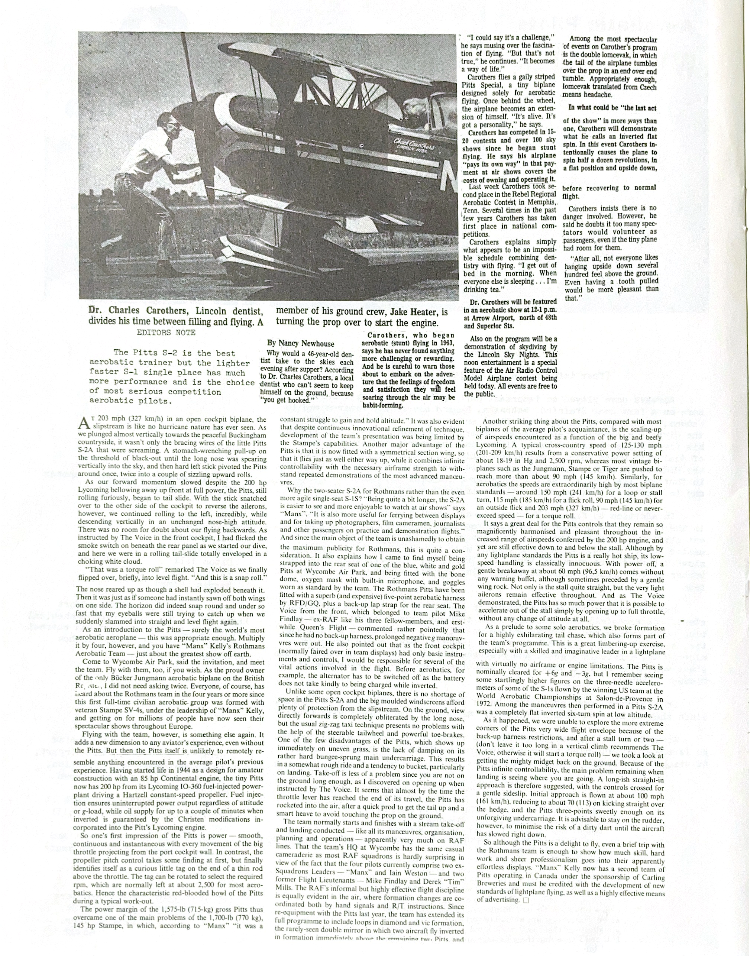 Multiple columns and features in the air show program on Dr. Charles Carothers, written by Virgil Parker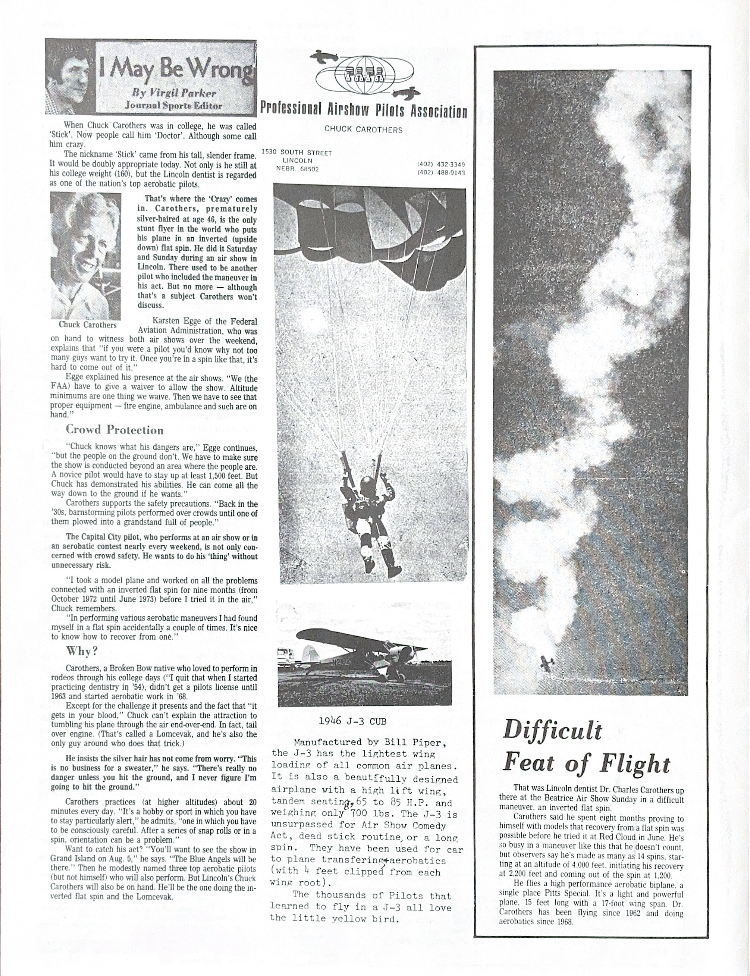 "Lincoln Dentist Is Top Aerobat" article from Omaha World-Herald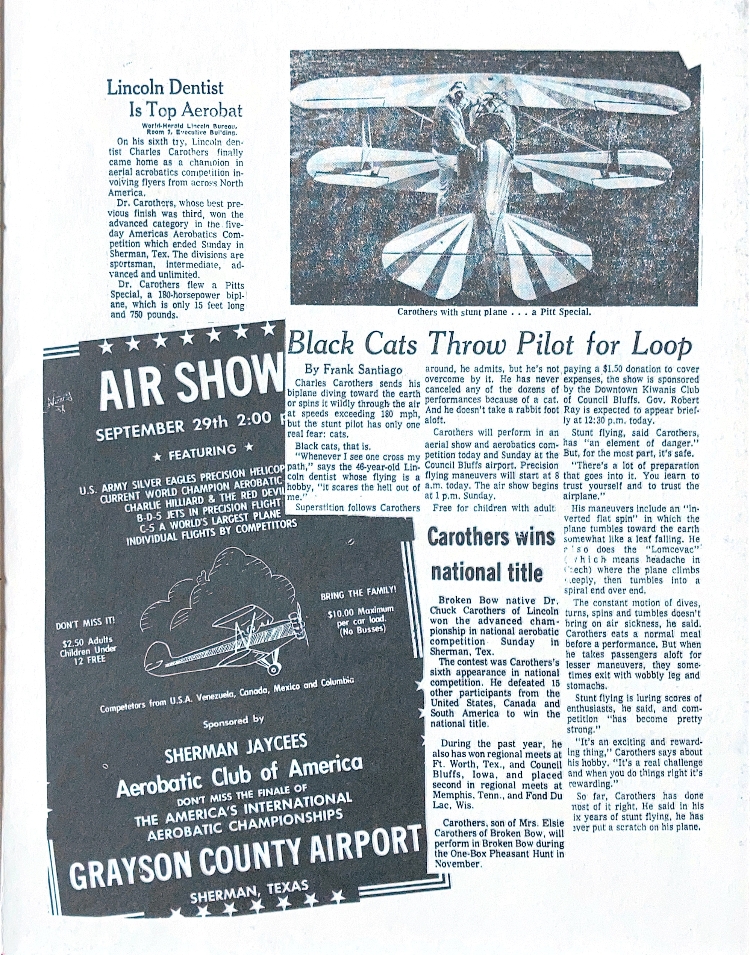 Dr. Charles Carothers performing an "inverted flat spin"

Backstory and Context
Dr. Charles E. "Doc" Carothers, obituary from Lincoln Journal Star, Friday, 03 January 1986, p. 7.
1)     At 58, Carothers "was performing aerial maneuvers for a feature being filmed by KMTV (Channel 3) of Omaha when his one-seat experimental plane crashed as it approached the runway at Pesters Airport, 112th and Holdrege streets."
2)     "Carothers, who was known throughout the nation for his competitive aerobatics, was described as a cautious pilot by KMTV reporter John Haxby, who had been working on the story with Carothers for more than a year."
3)     "Carothers had just done a series of stunts over the runway at the private airstrip, Haxby said, then appeared to lose power and crashed into the runway at a 45-degree angle."
4)     "The fuel-injected single-engine plane, which Carothers built and called the Cam Machine, was destroyed."
5)     "Carothers had said in earlier newspaper interviews that he did not consider himself a stunt pilot, did not take chances and did not feel that his avocation was risky."
6)     "The November crash was not his first one. He suffered minor injuries in 1975 when the engine of his Pitts Special quit and the craft was hit by another plane during an air show in Clarksdale, Miss."
7)     "In 1983, Carothers was flying an experimental stunt plane when the hand-made propeller broke. He shut the engine down and glided to a landing on a grassy field near Eagle, suffering only minor injuries."
8)     "On Nov. 7 he suffered severe head and internal injuries but had been removed from the intensive care unit at Lincoln General. His condition was upgraded from critical to serious about three weeks after the accident."
9)     "One of his physicians, Timothy R. Lieske, said Friday that Carothers died as the result of injuries from the crash and that until he had discussed the situation with Carothers' family he would make no further comment."
10) "Carothers, who had been flying longer than he had been filling teeth, learned to fly when he was a college freshman and two military pilots took him up in an Army trainer and taught him aerobatics, according to newspaper clippings. He also was an advocate of transcendental meditation, which he said relaxed him before air-show competition."
11) "Funeral services were pending Friday at Butherus-Maser & Love Mortuary."
Dr. Charles E. "Doc" Carothers, AP Report of crash, 08 November 1985
1)     https://apnews.com/article/5f459e7798db13a5186ca2b881a7afa9
2)     LINCOLN, Neb. (AP) _ A homebuilt airplane crashed while the pilot was doing stunts for a television feature film, and he was in critical condition Friday at Lincoln General Hospital.
3)     Authorities were trying to determine what caused the plane piloted by dentist Charles Carothers, 58, of Lincoln to crash on a private airstrip Thursday, said Lancaster County Sheriff's Deputy Bill Woodruff.
4)     Carothers was performing stunts for photographer John Haxby of KMTV in Omaha when his one-seat, single-wing airplane crashed.
5)     Carothers had turned his engine off for the stunt, Haxby said. ″It looked like he couldn't get the engine started again,″ he said. Haxby said Carothers tried to make the runway without power but the aircraft crashed.
6)     ″The plane hit on the nose and wing and spun around.... We call it a cartwheel,″ Haxby said.
7)     Carothers was pinned in the wreck for an hour and 15 minutes before firefighters could remove him.
8)     Huxby said Carothers is a cautious pilot and and wasn't doing any extraordinary stunts.
9)     ″The stuff he was doing tonight, he's been doing all over the country,″ the photographer said.
10) Woodruff said he couldn't observe anything wrong in Haxby's videotape of the crash.
11) A tape of the radio contact between Haxby and Carothers was too garbled to determine anything, Woodruff said.
https://www.upi.com/Archives/1982/06/06/Daredevil-dentists-dual-lifeNEWLNDrills-in-the-office-thrills-in-the-air/2792392184000/
Sources
"Dr. Charles E. "Doc" Carothers." Lincoln Journal Star (Lincoln) January 3rd 1986. Obituary sec.7.
"Stunt Plane Crashes Before TV Photographer." Associated Press (Lincoln) November 8th 1985. https://apnews.com/article/5f459e7798db13a5186ca2b881a7afa9.
Laukaitis, Algis J. . "Sky Ranch subdivision boasts plane hangars." Lincoln Journal Star (Lincoln) November 28th 2005. https://journalstar.com/news/local/sky-ranch-subdivision-boasts-plane-hangars/article_5b393049-9597-5465-a606-515af3081c28.html.
Image Sources
Lincoln Airport Authority archives

Omaha World-Herald, Lincoln Airport Authority archives

Omaha World-Herald, Lincoln Airport Authority archives

Air Show program, Lincoln Airport Authority archives

Omaha World-Herald, Lincoln Airport Authority archives

Lincoln Airport Authority archives