Hillbilly Hot Dogs
Introduction
Hillbilly Hot Dogs is a small restaurant in Lesage that has gained popularity across the world since its establishment in 1999. Serving famous foods such as the "Homewrecker," Hillbilly Hot Dogs has embodied the comical Hillbilly stereotype with popular "down-home" foods. This business has been featured on the Food Network, the Discovery Channel, the Travel Channel, and TLC as well as in many magazines.
Images
Hillbilly Hot Dog's window to get your grub. Courtesy of official website.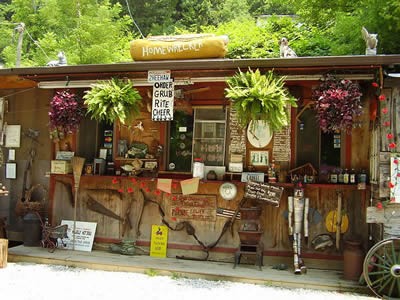 Hillbilly Hot Dog entrance. Courtesy of tripledroadtrip.blogspot.com
Hillbilly Hotdogs historical bus with john henry's of thousands of hotdog eaters. courtesy of kentuckytravels.blogspot.com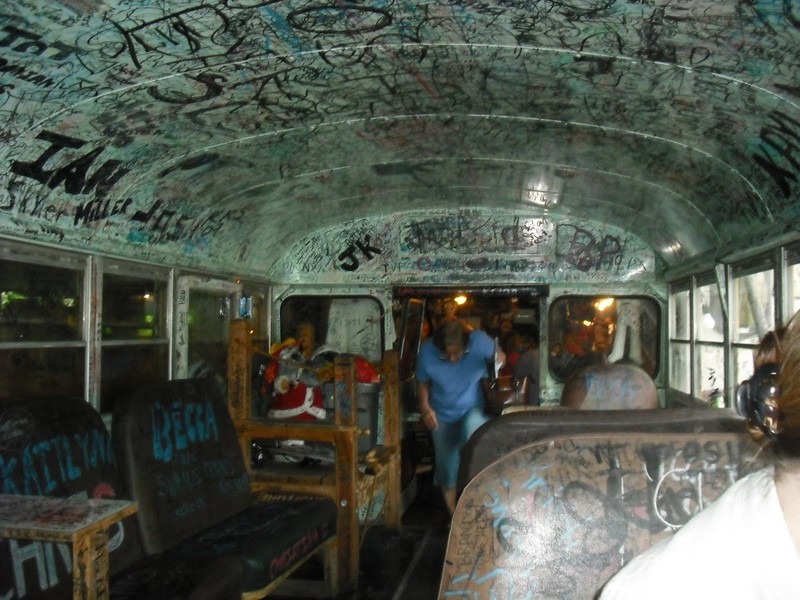 Hillbilly Hotdogs Homewrecker courtesy of www.yelp.se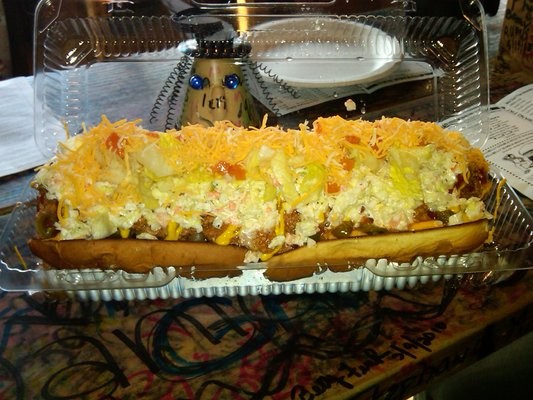 Hillbilly Hotdogs school bus, courtesy of ohiobudd.blogspot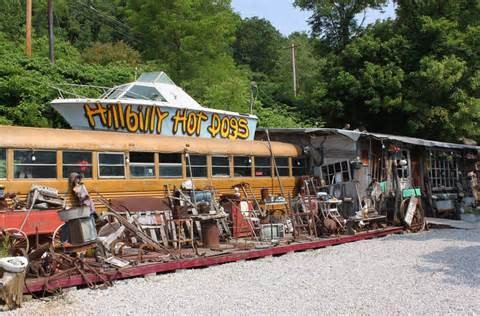 Hillbilly Hot Dogs Weddin' Chapel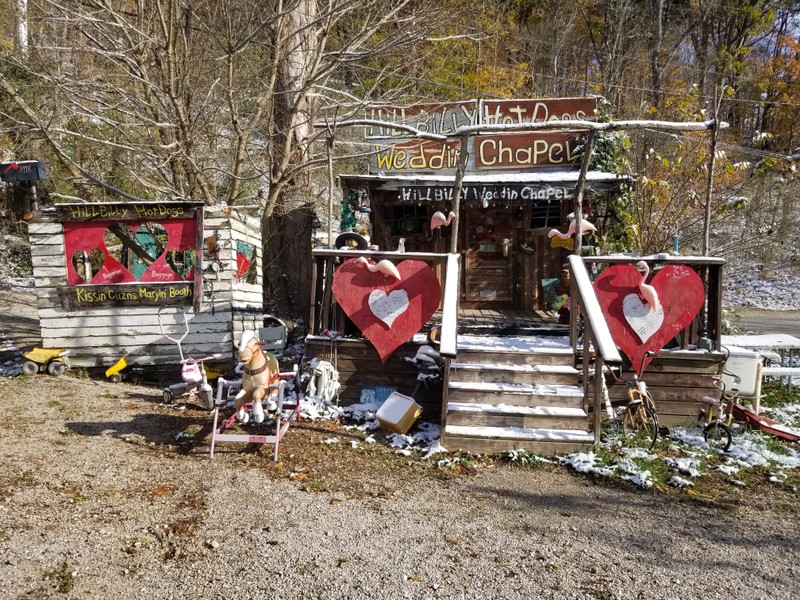 Backstory and Context
Author-Uploaded Audio
It all began when a Cali Girl fell for a Country Boy. Sonny and Sharie Knight first met each other in Sharie's home-state of California. Sonny had left his home in Lesage to find work and ended up at a car wash in California that Sharie frequently visited. After two years of coffee and car washes, the two decided to "make it official" and shortly afterwards they moved back to West Virginia. On the gounds of Sonny's childhood home, unsure what to do with the property, Sharie looked over the hills to the Ohio River and said "Sonny, why don't you build me a weenie stand!" and through a lot of love and effort, Hillbilly Hot Dogs was established. The restaurant continues to be owned and operated by the family.
Hillbilly Hot Dogs is adorned with an eclectic mix of decorations including a toilet seat, chainsaws, and a school bus scribbled with thousands of autographs. The bus was one of the first structures used by the restaurant; it is traditional for customers to leave their signature somewhere on its walls. The restaurant has a plethora of unique items on their menu, but they are most famous is their "Homewrecker," a fifteen inch, one pound hot dog. A giant version of the "Homewrecker" stands on the hill beside the hot dog stand. Hillbilly Hot Dogs is also the home of "Bubba's Triple Wide", a thirty-pound hamburger that feeds approximtely fifty people.
Since the opening of Hillbilly Hot Dogs, many things have changed and been added. Sharie Knight's favorite addition to HHD is the "Weddin' Chapel." Inside the chapel, hung on the walls are wooden hearts with photos of every lucky couple who have tied the knot in Hillbilly fashion. Both Sonny and Sharie are ordained, as is their son Vance so if any customer wants to tie the knot, whether it was planned or not, they are able to do so. Currently around 150 couples have been married at the chapel.
Sources
http://www.hillbillyhotdogs.com/ http://www.supersizedmeals.com/food/article.php/20071008-Hillbilly_Hotdogs_10_lb_Burger
Knight, Sonny & Sharie. Interview. Conducted by Kyra Meadows, 12 November 2019.
Image Sources
Kyra Meadows 12 November 2019

Additional Information