Peel Museum and Botanical Garden
Introduction
The Peel Museum and Botanical Garden is a historic estate built in 1875 by Col. Samuel West Peel, who was a prominent businessman, lawyer, and politician. Peel was the first person born in Arkansas to be elected to the U.S. House of Representatives, where he served from 1883 to 1895. The property features a mansion designed in the Italianate style, a garden, and a historic 1861 cabin that was relocated here. The mansion is considered one the finest examples of Italianate architecture in the region. Interesting features include a three-story tower, four chimneys, pairs of windows set inside arched openings, decorative wooden hoods over the windows on either side of the main entrance, and quoins (stones at the edge of walls). The mansion is listed on the National Register of Historic Places and is operated by the Peel Compton Foundation. The site is open to the public for tours and is available to rent for events.
Images
The Peel Mansion is the centerpiece of a historic site that is now a museum. The grounds feature a historic 19th-century cabin and a garden. The house was built by Samuel W. Peel, who served in the U.S. House of Representatives.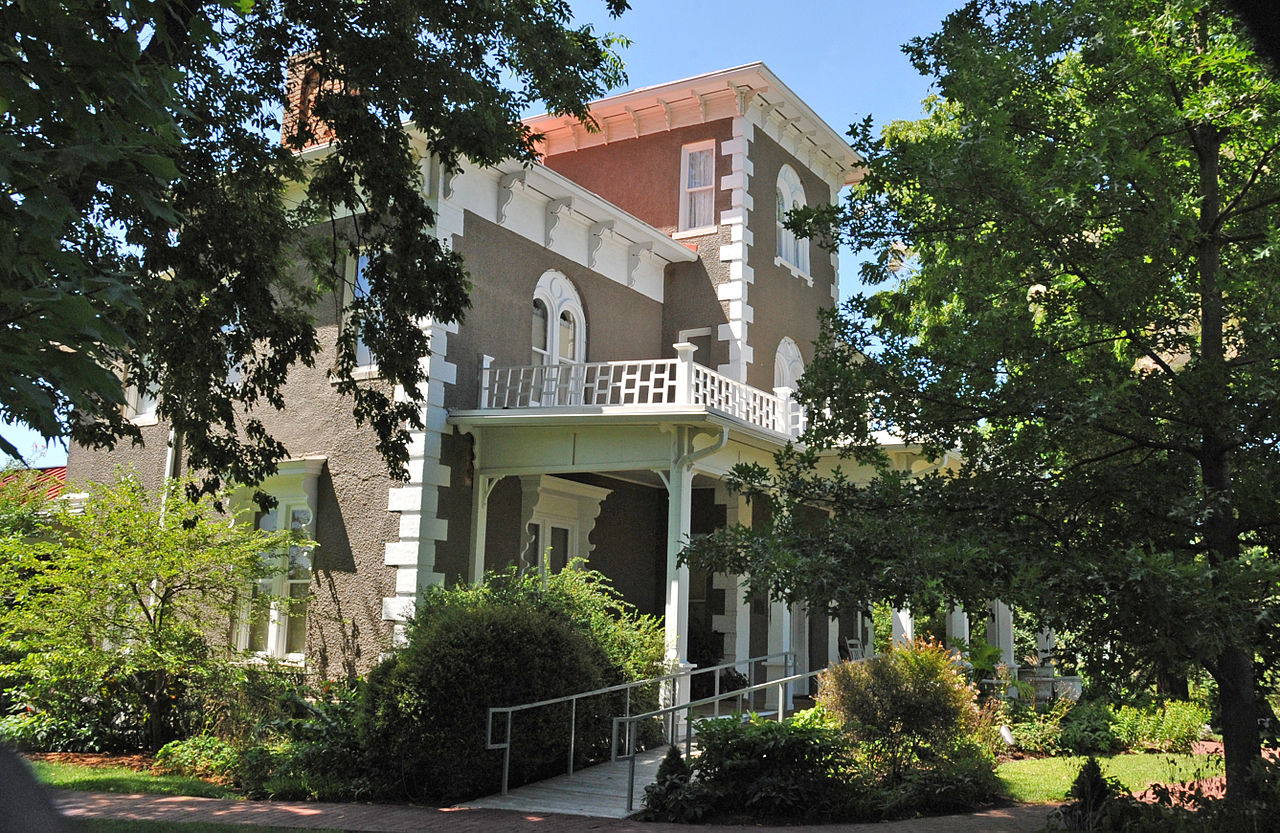 Backstory and Context
Samuel West Peel was born in Independence County on September 13, 1831. His father was a farmer, merchant, and court clerk. Sadly, Peel's mother died when he was for years old. For some time, Peel lived with his grandparents before, it appears, moving back in with his father who married his second wife (they would have eleven children). When he was a teenager, Peel worked in his father's store as a clerk and later served for his father as deputy court clerk. In 1858, he moved to Carrollton, Arkansas to begin a new position as Carroll County clerk. When the Civil War began, Peel joined the Confederate Army and eventually rose to the rank of colonel. He participated in the battles of Little Rock, Wilson's Creek in Missouri, and Prairie Grove in northwest Arkansas.
After the war, Peel studied law in Carrollton under his brother-in-law. He was admitted into the bar in 1865 and opened a private practice. By this time he was married and moved his family to Bentonville in 1866. In 1873, he was appointed attorney for the 4th Judicial Circuit of Arkansas and served in that position until 1876. He ran for Congress in 1880 but lost. However, as noted above, he was elected in 1883 and served until 1893. He represented the the Fourth District in the first term and the Fifth District in the second through fifth terms. While in Congress, he served as the chair of the Committee on Indian Affairs.
After losing his reelection bid in 1892, Peel returned to Bentonville and opened a law practice specializing in Indian affairs. In this role he represented the Chickasaw and Choctaw Indian Nations. He retired from law practic in 1890 and then established a bank called the First State Bank of Arkansas, which was the first bank in Bentonville. It is unclear what Peel's role was in the bank or how long he was associated with it. He died on December 18, 1924 and is buried in Bentonville Cemetery.
Sources
"Peel Mansion Venue & Museum." Peel Compton Foundation. Accessed July 19, 2021. https://www.peelcompton.org/spaces/peel-mansion.
Spurgeon, John. "Samuel West Peel (1831-1924)." Encyclopedia of Arkansas. Last Updated August 29, 2018. https://encyclopediaofarkansas.net/entries/samuel-west-peel-4642.
Story, Ken. "Col. Samuel W. Peel House." National Park Service - National Register of Historic Places Nomination Form. May 4, 1995. https://www.arkansasheritage.com/docs/default-source/national-registry/BE0411-pdf.
Image Sources
Wikimedia Commons: https://commons.wikimedia.org/wiki/File:COL._SAMUEL_W._PEEL_HOUSE,_BENTONVILLE,_BENTON_COUNTY,_AR.jpg

Additional Information