Barlum Tower (Cadillac Tower)
Introduction
Barlum Tower was the first building outside of New York and Chicago to reach a height of 40 floors. It was the tallest building in Detroit for one year. The Late Gothic Revival style skyscraper was designed by Bonnah & Chaffee for John J. Barlum and built in 1927 by the Otto Misch Company. The steel frame structure is clad in white terra cotta Barlum Tower was listed in the National Register of Historic Places in 2005 for its significance in architectural style, as an example of early skyscraper architecture in the city, and as the work of two Detroit firms. The office building now is known as Cadillac Tower.
Images
2008 photo of Barlum Tower by Andrew Jameson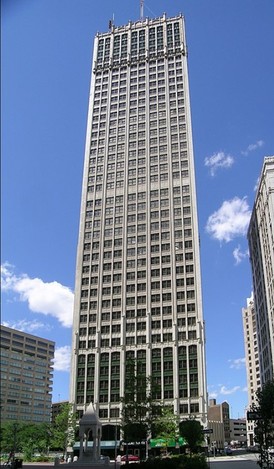 Front of Barlum Tower, looking up in 2007 photo (Mikerussell)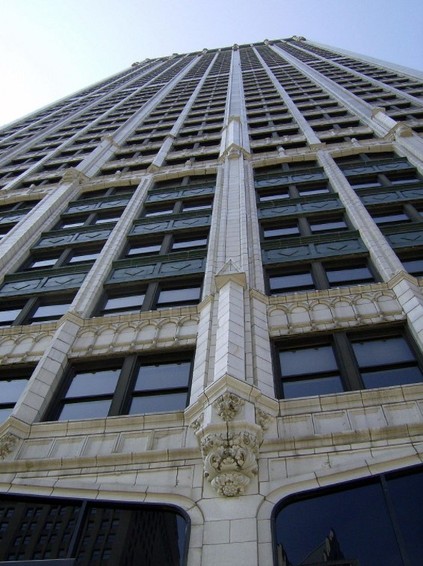 Circa 1930 postcard image of Barnum Tower (tallest building) on Cadillac Square (Curt Teich & Co.)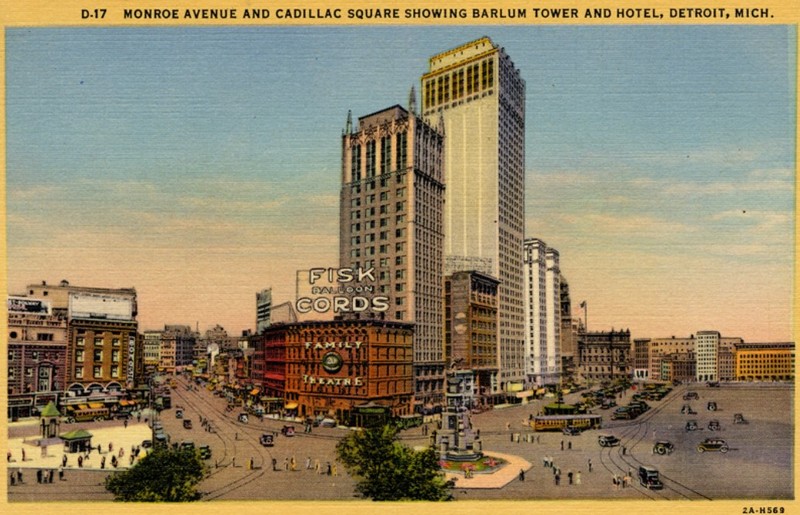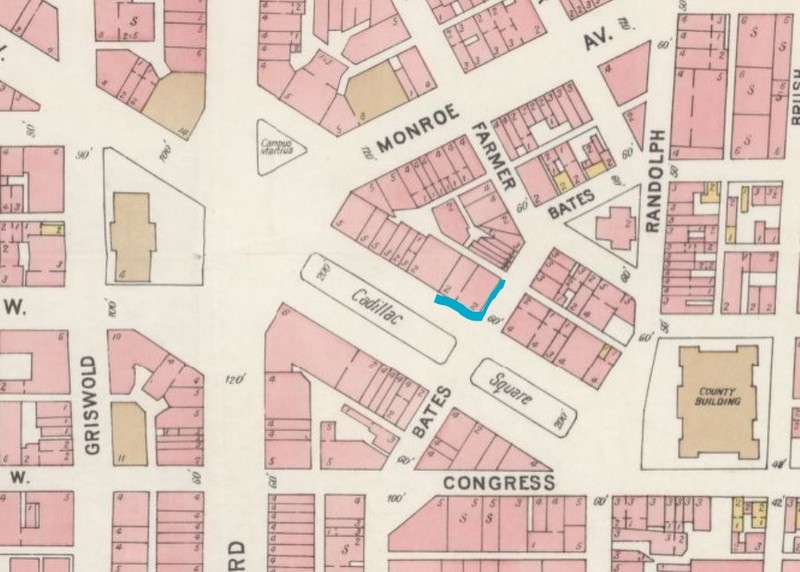 Backstory and Context
Over his lifetime, John J. Barlum was the president of the Barlum Realty Company, the New Cadillac Development Company, the American State Bank, and the Barlum Steamship Company. John was born in Detroit and graduated from the University of Detroit. The son of Thomas Barlum, the owner of a meat-packing business near Cadillac Square, John and his brothers, Thomas J. and Louis, invested in real estate, amassing fortunes. Besides the tower, he also built the Barlum Hotel in Detroit. John died in 1940 at age 74 and is buried in Mount Olivet Cemetery.
The spot on Cadillac Square where John J. Barlum built the tower had been two brick buildings by 1904 and a single brick building by 1921 containing a market and four storefronts along the square. The center of the block held the Columbia Theater by the early 1920s, offering movies and vaudeville shows. In 1921, Barlum Brothers Meats was located at 10 Cadillac Square Market. Thomas Barlum & Sons' offices in 1921, with John as treasurer, included 67 Cadillac Square (one of the storefronts that was demolished for tower construction); the firm dealt with retailing meats and provisions. Barlum Realty also completed another high-rise building across the street from the tower location, on the northeast corner of Cadillac Square and Bates, the 21-story Barlum Hotel, which opened in February 1927.
Construction began on Barlum Tower, on the northwest corner of Cadillac Square and Bates, on December 1st 1926; the building formally opened on November 9th 1927. Barlum Tower is actually 40 stories tall above ground over two below-ground levels. The building is covered in white terra cotta, with golden terra cotta accents on the uppermost five floors on the street-facing sides; the other sides are buff brick with modest terra cotta accents. Two-story store fronts face south and east with replacement windows; the rest of the exterior windows are not original. Black tile accents at the water table were added in the 1960s. A mast on top of the 427-foot structure is for a local radio station, WJLB; the mechanical penthouse reaches 437 feet. One oddity of the building's construction is the windowless brick facade for 35 stories on the west side. This is because the building's elevator shafts are wedged against the west wall. One side of Barlum Tower sported a 14-story-tall mural of the Detroit Lions' football star, Barry Sanders, from 1994 to 2000. When the sponsorship by Nike ended, the mural was changed to a picture of hockey player Steve Yserman of the Detroit Red Wings. More recently, the space has advertised Tap, the MGM Grand Detroit sports pub. The ornate lobby has been remodeled but was originally lavishly decorated with Tiffany Studio light fixtures, Italian marble, and bronze fittings and elevator doors, and ornate plaster ceilings.
American State Bank, the Barlum-owned bank, originally occupied one of the 17 commercial spaces in the 100 foot square building. The Detroit Historical Museum, founded in 1928, rented a suite on the 23rd story for many years. The Barlum Tower Corporation took over the building from the Barlum Realty Company in 1945 and owned it until 1962. The name was changed to Cadillac Tower in the 1950s.
The skyscraper was put up for sale in 2019 by its new owner, Zaid Elia. Elia bought the property from New York City-based Capital Invest Alliance in late 2018. When Elia bought Barlum Tower, the building was only 18 percent occupied. Several City of Detroit departments have offices in the 400,000-square-foot building, including the Office of the Inspector General. Roughly 83,000 square feet (about 20 percent of the building's area) of office space are available for lease as of mid-2021.
Sources
Anonymous. "Barlum Succumbs." Ypsilanti Daily Press (Ypsilanti, MI) September 19th 1940. 8-8.
Austin, Dan. Cadillac Tower, Historic Detroit. January 1st 2021. Accessed July 27th 2021. https://www.historicdetroit.org/buildings/cadillac-tower.
City of Detroit. Complaint and Contact Information, Data Detroit. January 1st 2021. Accessed August 2nd 2021. https://detroitmi.gov/government/office-inspector-general/complaint-and-contact-information.
Jaslow, Sheryl. NRHP Nomination of Barlum Tower, Detroit, Michigan. National Register. Washington, DC. National Park Service, 2005.
Jensen, Cecile Wendt. Detroit's Mount Elliot Cemetery. Images of America. Charleston, SC. Arcadia Publishing, 2006.
LoopNet. The Tower at Campus Martius, 65 Cadillac Sq, LoopNet. January 1st 2021. Accessed August 2nd 2021. https://www.loopnet.com/Listing/65-Cadillac-Sq-Detroit-MI/4017777/.
National Park Service. Barlum Tower, National Register Digital Assets. July 27th 2005. Accessed July 27th 2021. https://npgallery.nps.gov/AssetDetail/NRIS/05000737.
Pinho, Kirk. Real Estate Insider: Cadillac Tower downtown sells to new ownership; future plans not yet finalized, Crain's Detroit Business. December 10th 2018. Accessed July 27th 2021.https://www.crainsdetroit.com/real-estate/cadillac-tower-downtown-sells-new-ownership-future-plans-not-yet-finalized.
Pinho, Kirk. Real Estate Insider: New Cadillac Tower Owner Puts Skyscraper Up for Sale, Crain's Detroit Business. March 26th 2019. Accessed July 27th 2021. https://www.crainsdetroit.com/voices-kirk-pinho/real-estate-insider-new-cadillac-tower-owner-puts-skyscraper-sale.
Processwire. Cadillac Tower, Skyscrapers: Detroit. Accessed July 27th 2021. http://demo.processwire.com/cities/detroit/cadillac-tower/.
Processwire. Cadillac Square Building, Skyscrapers: Detroit. Accessed July 27th 2021. http://demo.processwire.com/cities/detroit/cadillac-square-building/.
R. L. Polk & Co.. Polk's Michigan State Gazetteer and Business Directory, 1921-1922. Detroit, MI. R.L. Polk & Co., 1921.
Runyan, Robin. Report: Cadillac Tower sells to Zaid Elia, Curbed Detroit. December 10th 2018. Accessed July 30th 2021. https://detroit.curbed.com/2018/12/10/18134736/cadillac-tower-sold-zaid-elia.
Image Sources
https://en.wikipedia.org/wiki/National_Register_of_Historic_Places_listings_in_Downtown_and_Midtown_Detroit#/media/File:BarlumTowerDetroit.jpg

https://en.wikipedia.org/wiki/index.html?curid=5988804#/media/File:CadillaclookingupDetroit.jpg

Burton Historical Collection, Detroit Public Library: https://digitalcollections.detroitpubliclibrary.org/islandora/object/islandora%3A136749

Additional Information