Malco Theater
Introduction
An excellent example of Art Deco architecture, the Malco Theatre has been a mainstay of entertainment in Hot Springs since its construction in 1935. It is also notable for being one of only two historic theaters in the country that still have separate entrances used by African Americans before desegregation. President Bill Clinton, who lived in Hot Springs from 1954 to 1961, often went to the Malco. Added to the National Register of Historic Places in 2010, it is now home to the Maxwell Blade Theater of Magic.
Images
The Malco Theater was built in 1935 and is a fine example of Art Deco architecture. It is now home to magician Maxwell Blade.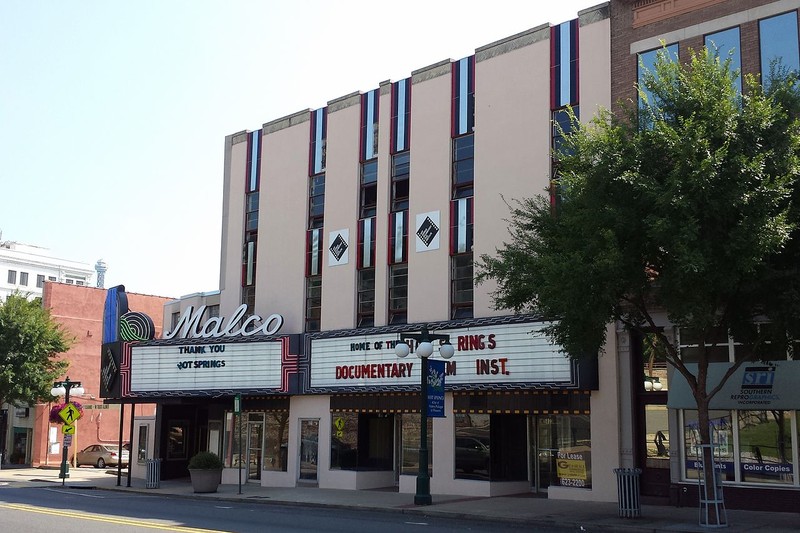 Backstory and Context
The Malco Theatre stands on the site once occupied by another venue called the Princess Theatre, which was built in 1910 and hosted vaudeville acts and showed early films. Eventually, the Princess Theatre became primarily a movie theater. On Christmas Eve in 1934, a fire destroyed all of it except for the foundation and the rear entrance on Broadway Street. The Malco was built the next year. It was designed by the firm Brueggeman & Swain and it boasted 1,000 seats. The exterior features vertical piers separating vertically recessed strips of windows and colored tiles, and a large marquee with neon tubes and two "Malco" signs.
The Malco was segregated until 1964. Until then, African American patrons had to enter through the Broadway Street entrance and were only permitted to sit in the balcony. The ticket window and concession stand were also separate.
The Malco was renovated in 1946 and in 1962. In the 1980s, the auditorium was divided into two. In 1996, Maxwell Blade started performing here and the Hot Springs Documentary Film Institute began hosting its annual film festival as well. Blade moved to another venue in 2008 but returned in 2016 and restored the building to its 1940s appearance, including removing the wall separating the auditorium. He also updated the digital and audio equipment.
Sources
Austin, David. "Malco Theatre." National Park Service - National Register of Historic Places Nomination Form. January 21, 2010. https://www.arkansasheritage.com/docs/default-source/national-registry/GA0732-pdf.
Hendricks, Nancy. "Malco Theatre (Hot Springs)." Encyclopedia of Arkansas. Last Updated December 11, 2007. https://encyclopediaofarkansas.net/entries/malco-theatre-7955.
"The Historical Malco Theatre." Malco Theatre. Accessed August 19, 2021. https://www.maxwellblade.com/historic-malco-theatre.html.
Image Sources
Brandon Rush, via Wikimedia Commons: https://commons.wikimedia.org/wiki/File:Malco_Theater,_Hot_Springs,_AR_001.jpg

Additional Information