Apartment Building at 101 Central Park West
Introduction
The apartment building at 101 Central Park West is best seen from Central Park, where the set-backs of the upper floors of this structure can be fully appreciated. The Neo-Renaissance style building has taken up the entire block between W. 70th and W. 71st Streets since 1929. One of eight apartment buildings on this street designed by architects Schwartz and Gross, the upper floors were set back from Central Park West to comply with a 1916 zoning law that aimed to prevent tall buildings from blocking light from hitting adjacent buildings and the street. The 18-story building is now a co-op containing 94 units. 101 Central Park West is a part of the Central Park West Historic District, listed in the National Register in 1982.
Images
1975 View of front of Apartment Building at 101 Central Park West, looking west from Central Park (Howard)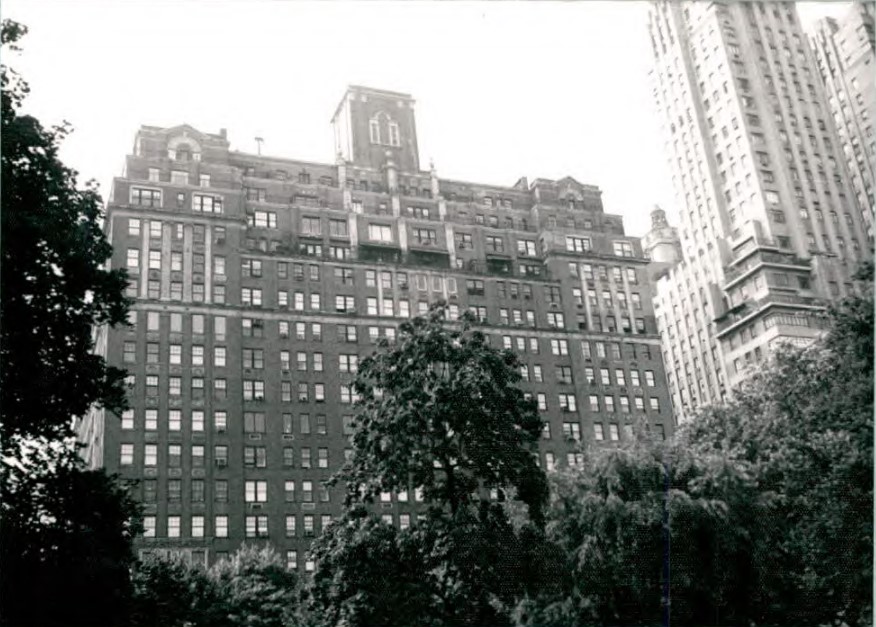 Map of block of lots to be auctioned off (red) in 1869, including future location of 101 Central Park West (Muller)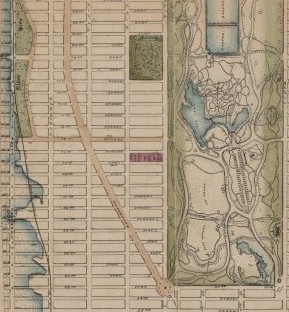 Future location of 101 Central Park West (green) on 1894 map (Bromley p. 25)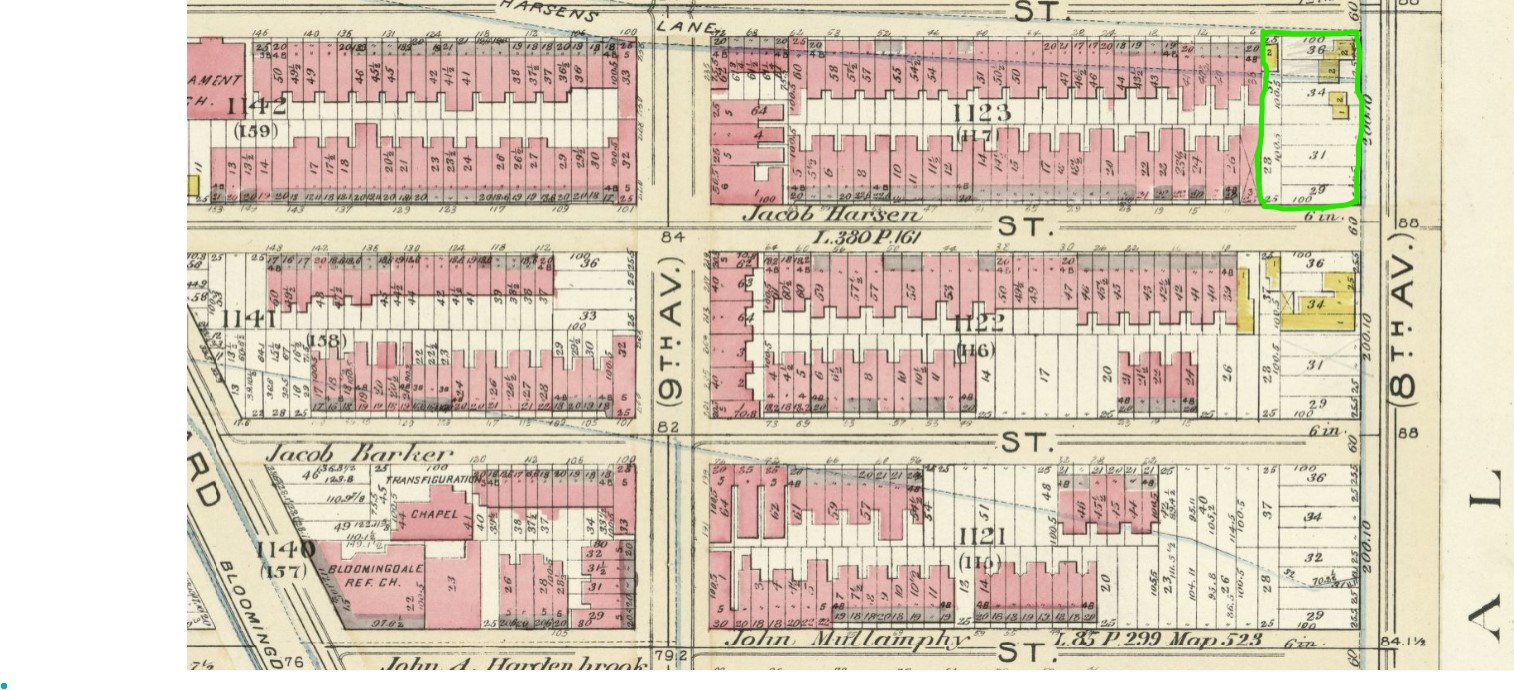 Future location of 101 Central Park West (red X) on 1866 map (Valentine)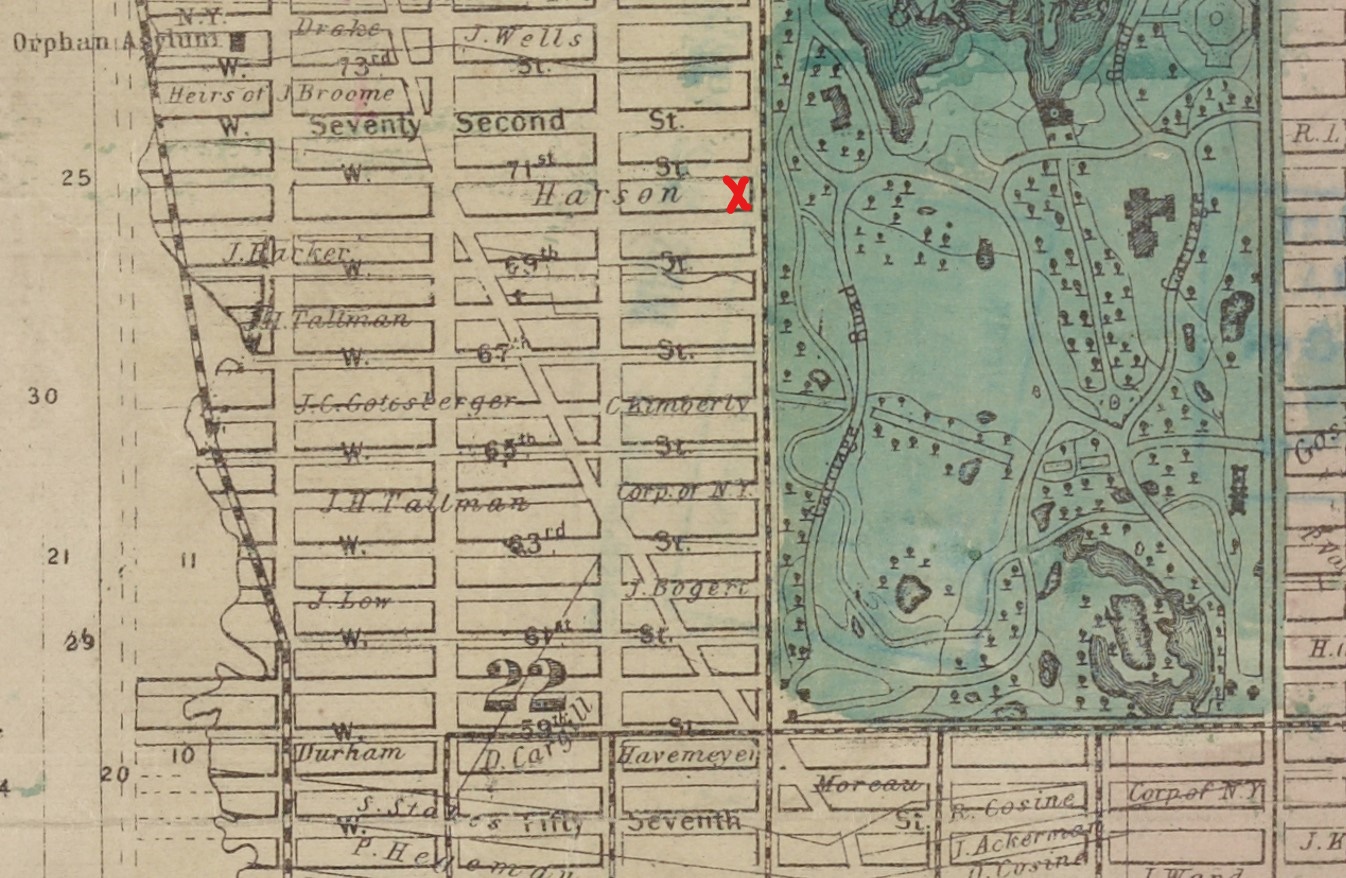 Backstory and Context
The entire block from W. 70th and W. 71st Street between Eighth Avenue (Central Park West) and Ninth Avenue was put up for auction in early 1869; the block was part of the Harsen estate (see the map from the advertisement for the auction below). A. H. Muller of P.R. Wilkins & Company was handling the auction of the "64 Central Park lots," scheduled for February 15th 1869. The east end of the block, where 101 Central Park West would be built, appeared to be part of farmland in 1863 when a scenic sketch map of the Central Park area was made. An 1866 map showed the former Harsen farm boundaries as reaching from about W. 69th to W. 73rd Street. Nearly every lot on three sides of the block contained a small brick structure by 1894 (see the map below); the lots fronting Central Park West contained several small, wooden buildings or were vacant.
Bricken Construction Corporation built the apartment building at 101 Central Park West. The 17-story massive building is faced with brick above a limestone base and accented with terra cotta trim. The main entrance is flanked by Ionic columns under a broken pediment with an ornamental cartouche. The building is stepped back above the 12th floor, forming terraces edged in iron railings and sandstone urns. The three-part main facade is centered by a penthouse pavilion of three stories.
Viewed from above, the footprint of the structure looks like a backwards "E" with two rear open courtyards. The layout of the units was in keeping with the "white glove" nature of the building, where separate quarters for live-in maids or nannies was included. Elevator operators whisked you away to your floor from the opulent, marble-filled lobby that covers the entire width of the huge structure. Most of the apartments are quite roomy, at over 2,000 square feet.
The building became a co-operative in 1953. Actor Harrison Ford once lived at 101 Central Park West, as did television news anchor Peter Jennings. They continue the long tradition of upper-middle class and professional people who flocked to the towering residences overlooking Central Park to the east, beginning with the construction of The Dakota at the corner with W. 72nd Street in the 1880s. While the earlier buildings were limited in height by having load-bearing walls, 101 Central Park west is one of the high-rises that became possible with steel framing construction techniques and one of many on the block added in the 1920s to early 1930s.
Sources
Covell, Anne B. Wilson, Suzanne J. Ruttenbaum, Stephen R. NRHP Nomination of Central Park West Historic District, New York, N.Y.. National Register. Washington, DC. National Park Service, 1982.
Finn, Robin. "On the Upper West Side: Haute Yet Homey." New York Times (New York, NY) October 4th 2013. , Real estate sec.
Howard, Alexandra Cushing. Building-Structure Inventory Form for 101 Central Park West, New York, N.Y.. Albany, NY. Division of Historic Preservation, New York State Parks and Recreation, 1975.
Levitas, Jeffrey. 101 Central Park West in Lincoln Square, Street Easy. August 1st 2021. Accessed September 5th 2021. https://streeteasy.com/building/101-central-park-west-new_york.
Image Sources
New York State Cultural Resource Information System (NYS CRIS): https://cris.parks.ny.gov/

New York Public Library (NYPL): https://digitalcollections.nypl.org/items/9e9f4cba-dc7e-484e-e040-e00a18064cc8

Library of Congress (LOC): https://www.loc.gov/item/2010587355/

NYPL: https://digitalcollections.nypl.org/items/f6924cb0-f3a1-0130-fce9-58d385a7b928

Additional Information