Fort Concho
Introduction
Fort Concho dates back to the years following the Civil War, when American settlers were moving westwards across the United States to discover new economic and social opportunities. To protect these frontier settlers, the United States Army built Fort Concho in 1867 to replace the previous Fort Chadbourne north of San Angelo. For over 22 years, Fort Concho protected settlers, the United States postal service, stagecoaches, wagon trains, and trade routes. Furthermore, Fort Concho was used in the late 1800s as a launching point for military campaigns against Comanches tribes. At the height of Fort Concho's strength, it housed around 400 to 500 men and it consisted of 40 buildings on 40 acres. After the railroad arrived and the need for military protection waned, the fort was deactivated in 1889. Today, Fort Concho is open to the public and it features the original fort along with 23 main structures. However, the most popular structure is the Fort Concho Museum, which houses over 35,000 artifacts and introduces visitors to life, culture, and the role of the military in the American expansion westwards.
Images
Reconstructed Hospital Building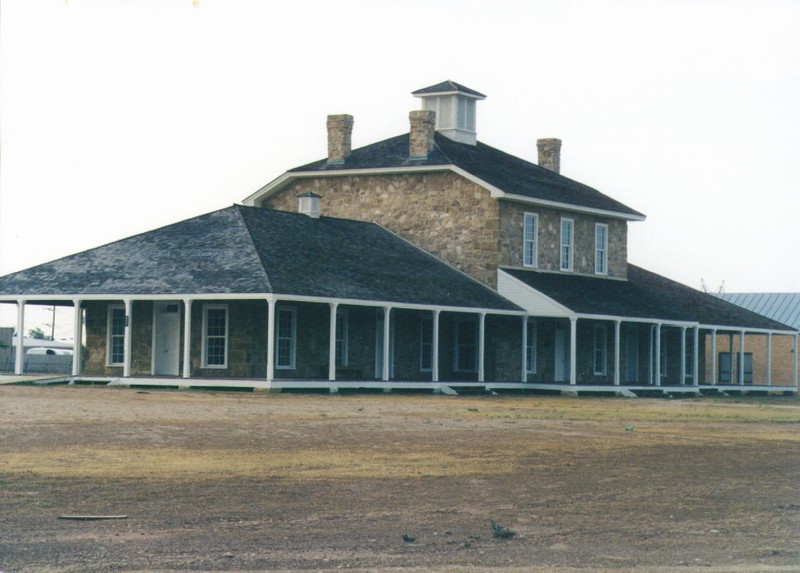 Officers' Quarters 9 & 8 (circa 1880)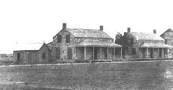 Volunteers shooting live cannons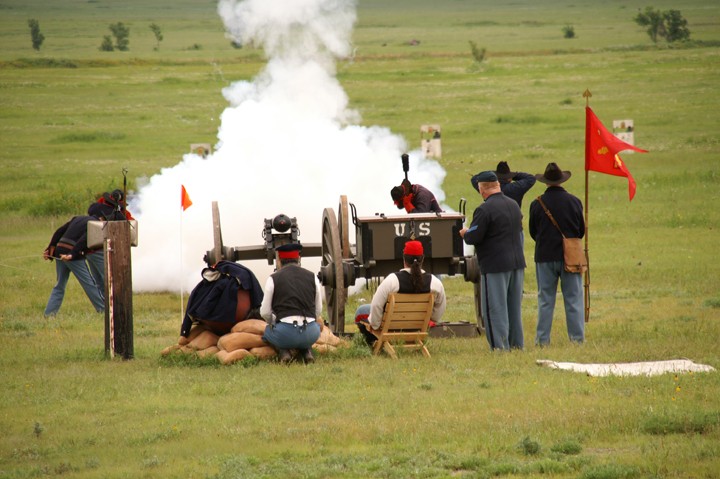 Backstory and Context
History of Fort Concho

After the Civil War, the United State's Army changed focus from the battlefield to peacetime activities, and with the continual growth of westward settlement, frontier forts were necessary for protecting American settlers while ensuring the maintenance of economic trade routes. Similar to many frontier forts of the time, Fort Concho maintained sizable infantry and calvary units. The artillery, however, was quite limited and Fort Concho had a few cannons in operation, which are still around today.1
It took nearly ten years to build the fort, and with the help of German contractors recruited from Fredericksburg, many of the structures on the fort were built with sandstone from nearby quarries. Although much of the daily routine at Fort Concho consisted of maintaining the post and conducting daily guard and ceremonial duties, troops were sometimes sent by the famed Colonels Ranald Slidell Mackenzie for scouting trips and campaigns against native tribes and civilians who stole government property. In 1882, Mackenzie and his troops, known as the Mackenzie Raiders, attacked a large Comanche encampment, killing 23 and taking another 127 women and child captive.2
Fort Concho was designated as a National Historic Landmark in 1961.
Fort Concho Museum

Beginning in 1905, concerned citizens and private owners demanded that the fort should be saved as a memorial to West Texas pioneers, and in 1928, the West Texas Museum was founded in San Angelo and then moved to the Fort Concho headquarters two years later. Nowadays, the City of San Angelo operates Fort Concho, providing nearly 50% of its annual funding. Hundreds of volunteers also contribute and assist with a variety of educational programs, special events, and ongoing activities.3
Visitors to Fort Concho typically start their tours at Barracks 1, which is also the administrative and visitors center of the museums and fort. Many of the other barracks in the fort (there are 6 total) contain several exhibits and historical recreations, such as the fort's reproduction artillery piece and an exhibit showcasing the life of a 19th century soldier.4
The E.H. Danner Museum of Telephony is also a popular site within Fort Concho. Contained in the old Officers' Quarters No. 4, this museum features a wide array telephones from the 1880s, including Alexander Graham Bell's "Gallows Frame Phone," a manual switchboard used at the time to connect calls, and even a 1898 hotel lobby telephone. Visitors can also discover special museum exhibits (such as the Bill Stebbins Weaponry Collection) or enjoy several educational programs, including Civil War lecture series, ladies living history workshops, kids' summer programs, and much more.5
Sources
1.) http://www.fortconcho.com/artillery.htm 2.) http://www.fortconcho.com/forms/A%20Fort%20Concho%20Chronology.pdf 3.) http://www.fortconcho.com/faq-fort.htm 4.) http://www.fortconcho.com/barracks.htm 5.) http://www.fortconcho.com/officers.htm
Additional Information