Cincinnati Observatory
Introduction
Built in 1842, the Cincinnati Observatory is the oldest professional observatory in the United States and it houses one of the oldest working telescopes. It is one of the key buildings for astronomical research at the University of Cincinnati. It also has an outreach program that helps astronomical researchers in Ohio, Kentucky, and Indiana. The 1373 Cincinnati asteroid was named in honor of the observatory.
Images
Construction of the observatory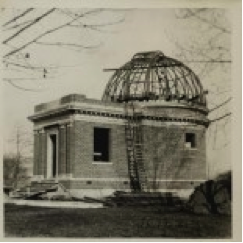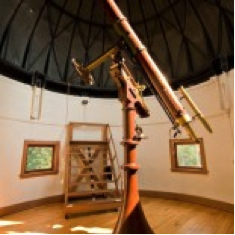 Current photo of the observatory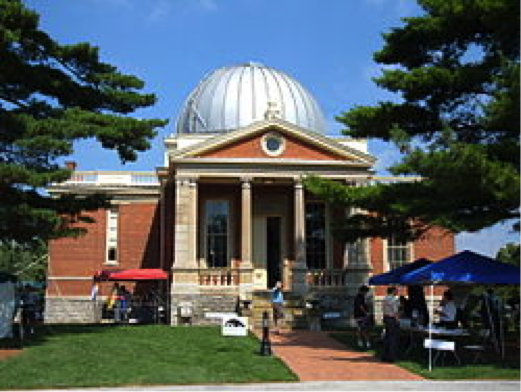 Backstory and Context
Prof. Ormsby M. Mitchel is known as the main designer for the Cincinnati Observatory. He went door to door to raise enough money to travel to Europe to buy the main telescope the observatory would use from Germany. American banker and winemaker Nicolas Longworth donated 4 acres for the professor to build the observatory on. Once the telescope was brought back to Cincinnati, the observatory was built with the telescope being placed in the building. A ceremony of the cornerstone being put down was held and attended by President John Quincy Adams with former Ohio judge and senator Jacob Burnet providing an introduction speech.
The observatory is unique in that the general public has always been allowed to use the telescope and observatory since it's opening. The observatory would move from the crowded and polluted downtown city to the University of Cincinnati. It has resided on Mount Lookout since 1873. Also, a new telescope was bought and placed in the building for added studying of stars. The University of Cincinnati would incorporate the observatory into it's physics department in the late 1970s.
By 1999, it was changed from a research facility to a center for public education and attracts over 25,000 people and students every year. It is the oldest observatory in use today in the United States. It is also a key facility for the university for astronomical research with programs that outreach to other surrounding states. It even has an asteroid out in space that it is named after. It was designated as a National Historical Landmark in 1998 and placed on the National Register of Historic Places in 1980.
Sources
"About," Cincinnati Observatory website. Accessed July 30th 2021. https://www.cincinnatiobservatory.org/about/our-history-2/
"Cincinnati Observatory Center," Observatories of Ohio. Accessed July 30th 2021. https://observatoriesofohio.org/cincinnati-observatory-center/
Additional Information