Hanover House-Upstairs Hallway
Introduction
Author-Uploaded Audio
The overall construction of Hanover House aided in its ultimate survival past the early-20th century when it no longer served as a family residence. The style is known as reverse shiplap. As you look on each board, either just above the ceiling construction or along the exterior walls, notice the narrow groove carved into each board. These same grooves exist on the outside of each exterior board, serving as a built-in gutter system for the house. This, along with the hearty qualities of Black cypress, helped the structure to survive despite complete abandonment.
Images
The Upstairs Hallway at Hanover House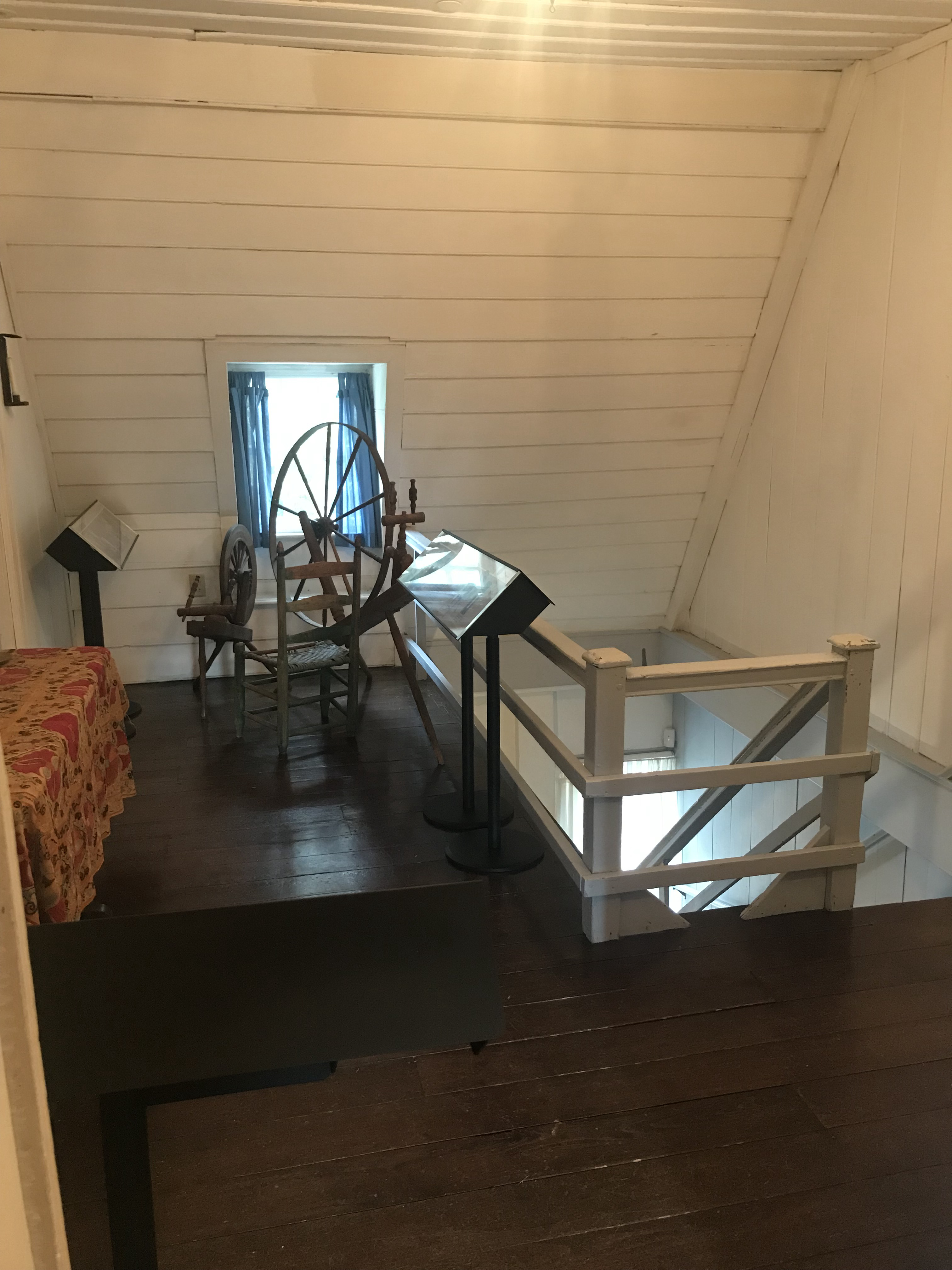 Backstory and Context
Author-Uploaded Audio
Framed on the wall between the master bedroom and center bedroom, there is what remains of a floral pattern appliqué quilt made by 11-year-old Harriet Porcher Smith. Harriet was born in March 1844 at Mexico Plantation in Stephen's Parish, now Berkeley County, South Carolina. Her parents were Robert Press Smith and Mary Mazyck Gaillard. Tragically, Harriet died on July 22, 1855 in Pineville, South Carolina.
The pair of hand-wrought, tin sconces on the wall were also from Mexico Plantation while it was owned by Major Samuel Porcher.
To the left are a flax spinning wheel, a wool spinning wheel and a yarn/thread winder. On a plantation of similar socio-economic status as Hanover, these types of items would have been used in a separate outbuilding. Enslaved African American domestic laborers would have most likely used these types of spinning wheels in order to make fabric for the everyday clothes for the St. Juliens and Ravenels, as well as the enslaved community.
Sources
Upstairs Hallway, Clemson University Historic Properties. Accessed October 5th 2021. https://wwwdev.clemson.edu/about/history/properties/hanover/gallery.html.