Mamie Currie Hughes Memorial Bridge
Introduction
This bridge was dedicated in honor of Mamie Currie Hughes, a long-time leader in Kansas City dating back to her work during the civil rights movement. Serving in leadership roles in multiple different organizations, associations, and boards allowed her the ability to enact change in the community. Her expertise in community planning and development provided her with a chance to assist with the development of the 18th and Vine District. Her numerous accomplishments throughout her life demonstrated her determination and service-oriented nature. On top of everything, Mamie held that her biggest accomplishment was being a mother of five children, and holds the love that she receives from her family as the greatest honor she has received.
Images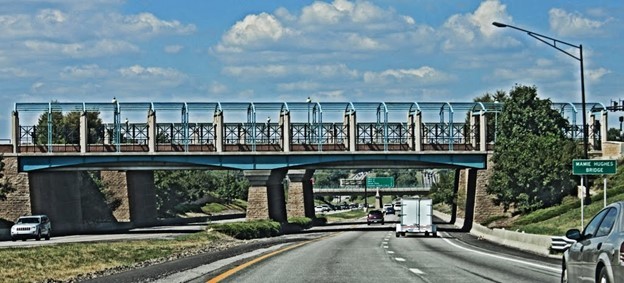 Backstory and Context
Mamie Currie Hughes was born on May 3, 1929, to James Samuel Currie, Sr., and Amy Ramsey. From a young age, she was hard-working and determined to achieve her dreams. She entered LaVilla Elementary School at the age of 4, beginning with 1st grade. While this caused her to be younger than most of her classmates, her age did not cause her struggles in school. Later in her school years, she would go to New York City to stay with her Aunt Sallie, but after several years of enduring her aunt's strict rule, Mamie returned home in 1943. She then attended Stanton Senior High School in Jacksonville, Florida. During high school, she assisted the librarian at Stanton and volunteered at the Clara White Mission. This began her life of service. She graduated as salutatorian from Stanton High School on May 30, 1945. 
After high school, Mamie attended Fisk University, majoring in mathematics. While at the university, she worked in the registrar's office and was an assistant in the mathematics department to help cover her tuition. She met her future husband, Leonard Hughes, in 1946 while they both attended Fisk University. After graduating in May of 1949, the two were married in September of that year. Mamie moved to Topeka with Leonard while he pursued his law degree and after his graduation, the couple moved to Kansas City to be nearer to Leonard's family. 
In her first year in Kansas City, Mamie completed courses at Kansas City University, St. Teresa's College, and classes at Metropolitan Community College culminating with a teaching certificate. During the 1951-1952 school year, she taught third grade at Crispus Attucks School. The next year, Leonard relocated the family to Mississippi to pursue a law career. Two-and-a-half years, later Mamie and Leonard returned to Kansas City and both participated in organizations to better the city.
Mamie became deeply involved throughout the community and was a leading member of the local NAACP chapter along with other organizations that sought to improve conditions in Kansas City for the African American community. Such participation led to her involvement in the boycotts and protests against department stores and restaurants in the area, working towards better service for African Americans, which lasted for months. She continued to be involved in civil rights organizations and was made a member of the Panel of Americans in the 1950s and 1960s. The Panel served as a way to provide insight into the lives of varying citizens by presenting at high schools around the community. She also served as the first president of the Women of Freedom group. 
In the early 1970s, Mamie won a seat as the Democratic member on the Charter Jackson County Legislature. Her office was housed in the Kansas City Courthouse. In 1976, she was appointed Vice Chair of the Legislature. Additionally, she served on the Mid-America Regional Council (MARC) from 1973 to 1978, acting as the 1st Vice Chair in 1976 and Chairman of the board in 1977. While already accomplished through the early years of the 1970s, Mamie gained additional accomplishments in 1978. During this year, she worked with a group of women to create The Central Exchange, a women's club. In the same year, she was nominated by Senator Tom Eagleton for the Regional Director position with the Federal volunteer agency, ACTION. She was offered this position, serving the states of Missouri, Kansas, Iowa, and Nebraska. However, with a presidential change in 1980, the ACTION program also changed, and in 1981 Mamie was hired at the Black Economic Union as a Community Planner. In 1986, she was appointed the Ombudsman position for the South Midtown Roadway, meaning she worked in the Planning Division of the Department of Housing and Community Development in Kansas City. This allowed her the opportunity to assist with the shaping of the city. 
Such accomplishments and experiences are only a fraction of Mamie's contributions to the city. Mamie was an active member in Kansas City society, both in government and association positions as well as volunteer positions, and each experience allowed her to make an impact on the community for improvements for housing as well as civil rights. Her expertise in community planning and community development allowed Mamie the opportunity to assist with the preservation and development of the 18th and Vine District. Her participation in such a vast array of organizations and associations, not to mention volunteer initiatives, demonstrated how Mamie was service-oriented and persistent, and the community improved because of her efforts. But, after a lifetime of achievements and praises, Mamie highlighted her most important achievement in her autobiography: 
"Being able to marry and start my own family has been my greatest and proudest accomplishment! Having them give back to me the love which I gave to them is divine!"3
Sources
Community Champion and Advocate Receives Honor, UMKC. March 12th 2019. Accessed October 28th 2021. https://www.umkc.edu/news/posts/2019/march/Mamie-Hughes-SWHOF.html. 
Currie Hughes, Mamie. Mamie Who? The Life and Times of a Colored Woman (an Autobiography). Unpublished Copy. Accessed Box 8, Folder 2, Betty Crow Collection, LaBudde Special Collections, University of Missouri-Kansas City, Kansas City, MO. 
Currie Hughes, Mamie. Mamie Who? The Life and Times of a Colored Woman (an Autobiography). Unpublished Copy. Accessed Box 8, Folder 2, Betty Crow Collection, LaBudde Special Collections, University of Missouri-Kansas City, Kansas City, MO, page 26.
Hall of Fame: Mamie Hughes, Starr Women's Hall of Fame. Accessed October 28th 2021. https://www.umkc.edu/starrhalloffame/hall.asp. 
Hogan, Suzanne. Highway 71 And The Road To Compromise, KCUR: NPR. June 3rd 2014. Accessed October 28th 2021. https://www.kcur.org/community/2014-06-03/highway-71-and-the-road-to-compromise. 
Martin, Luke X. For Mamie Hughes, Decades Of Hard Work In Kansas City Leads To 'Positive Changes', KCUR: NPR. March 23rd 2017. Accessed October 28th 2021. https://www.kcur.org/show/up-to-date/2017-03-23/for-mamie-hughes-decades-of-hard-work-in-kansas-city-leads-to-positive-changes. 
Additional Information