Hialeah Park Racetrack
Introduction
Hialeah Park Racetrack in Florida opened in 1925 and is known as the world's most beautiful race course. The Great Hurricane of 1926 created thousands of dollars in damage forcing the park to close temporarily. The track was then purchased by Joseph Widener and reopened in 1932 after expensive renovations. Thoroughbred champions Seabiscuit, Seattle Slew, War Admiral, Citation, Bold Ruler, Northern Dancer, and Forego had the privilege of racing on this track.
Images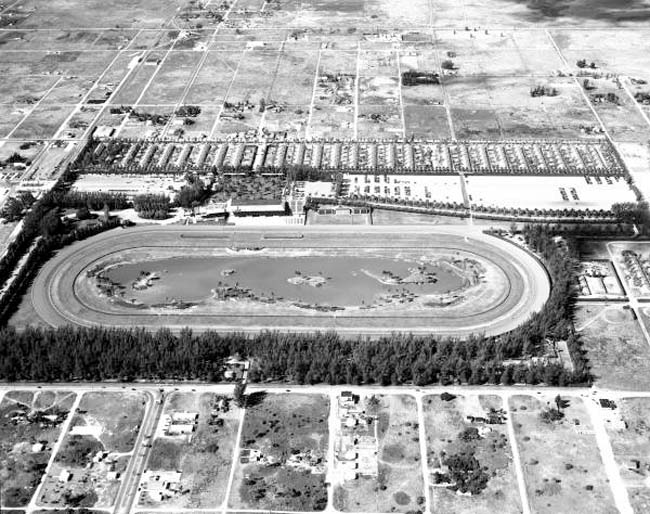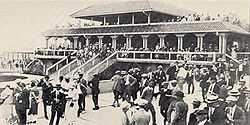 Backstory and Context
• 1920 Missouri cattleman James Bright and aviation pioneer Glenn Curtis donate land for community use and help acquire building funds for construction of public buildings, facilities and racetrack.
• 1922 First pari-mutuel greyhound track in America opened at Hialeah by Miami Kennel Club and Owen Smith, inventor of the conveyor that allowed a mechanical rabbit to move inside a circular track.
• 1924 Joseph Smoot, Bright and Curtis establish Miami Jockey Club and construct grandstand.
• 1925 On Jan. 15, Hialeah Park opens as the Miami Jockey Club.
• 1926 Great Hurricane of 1926 damages Hialeah.
• 1930 Transportation & real estate magnate Joseph Widener purchases Hialeah. Widener takes architect Lester Geisler on a tour of tracks throughout Europe and the United States to better redesign Hialeah.
• 1932 The 'new' Hialeah opens on Jan. 14.
• 1933 Hialeah installs totalisator system. Racing on grass begins.
• 1934 First flamingos imported from Cuba.
• 1935 Seabiscuit makes his racing debut. Black Helen wins Florida Derby.
• 1936 First photo finish camera installed.
• 1938 Glen Riddle Farm's (Samuel D. Riddle) 1937 Triple Crown Winner War Admiral wins the Widener Handicap.
• 1946 Prime Minister of United Kingdom Sir Winston Churchill visits Hialeah Park.
• 1948 Citation wins Flamingo Stakes en route to the Triple Crown, and U.S. Horse of the Year honors.
• 1954 Vineland, New Jersey business entrepreneur Eugene Mori purchases Hialeah Park.
• 1955 Belair Stud's (William Woodward, Sr.) Nashua wins Flamingo Stakes, en route to Preakness & Belmont. The colt is later named U.S. Champion 3 year old colt & U.S. Horse of the Year.
• 1956 A crowd of 42,366 come to see Nashua. Eddie Arcaro rides third Widener winner.
• 1957 Trainer Sunny Jim Fitzsimmons wins Flamingo Stakes with Bold Ruler, and goes on to become U.S. Champion 3 year old and U.S. Horse of The Year. Flamingo Fountain is built.
• 1960 Bill Hartack is leading jockey for fourth time in five years.
• 1961 Carry Back wins Flamingo Stakes, goes on to win Kentucky Derby & Preakness, U.S. Champion 3 year old colt.
• 1963 Woody Stephens trains his second Flamingo Stakes winner in Never Bend.
• 1964 E.P. Taylor's (Founder of Woodbine) Northern Dancer wins Flamingo Stakes en route to Kentucky Derby & Preakness tallies. Northern Dancer is named U.S. Champion 3 Year Old Colt, and Canadian Horse of the Year. Flamingo Terrace is added by Eugene Mori.
• 1965 A statue of Citation, executed in Florence, Italy, is unveiled. It weighs 5,995 pounds and is mounted on a base of marble.
• 1969 Diane Crump becomes first female jockey at major U.S. track.
• 1972 Darby Dan Farms' John Galbreath and associates purchase Hialeah Park
• 1974 Forego wins the first of consecutive Widener Handicaps and U.S. Horse of the Year honors.
• 1974 In the Academy Award winning film, The Godfather II, Director Frances Ford Coppola chose Hialeah Park to signify Michael Corleone's (Al Pacino) arrival to Miami from New York.
• 1977 Real estate magnate John J. Brunetti purchases Hialeah Park.
• 1977 Seattle Slew remains undefeated winning the Flamingo Stakes and later the Triple Crown. Seattle Slew is named U.S. Champion 3 year old colt and U.S. Horse of the Year.
• 1979 On March 5th Hialeah was added to the U.S. National Register of Historic Places.
• 1979 Reigning U.S. Champion 2 year old Spectacular Bid wins Flamingo Stakes by record 12 lengths. Goes on to win Kentucky Derby, Preakness and U.S. Champion 3 year old male.
• 1980 John Henry wins Hialeah Turf Cup, and later is named U.S. Champion Turf Horse.
• 1983 Nijinsky's Secret wins the first of consecutive Hialeah Turf Cups.
• 1986 Trainer D. Wayne Lukas wins second consecutive Flamingo Stakes with Talinum. Turkoman sets a track record in Widener Handicap.
• 1988 Hialeah is deemed eligible for designation as a National Historic Landmark by the Secretary of the Interior.
• 1994 Red Oak Stable's Enjoy The Silence sweeps all three sprint stakes for older fillies and mares – Gold Beauty, Poinciana and Christ Evert.
• 2000 Trainer Todd Pletcher wins Flamingo Stakes with Dogwood Stables' Trippi.
• 2001 Hialeah ceases thoroughbred racing with the goal of resuming sometime in the future.
• 2009 A new era begins on Nov. 28 when Hialeah Park introduces quarter horse racing.
• 2013 Phase I of the Brunetti family's multi million dollar revitalization of the entire 200 acre property. Grand Opening of Hialeah Park Casino, Wednesday, August 14.
Sources
http://hialeahparkcasino.com/ www.usatoday30.usatoday.com/sports/2007-07-25-history-sportsites_N.htm
Additional Information