Lincoln's Pike County
Introduction
This wayside exhibit is part of the Abraham Lincoln National Heritage Area. Visitors can find these exhibits in 43 Illinois counties. These exhibits tell the story of Lincoln's almost 30 years in Illinois in communities where Lincoln worked, traveled, and lived. This exhibit tells the story of Abraham Lincoln's connections to and activities in Pike County, Illinois.
Images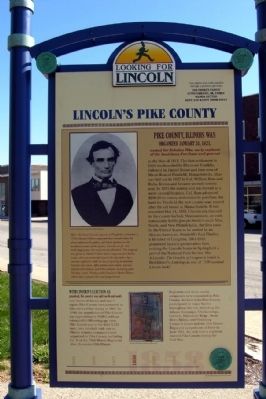 Backstory and Context
This wayside exhibit provides an overview of Pike County history and Lincoln's connections in the area.
The text on the wayside exhibit reads, "Pike County, Illinois was organized January 31, 1821, named for Zebulon Pike, early explorer of the Louisiana Purchase and general in the War of 1812. The first settlement in 1820 was founded by Ebenezer Franklin, followed by Daniel Shinn and four sons of Micah Ross of Pittsfield, Massachusetts. Atlas was laid out in 1823 by Col. William Ross and Rufus Brown and became an early county seat. In 1833 the county seat was moved to a more central location. Col. Ross advanced $200.00 to county authorities to purchase land for Pittsfield the new county seat, named after his old home in Massachusetts. It was recorded May 14, 1833. Lincoln-era sites still in the county include Mormontown, an early community led by Joseph Smith's uncle Silas Smith, and New Philadelphia, the first town in the United States to be settled by an African-American. Pittsfield's Paul Findley, a Member of Congress, 1961-1983, pioneered historic preservation laws, making the Lincoln home in Springfield a part of the National Park Service. His A Lincoln: The Crucible of Congress is listed in Burkhimer's Anthology as one of "100 essential Lincoln books".
"After Abraham Lincoln's speech in Pittsfield On October 1, 1858, Daniel Gilmer requested that Lincoln have his photo taken at the gallery of Calvin Jackson on the northeast corner of the square. Lincoln sat for two ambrotype poses, but only one was finished. The original was given to Daniel Gilmer and a copy sent to Charles Lame, who was seriously injured the day before by a cannon explosion while he was preparing to welcome Lincoln into town. After photos were taken, Lincoln visited with Gilmer and other friends, including John Nicolay. Later, Nicolay took Lincoln to Heck's Bakery where they enjoyed cider and gingerbread.
"With Lincoln's election as president, the county was split north and south over issues of slavery and state's rights. Pike County men answered to Lincoln's call for troops in 1861. In 1860, the population of Pike County was approximately 30,000, with an estimated 6,000 voting-age men. Pike County put in the field 3,132 men, over one-half male voters. Fifteen infantry companies were organized in Pike County, including Co. H of the 73rd Illinois Regiment. Also, the entire 99th Illinois Regiment and three cavalry companies were organized in Pike County. Soldiers from Pike County participated in major battles throughout the war, including the Atlanta Campaign, Chickamauga, Corinth, Missionary Ridge, Stone River, Shiloh, and Vicksburg. Ulysses S. Grant and the 21st Illinois Regiment camped east of Perry in June 1861, the only time a regiment entered Pike County during the Civil War."
Text used with permission from Looking for Lincoln.
Sources
https://www.hmdb.org/m.asp?m=68919
Additional Information