Nevada Museum of Art
Introduction
Established in 1931, the Nevada Museum of Art is the oldest cultural institution in the state. The museum has been located in a variety of campus buildings, the historic Hawkins House, and one other building prior to the completion of its current space. The museum includes works from around the globe and specializes in acquiring and displaying works created by young and developing artists from the region. Along with its unique exhibits, the Nevada Museum of Art offers a variety of activities and classes. Tuition-based classes are offered each quarter to students of all ages. There are scholarships offered to students who have financial need. This museum also offers advice on how to preserve one's personal artwork. Another opportunity offered at the Nevada Museum of Art is the chance to submit their artwork in an exhibition.
Images
This modern facility was designed by architect Will Bruder and opened in 2003.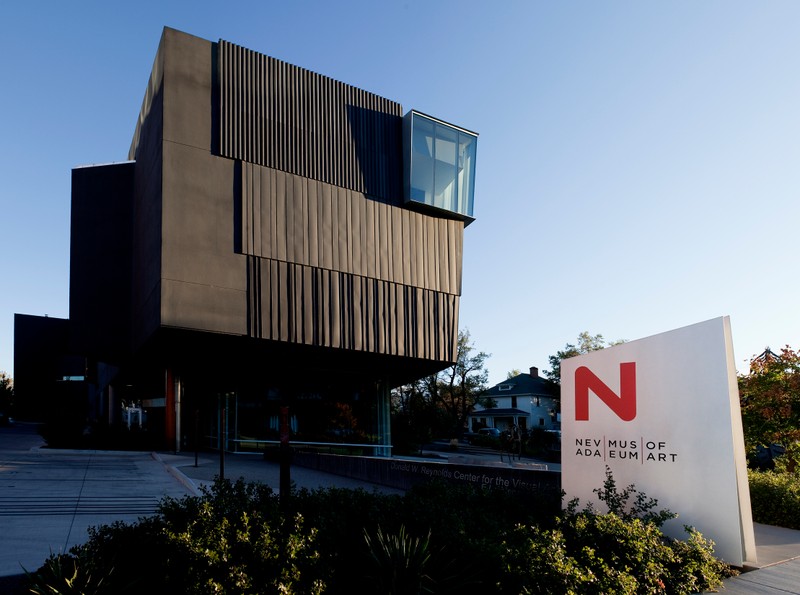 Backstory and Context
The Nevada Museum of Art has been in business for over eighty years, preserving and displaying art exhibitions while also offering courses on art and art history. 
On Thursday evening, the museum offers a special program with beverages and snacks for museum patrons as they view the exhibits and listen to the live music. The museum also offers a variety of lectures throughout the year in the auditorium, as well as special events that connect artists, writers, and scholars with the public. Tours of the museum are offered to museum members for free and are offered in English and Spanish. Once a month senior citizens are offered a social one day a month along with a tour of the museum and studio art classes.
The CA+E is a program at the museum that stands for Center for Art and Environment. They display current art that is popular in the region online, and the environment is the artwork that is found in the environment.
Sources
"About the Museum." Nevada Museum of Art. http://www.nevadaart.org/explore/about-the-museum.
Additional Information