Friends Meeting House and School
Introduction
The low brick building on the corner of Schermerhorn Street and Boerum Place is the Friends Meeting House which was built by the Quakers in 1857. The Quakers also established a school in their basement in 1867 and in 1902, they constructed the school at 112 Schermerhon to ease overcrowding. The Brooklyn Friends School moved to another location in the 1970s and an alternative high school now occupies the former school building. The Meeting House is still a place of worship by the Society of Friends (Quakers). The Friends Meeting House and School were designated a New York City Landmark in 1981 and were listed in the New York and National Registers in 1982.
Images
School (left) and Friends Meetinghouse (right) viewed across intersection in 2013 (Beyond My Ken)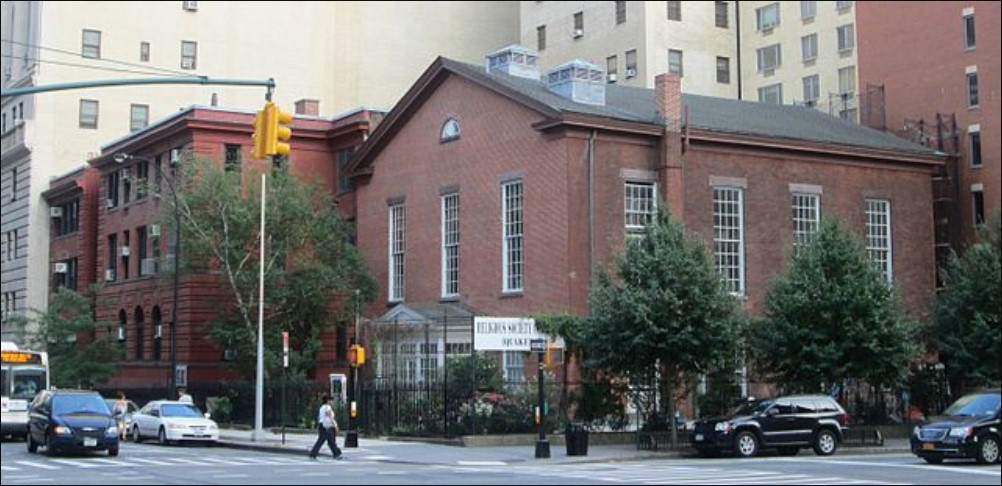 Boerum Place side of Friends Meetinghouse in 2008 photo (Jim.henderson)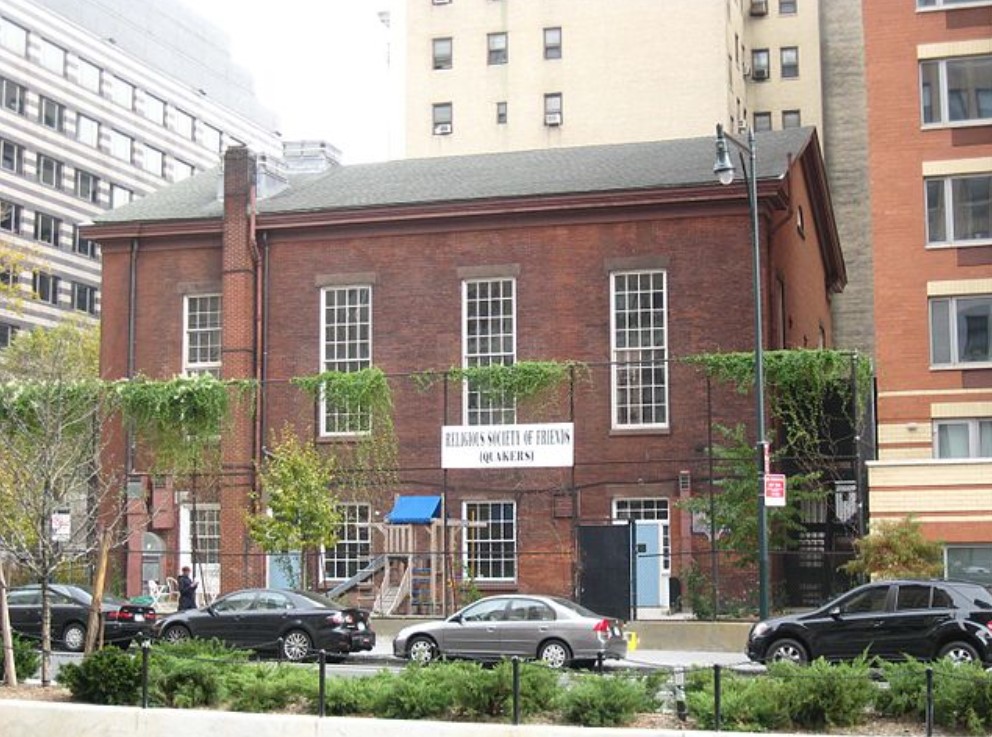 Friends Meetinghouse viewed from the northwest in 2013 photo (Beyond My Ken)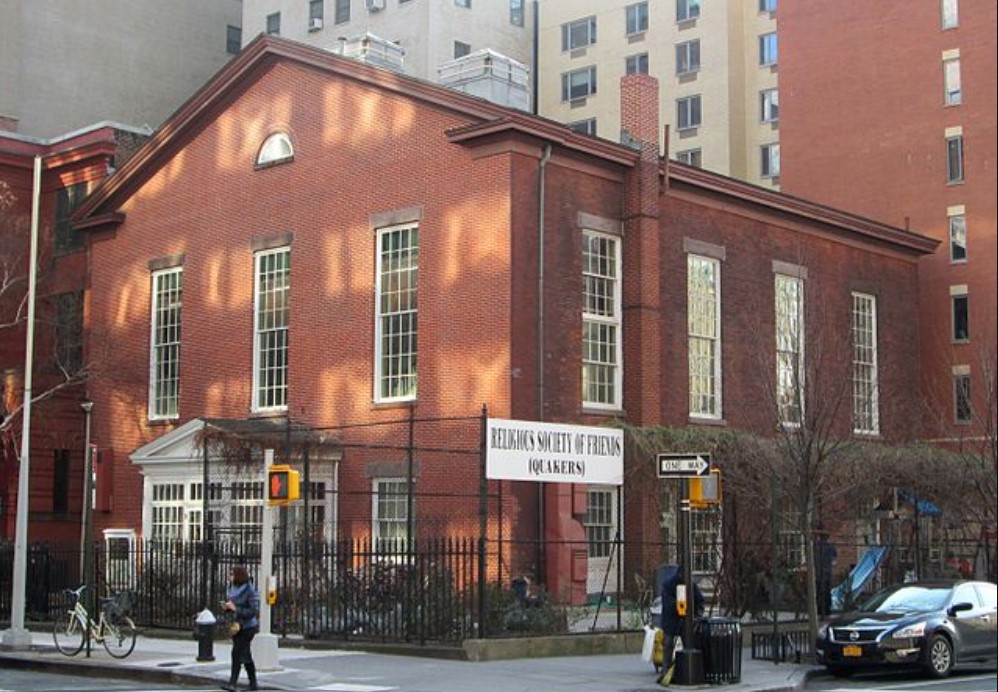 1902 school building facade along Schermerhorn St. in 2008 photo (Jim.henderson)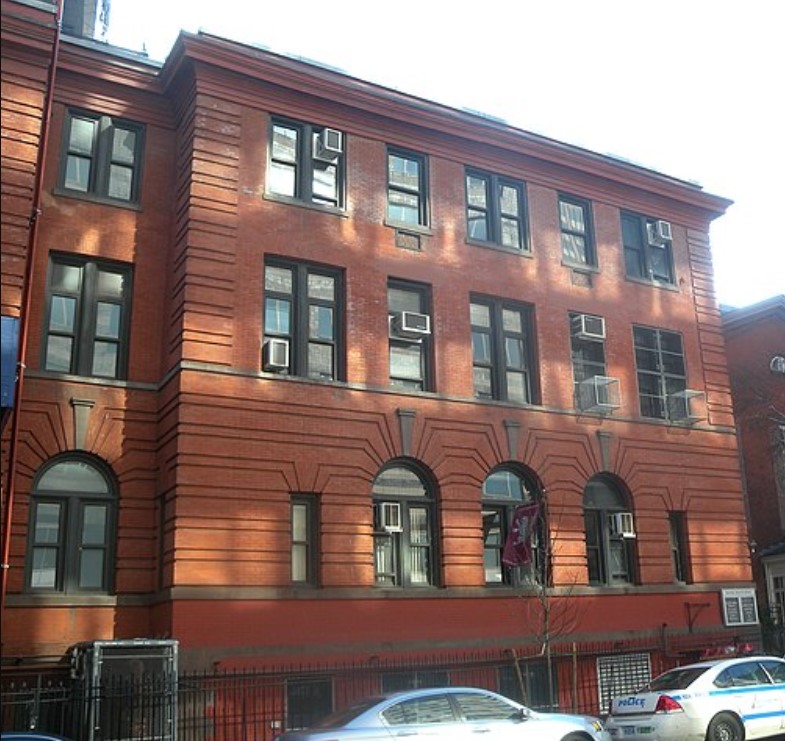 School (left) & Meeting House (right) on 1902 Sanborn map (p. 21)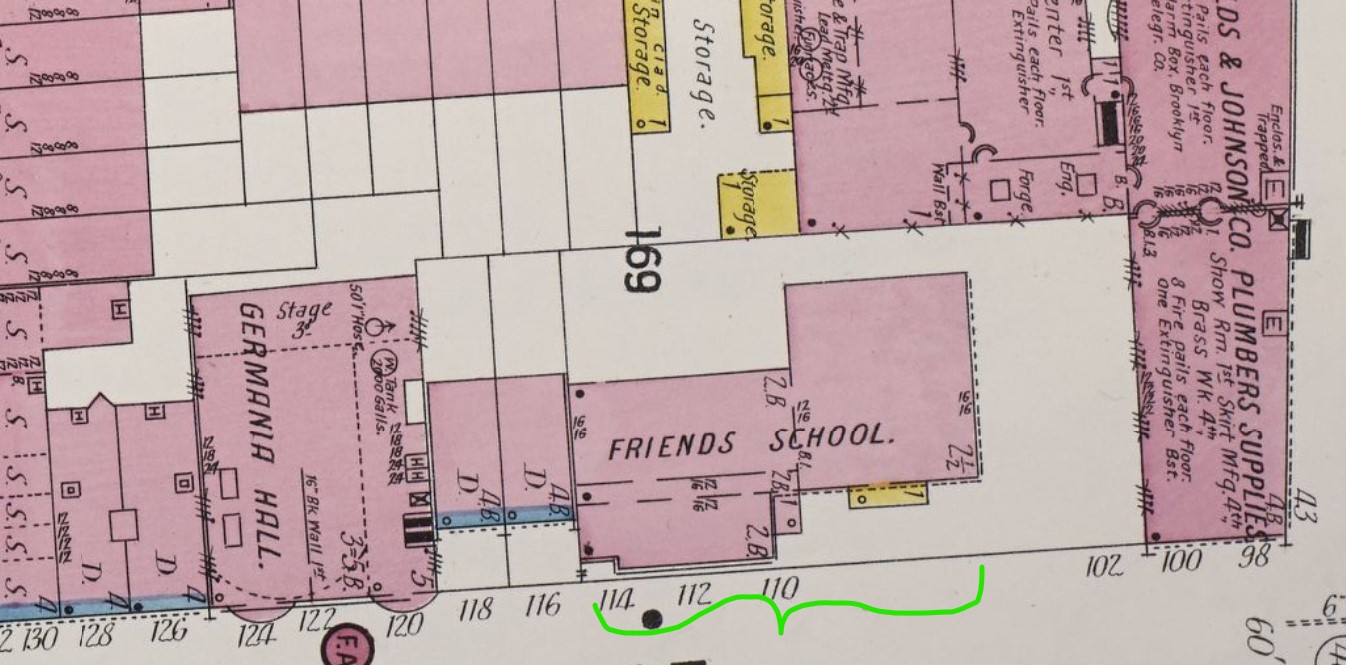 Backstory and Context
Charles F. Bunting is thought to be the designer of the 1857 Friends Meeting House. The interior of the worship room is very plain, with simple wooden benches, in keeping with Quaker values of avoiding ostentation (see the video linked below).
There were two branches of Quakerism that worshiped in Brooklyn in the nineteenth century. The Orthodox Quakers constructed their meeting house on the corner of Washington and Lafayette Avenues. The Hicksite Quakers were authorized under the state's Hicksite Meeting; they are the group who built the Meeting House on Schermerhorn St. Elias Hicks founded the Hicksite branch of the Society of Friends. His direct descendant, Samuel Hicks Seaman, worshipped at the Schermerhorn Street Meeting House while living in Brooklyn from 1881 until his death in 1901 at age 63; Seaman was the retired president of the Cromwell Steamship Company. In the early years of the Brooklyn Hicksite Friends, men sat on one side of the Meeting House during worship services while women sat on the other side. That changed on the morning of December 7, 1873, when both sexes sat together during the service.
A Quaker school was held in the basement of the Schermerhorn Street Meeting House. Brooklyn Friends School was founded in 1867 as a grade school for boys and girls and began with 17 pupils. While the school was run by the Quakers, enrollment was also open to non-Quakers. Miss Susan B. Peckham was the principal from the 1880s to 1902. A school building was added next to the Meeting House at 112 Schermerhorn St. in 1902 to ease overcrowding; W. B. Tubby was the architect. Instruction for Kindergarteners was added in 1902 and for high schoolers in 1907. In the early 1970s, Brooklyn Friends School moved several blocks north to 375 Pearl Street, where it still operates as the school's main building. Brooklyn Friends School is a private school known for progressive teachings and emphasis on social justice; their 900 or so students use the Meeting House for some school gatherings. The school cut its ties to the New York Quarterly Meeting of the Society of Friends in 2010. The 1902 school building now houses Brooklyn Frontiers High School, an alternative school.
In Quaker gatherings for worship, members sit in silence, quiet their mind, and may speak if they feel they have received a message through God. Quaker values include respecting others and celebrating each individual's inner light. With the coronovirus pandemic, the Brooklyn Meetings went virtual via Zoom in 2020. Participants are automatically muted and sit in front of their computer screen for about an hour.
Sources
Anonymous. "Friends' Meeting House." Brooklyn Daily Eagle (Brooklyn) December 8th 1873. 2-2.
Anonymous. "Our Schools." Brooklyn Daily Eagle (Brooklyn) September 15th 1883. 1-1.
Anonymous. "Samuel Hicks Seaman." Brooklyn Daily Eagle (Brooklyn) January 26th 1901. Obituaries sec, 2-2.
Brooklyn Friends School. Our History, Brooklyn Friends School: About. January 1st 2021. Accessed December 23rd 2021. https://brooklynfriends.org/about/history/.
Dibble, James E. Covell, Anne B. NRHP Nomination of Friends Meetinghouse and School, Brooklyn, N.Y.. National Register. Washington, DC. National Park Service, 1982.
Giaever, Bianca. "Can You Gather With God Over Zoom?." New York Times (New York) May 22nd 2020. online ed.
Hughes, Jazmine. "A Quaker School Promoted Liberal Values. Then Its Teachers Unionized." New York Times (New York) September 3rd 2020. online ed.
North, Edgerton Grant. Seventy-five Years of Brooklyn Friends School. New York, NY. Brooklyn Friends School, 1942.
Image Sources
https://commons.wikimedia.org/wiki/File:Quaker_Meeting_House_Brooklyn_from_Boerum_Place.jpg

https://en.wikipedia.org/wiki/Friends_Meetinghouse_and_School#/media/File:Quaker_Meeting_Boerum_Scherm_jeh.JPG

https://commons.wikimedia.org/wiki/Category:Friends_Meeting_House_(Brooklyn)#/media/File:Quaker_Meeting_House_Brooklyn_from_northwest.jpg

https://en.wikipedia.org/wiki/Friends_Meetinghouse_and_School#/media/File:Pacific_High_School_jeh.jpg

Library of Congress (LOC): https://www.loc.gov/item/sanborn05791_014/

Additional Information