General George Armstrong Custer Statue
Introduction
This monument commemorates Monroe-native George Armstrong Custer, the famous general who lost his life in the Battle of Little Bighorn on June 25, 1876 in what is now Montana. He is infamously known for this battle as he led an attack against the Lakota and Cheyenne Indians that still dominated parts of the frontier. He failed to take precautions or scout ahead for Native Americans and was killed along with 210 of his men. The Battle of Little Bighorn was considered one of the greatest Native American victories throughout the war.
Images
General George Armstrong Custer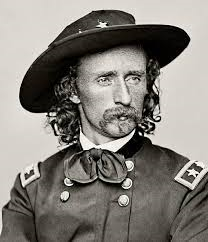 General Custer statue in Monroe, Michigan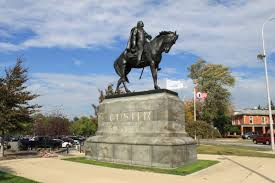 The Battle of Little Bighorn (Custer's Last Stand)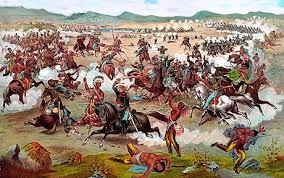 Backstory and Context
George Custer was born on December 5, 1839 in New Rumley, Ohio. His childhood Custer mostly grew up in Monroe, MI where he lived with his half-sister. He was the son of Emanuel and Maria Custer. Despite growing up poor, he saw himself doing something with life. He set his sights on West Point Academy after high school.
Custer enrolled in West Point in 1857. It was not the perfect fit for him because he was rebellious and buckled under authority. However, he did manage to graduate in June 1861, albeit last in the class. He was also nearly court marshaled after being unable to prevent a fight between two cadets.
Custer thrived on the battlefield, however, and was well respected for directing calvary at the Battle of Bull Run. He was given the nickname "The Boy General" because of his young age and daring bravery in battle. Custer, following the years of the Civil War, was given an objective to fight against Native Americans and he thrived in multiple battles. At the Battle of Little Bighorn, Custer, along with two other units, were ordered to engage the Lakota and Cheyenne and eliminate them to allow for western expansion. Custer was too confident, advancing ahead in front of the two other units, trapping himself and his unit. All were killed as a result.
Sources
"George Armstrong Custer Equestrian Monument." Military History of the Upper Great Lakes. October 19, 2016. https://ss.sites.mtu.edu/mhugl/2016/10/19/george-armstrong-custer-equestrian-monument.

"George Custer: General (1839-1876)." Biography.com. Accessed May 7, 2015. http://www.biography.com/people/george-custer-9264128#young-hero.

McLaughlin, Matthew. "Custer Statue Monroe Michigan." Historic Monroe. Accessed May 7, 2015. http://www.historicmonroe.org/general-custer.htm.