Mid-America All-Indian Center
Introduction
Established n 1969, the Mid-America All-Indian Center works to preserve and share the culture and history of Native Americans, as well as the role they play in society today. The museum features a collection of 3,000 artifacts; these are rotated in new exhibits throughout the year. The museum also features activities and attractions outside, including a tipi, travois (a drag sled for horses and dogs), a wildlife learning center, and a medicinal garden. Events held at the museum include powwows and community nights. Educational programs are also offered including arts and craft classes and field trips.
Images
The Mid-America All-Indian Center was founded in 1969.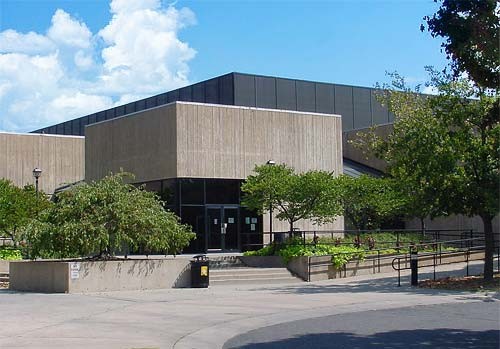 Backstory and Context
The museum collection includes over three thousand works from American Indian artists, including the largest collection of works by artist Blackbear Bosin who was one of the museum's founders and also designed the Keeper of the Plains statue. The museum's current location opened in 1976 and is located near the city's iconic landmark and symbol, the "Keeper of the Plains" statue. Between the statue and the museum, one can tour the Outdoor Learning Center which includes a variety of exhibits such as tipis and other shelters and signage about native plants. Together, these exhibits show how Plains Indians communities lived while the works of art in the museum demonstrate aspects of Native cultures.
Sources
"About Us." Mid-America All-Indian Center. Accessed March 23, 2014. http://www.theindiancenter.org/Pages/About.aspx.
Additional Information