"Foggy Bottom" Mural - A Color Burst at the Varsity
Introduction
Busy 24th Street is the outside border of the Foggy Bottom Historic District. The street features four traditional row houses sandwiched between modern apartment buildings, but the "gem of the block" is the mural, "Foggy Bottom." It was painted in 2017 for the Varsity Condo by Aniekan Udofian, a noted D.C. muralist. It captures the area's industrial past and the more recent educational spirit of Foggy Bottom. The mural's central figure is a Mad-Max style glass-blower, a reference to the Glass House, an early Foggy Bottom industry. The vibrant mural also shows factory smoke, the three red stars and stripes of the D.C. flag, George Washington's face and pencils, references to the nearby George Washington University. 
Images
"Foggy Bottom" mural at the Varsity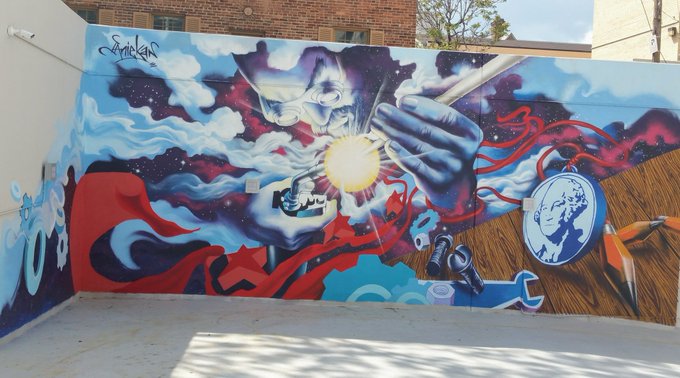 "Foggy Bottom" mural in progress, 2017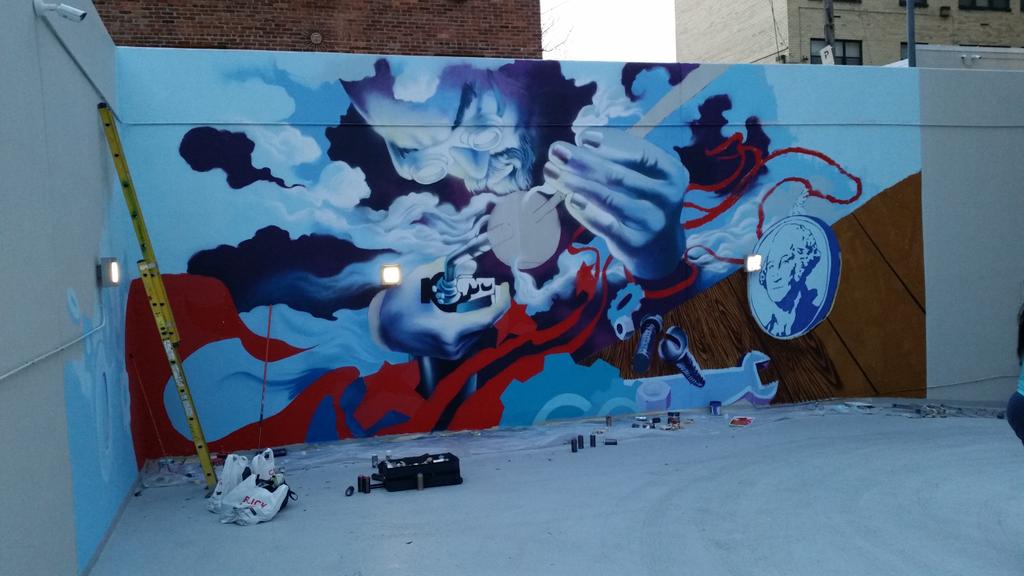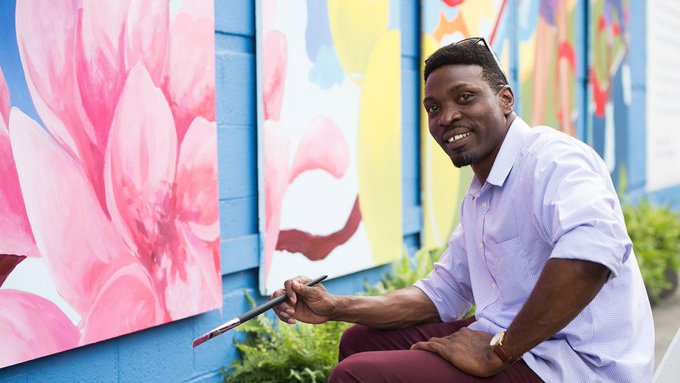 Udofia Mural at Ben's Chili Bowl, Washington D.C.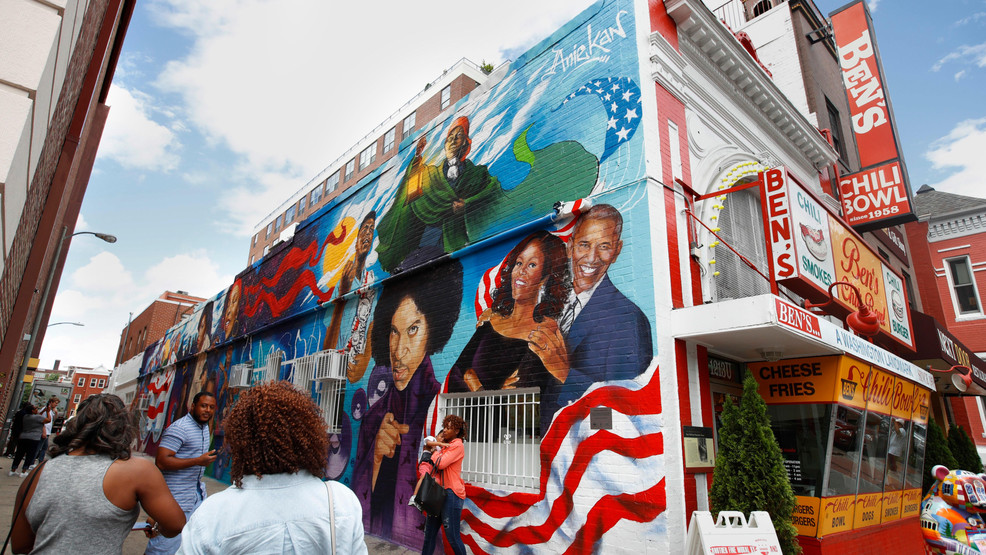 "Namaste" mural painted for MuralsDC, 2019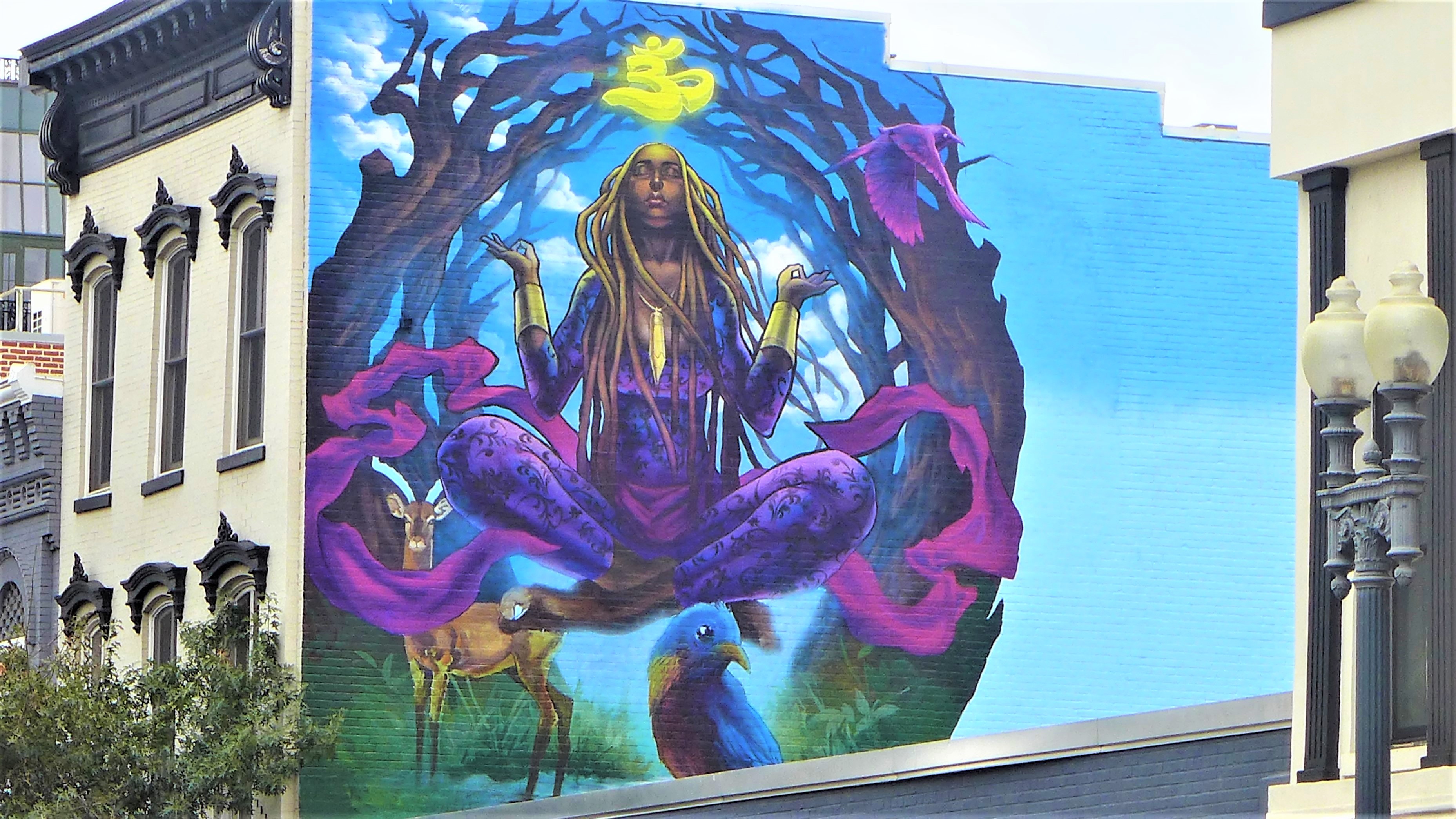 Backstory and Context
Aniekan Udofia's work is very popular in the D.C. metro area. He has completed over 30 indoor and outdoor murals in D.C., including the one at Ben's Chili Bowl restaurant. In 2000, Udofia started his career as an illustrator for magazines and album covers. He then studied fine arts and was exposed to graffiti art. Friends urged him to create murals, but he was hesitant. Once he created murals, they became very popular. He thinks one reason for his success is he "approaches his art as an illustrator." He uses the rich history of a community to create dynamic elements unique to a neighborhood.
Compositions can take three to four weeks as he works through a variety of design elements and colors. He projects his design and creates his visual masterpieces by priming the surface with house paint and then spray paints over it.
Sources
Aniekan Udofia, phone interview by Denise Vogt, January 2022
Aniekan Udofia website (see link below)
Image Sources
Udofia twitter page

Aniekan Udofia

Udofia website

WJLA, 2020

DC Walls, 2019

Additional Information