Sedgwick County Historical Museum
Introduction
This local history museum is located in the old City Hall which was built in 1892. The building is one of the state's oldest and most impressive courthouses. Designed in the Renaissance Revival style by Willis Proudfoot and George Bird, it features an ornate stone decorative exterior and was given the nickname, the "Palace of the Plains". As such, the building is significant for its architecture and the fact that it represents the city's development during the late 19th century. It was placed on the National Register of Historic Places in 1971. The museum offers four stories of exhibits that showcase life in Wichita over the centuries, from Native American culture, to early settlers and railroads, to the birth of the aviation industry, and to more recent history. A wide variety of exhibits explore this history, such as the recreated early car garage featuring a 1916 Jones automobile, a typical 19th-cottage, and an early 20th century drug store. The museum also houses an internationally-acclaimed collection of silver-plated service ware.
Images
Formerly the City Hall building, the Sedgwick County Historical Museum moved into the building in 1979.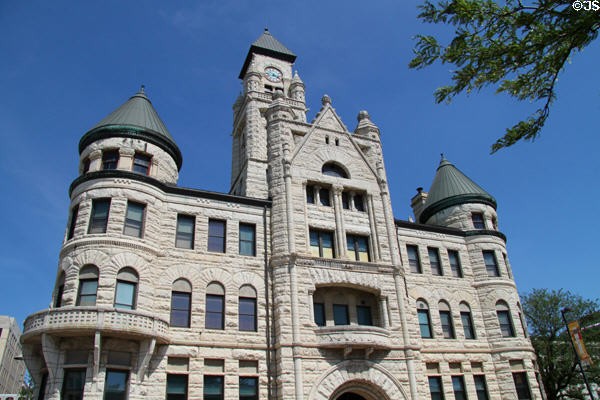 Backstory and Context
The museum traces its roots to the Sedgwick County Pioneer Society which was established in 1909. It became a museum in 1938 called the Wichita Public Museum. It adopted the current name in 1947. When the city began discussing the construction of a new city hall in the 1960s, concerned citizens helped save the Lassen from demolition. In 1979, the museum moved in.
Sources
"Our Building." Sedgwick County Historical Museum. Accessed March 23, 2014. http://wichitahistory.org/our_building.

Hall, Charles. "Old Sedgwick County Courthouse." National Park Service - National Register of Historic Places Nomination Form. May 14, 1971. https://npgallery.nps.gov/GetAsset/c44d5050-d826-4e89-a257-30954dbe7e05.
Additional Information