Antique Automobile Club of America Museum
Introduction
The automobile revolutionized the 20th century, and for over 100 years, various cars, trucks, and other vehicles stood as the centerpieces of American culture. Preserving and displaying this relationship with antique automobiles, the Antique Automobile Club of America (AACA) Museum offers the public a profound look into automotive history from the 1890s to the 1980s. Both history and automobile buffs can rejoice, as this comprehensive museum showcases the evolution of the automobile in American culture while giving visitors a close-up look of some of the most iconic automobiles of all time. From famous cars seen in movies to a 1920s exhibit that transports visitors back in time, it is no surprise that the AACA Museum has been recognized as one of the Top 16 Automotive Museums in the world and has received the rare honor of being a Smithsonian Affiliate.
Images
Outside of the AACA Museum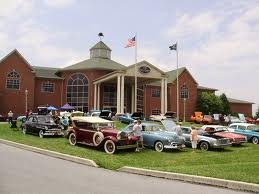 Part of the Museum of Bus Transportation Collection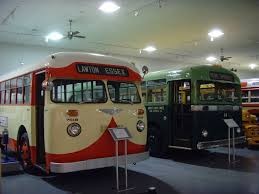 1895 Chicago Motor Benton Harbor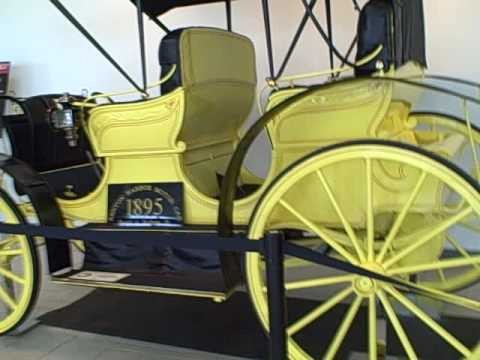 Backstory and Context
History of the Museum
The AACA Museum dates back to 1993, when the AACA first conceived of a antique, collector-orientated museum to supplement its popular Research Center and Library. With a mission to preserve and present motor vehicle history in a fun and entertaining way, the AACA club moved towards contacting esteemed collectors and conducting fundraising programs to create the definitive automobile museum. By 2001, after a $7 million fundraising campaign, construction began on the 71,000-square-foot building and the museum officially opened to the public in 2003.1
Permanent Collection and Exhibits
Boasting a permanent collection of over 150 vehicles, the AACA Museum has at least 70 to 80 of these cars on display at any given time, and this collection ranges from the 1895 Chicago Motor Benton Harbor, a rare survivor of the pioneer period of automobile development that resembles a classic stagecoach, to the 1977 Chrysler Cordoba.
While strolling through the collections, visitors can explore the iconic cars from almost every decade. Discover the 1897 Aldrich Autobuggy, a 1920 Ford Model T Truck, or experience the style of the '60s with the 1967 Cadillac De Ville convertible.
In addition to the cars, visitors can also explore the time period that these cars inhabited, as exhibits feature a walk-in time capsule when bubble gum cost less than 5 cents and waitresses on roller skates brought hamburgers and milkshakes to the vehicle window.2
Changing Exhibits at the Museum

The AACA Museum also hosts several changing exhibits a year, giving their visitors a unique look into specialized automobile-related subjects. Some past exhibits have included "A Family Affair: Celebrating the Station Wagon," "100 Years of Dodge," "Indian Motorcycles and America," and many others.
The ACCA Museum also houses the comprehensive Museum of Bus Transportation Collection, which includes an entire floor of buses and more than 30 motorcycles. Furthermore, because the Museum also owns an additional 20,000-square-foot storage facility, the professional museum staff is able to rotate vehicles from storage to display every so often, which makes each trip to the museum a new experience.3
Children who may not be interested in gawking at beautiful automobiles can still discover plenty of hands-on activities. The activity room of the museum, younger children can conduct crayon rubbings of antique license plates or dress up in period clothing and get their photo taken inside a vintage vehicle.4
Sources
1.) http://www.aacamuseum.org/about/ 2.) http://www.aacamuseum.org/exhibits/permanent/ 3.) http://www.aacamuseum.org/exhibits/ 4.) http://www.aacamuseum.org/visit/
Additional Information