Professional Wrestling Hall of Fame and Museum
Introduction
For years, professional wrestling has been embedded in the rich culture of America. Here, in Amsterdam, you can relive the glory days of pro wrestling, from the beginnings in the latter half of the 19th Century, up to the modern period, where, in the 1980s and 1990s, a number of performers such as Hulk Hogan and Bret Hart established pro wrestling as a very popular source of entertainment for Americans. Inducting new members annually, the Hall of Fame includes some of the most famous names associated with professional wrestling, as well as preserving the rich history of pro wrestling. Records, memorabilia, and artifacts all can be found here. This place is perfect for any pro wrestling fan. Today, most people associate pro wrestling as the fake form of entertainment produced by WWE, or World Wrestling Entertainment. But, one should realize the immense amount of athletic ability it takes, and once one appreciates that, pro wrestling is a lot easier to appreciate. Consider it a mix of athleticism and theatre, and this mix of entertainment choices has stood the test of time.
Images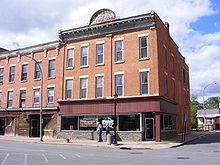 Backstory and Context
For hours, admissions, and other information, visit the official website.
http://www.pwhf.org/index.asp
Sources
http://www.pwhf.org/index.asp
Additional Information