GoggleWorks Center for the Arts
Introduction
Located in a former factory building downtown Reading, the GoggleWorks Center for the Arts carries the proud role of being the premier art museum and supporter of creative arts. In addition to a variety of art galleries and exhibits showcasing everything from the classics to locally-produced work, the 145,000-square-foot GoggleWorks Center for the Arts provides necessary studio space for budding artists as well as classrooms for educational courses as well as workshops. In fact, the facility is so large that it encompasses six different buildings, making GoggleWorks the "Entire City Block Where Art Happens." Every 10 weeks, GoggleWorks hosts over 200 arts-based classes and 35 in-house artists. With free admission, GoggleWorks invites the public to come as long as they would like to explore art through dance, music, and five ever-changing galleries.
Images
Outside View of GoggleWorks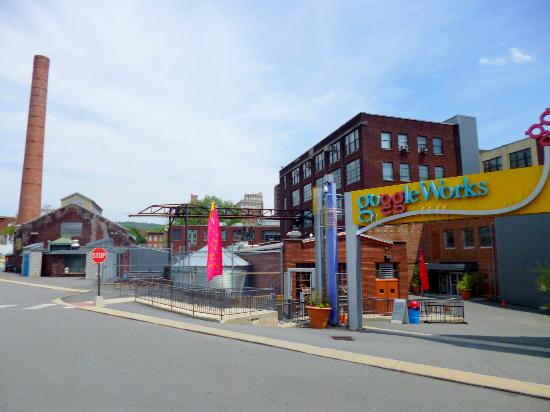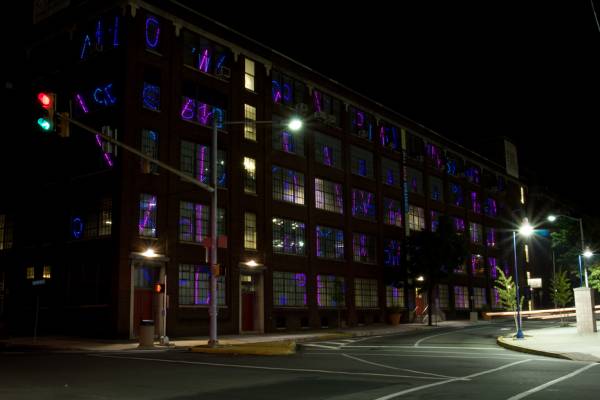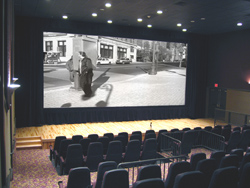 GoggleWorks Artists Glazing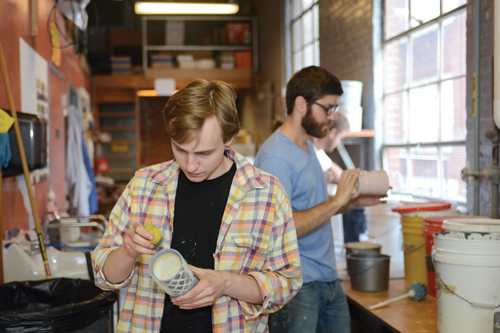 Backstory and Context
History of the GoggleWorks Building

The GoggleWorks building dates back to 1871, when Gile J. Willson and his son Dr. Thomas A. Willson founded and opened their optical lens and glasses factory, Thomas A. Wilson & Co. Throughout the 20th century, the Willson family produced a variety of successful technology and safety products.
The plant, under Dalloz, closed in 2002, and three years later, the concept of GoggleWorks came to fruition. The building was added to the National Register of Historic Places in 2006, In 2005, Albert Boscov's and Marlin Miller took over the building after Dalloz closed it . Along with help from over campaigners, they made the GoggleWorks successful and a working success and GoggleWorks re-opened its doors in 2008.
The Goggle Works building houses several exhibition galleries, a 130-seat theater, cafe, and a gift store.
Exhibits at the Center

In addition to housing and supporting the arts scene, GoggleWorks has consistently hosted several exhibits from both emerging and established artists. In the past, some of these exhibits included "The Frank Scott Memorial Art Show: The Art of Jazz," "A Retrospective: Illustrations, Woodworking, Guitars," and "Telling Stories, GoggleWorks Juried Exhibition."
The various exhibits continually rotate, and they are displayed in the Schmidt, Green Wall, Cohen, and Cafe galleries. The Cohen Gallery is the largest in the Center, and it is able to host one major show or two separate exhibitions simultaneously. As a supporter of emerging artists, any artist or organization interested in exhibiting a show can simply fill out a proposal for GoggleWorks.2
The Center also features an 130-seat theater capable of playing everything from Bluray to 35mm films.
Classes and Workshops
Throughout the year, prospective artists and art enthusiasts can partake in a myriad of art classes taught by renowned teachers. These classes cater to most artistic mediums, ranging from ceramics and glass blowing to wood working and writing. They have also recently added hot and warm glass making, metalsmithing, photography, 35 juried art studios, and dozens of dance and music classes.
Week-long or weekend workshops generally feature master makers and instructors in their field, and within the six professionally equipped studios, emerging artists have the opportunity to learn from the best. Young artists, starting from 3-years-old to teenage artists, can also participate in the Center's summer camps.4
Second Sunday Open House
Although the public is welcome to stroll through the museum during the week and explore the various exhibits on display, GoggleWorks hosts an open house event on the second Sunday of the month. This event allows community members and visitors to experience the dynamic creative atmosphere at GoggleWorks through walk-in workshops, make-and-take projects, and exploration of the 34 artist studios and galleries.5
Sources
1.) http://www.goggleworks.org/about/ 2.) http://www.goggleworks.org/exhibition/exhibition-proposal/ 3.) http://public.goggleworks.org/public/OpenClasses.faces 4.) http://public.goggleworks.org/public/Workshops.faces?term=8 5.) http://www.goggleworks.org/about/events-and-activities/
Additional Information