Historical Marker: The Hon. Rufus Lewis House
Introduction
Dedicated in 2001, this historical marker shares the contributions of Rufus Andrew Lewis, a key figure during the Montgomery Bus Boycott. Born in Montgomery on November 30, 1906, to Jerry and Lula Lewis, Rufus Andrew Lewis continually advocated for his community as a civil rights leader, a teacher, and a voting rights activist. During the bus boycott, Rufus led efforts to organize hundreds of private automobiles and mapped out carpool routes and organized drivers thereby enabling thousands of Black residents to avoid using the city busses. In 1976, Lewis became the first Black marshal for the Middle District in Alabama after President Jimmy Carter appointed him to serve as a U.S. Marshal.
Images
Rufus Lewis historical marker erected in 2001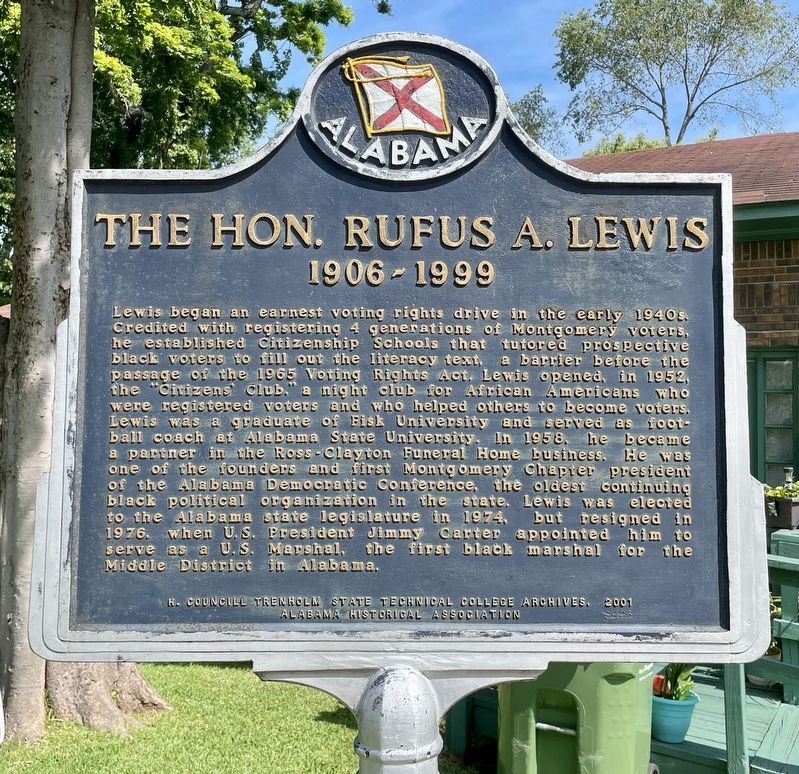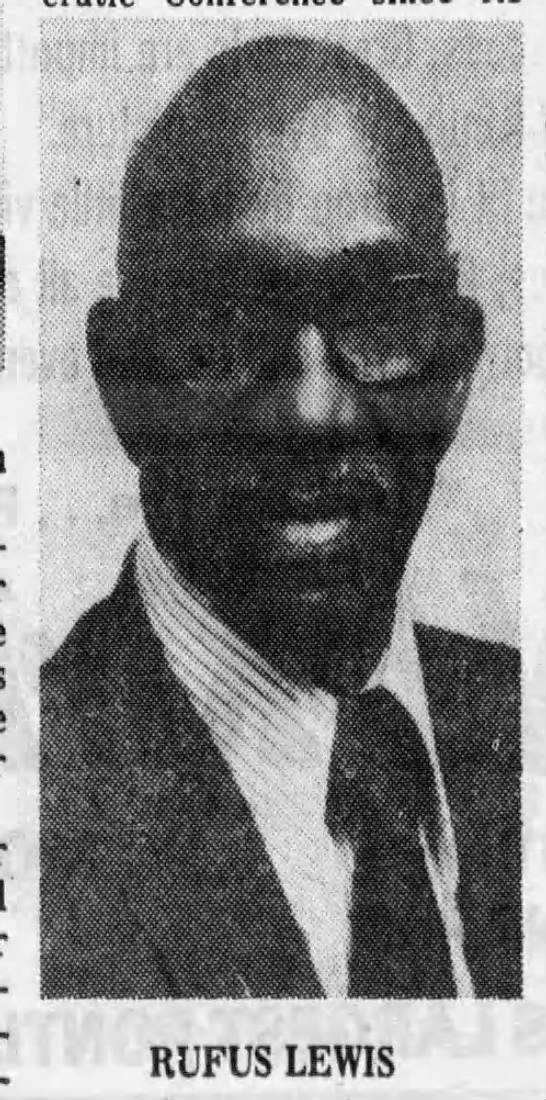 "Rufus Lewis remembered for devotion to civil rights."

"Rufus Lewis true hero of the movement"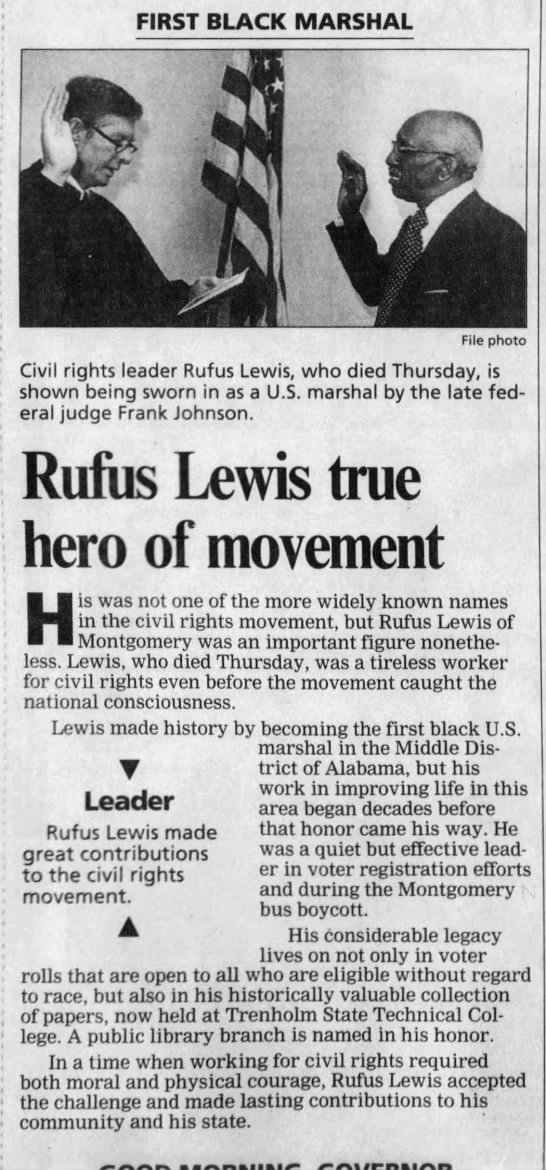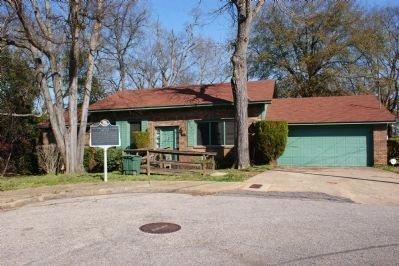 Backstory and Context
Rufus A. Lewis graduated from Alabama State Laboratory High School and Alabama State Teachers' Junior College. He became a graduate of Fisk University in Nashville, Tennessee in 1931, where earned his Bachelor of Arts degree in Business Administration. Lewis began teaching at schools in Evergreen and Mt.Meigs, Alabama before joining the faculty at Alabama State Teachers' College (Alabama State University) in 1933. At the college, he worked as an assistant librarian and coached the football and track team. Lewis later became a charter member of the graduate chapter of Alpha Upsilon Lambda Chapter of Alpha Phi Alpha Fraternity. When the United States entered World War II, Lewis —though not eligible for combat service due to injury— worked with the National Defense Project for two years. He joined the Ross-Clayton Funeral Home as a business partner in 1958. Lewis with his wife, Jule Adelaide Clayton, and young daughter moved into this home on 801 Bolivar Street (now 301 Rufus A Lewis Lane).[1]
Beginning in the 1940s, Lewis began organizing voting registration drives and teaching the local African American community about voting rights. Before the passage of the 1965 Voting Rights Act, African Americans faced significant barriers to exercising their voting rights in the South. When Reconstruction ended after the withdrawal of Federal troops from the former Confederate states, the voting rights for Black men were restricted. Across the South, states passed laws that limited the right to vote through poll taxes, literacy tests, intimidation, and fraud.[2]
He established Citizenship Schools to tutor prospective Black voters for the literacy texts and founded the "Citizens' Club", a nightclub for African Americans who were registered voters and who helped others to become voters in 1952. The Citizens' Club encouraged people to register to vote and taught them how to fill out registration blanks. Members would mimeograph copies of questions that the county would ask potential voters for registration. Lewis and other club members went into the community around Montgomery to go over the registration process and help them study for the literacy test. They would host a projector showing of a registration film from the Labor Department to inspire other African Americans to vote. Lewis would escort a potential voter to the registration site and wait for them. If the registrar denied them the right to register, he would send a complaint to the Governor. Some people credit Lewis with registering roughly four generations of Montgomery voters. He was also one of the founders of the Alabama Democratic Conference, the oldest continuing Black political organization in the state. He served as the first president of that organization.
During the 1955 bus boycott, Rufus Lewis and Dr. Benjamin Simms headed the transportation committee that mapped out carpool routes and organized drivers. The carpool system helped maintain the boycott as it extended from a one-day protest to a protest that lasted for 382 days. The committee tried to cover the entire city and used 325 private cars to pick up passengers from forty-three dispatch stations and forty-two pickup stations. These dispatch stations were designated areas, where workers could get a ride to and from work. When the committee needed a car, Lewis used cars from the Clayton-Ross funeral home.[3]
In 1974, Lewis was elected to the Alabama state legislature. However, he resigned in 1976 when President Jimmy Carter appointed Lewis to the position of U.S. Marshal. With his appointment, Lewis became the first Black marshal for the Middle District in Alabama. Rufus Lewis died on August 19, 1999, and the home is now the residence of Lewis' granddaughter.
Sources
[1] "Rufus Lewis Collection." Trenholmstate.edu. Trenholm State Community College. https://www.trenholmstate.edu/future-students/student-resources/library/collections/rufus-lewis-collection/
[2] "Black Americans and the Vote."Archives.gov. The U.S. National Archives and Records Administration.9 June 2021. https://www.archives.gov/research/african-americans/vote.
[2] "Lewis, Rufus," Kinginstitute.stanford.edu, Stanford University the Martin Luther King, Jr. Research and Education Institute. https://kinginstitute.stanford.edu/encyclopedia/lewis-rufus.
[3] "Bricklayers Hall."NPS.gov. National Park Service. 9 December 2021, https://www.nps.gov/places/bricklayers-hall.htm.
[3]Jo Ann Robinson and David J. Garrow. The Montgomery Bus Boycott and the Women Who Started It: The Memoir of Jo Ann Gibson Robinson (Knoxville: University of Tennessee Press, 1987), 91.
[3] "Eyes on the Prize; Interview with Rufus Lewis," 1985-10-31, Film and Media Archive, Washington University in St. Louis, American Archive of Public Broadcasting (GBH and the Library of Congress), Boston, MA and Washington, DC, accessed April 20, 2022, http://americanarchive.org/catalog/cpb-aacip-151-cn6xw48j9g.
Image Sources
Image by Mark Hilton, 2021

The Montgomery Advertiser (Montgomery, AL). 3 November 1974.

The Montgomery Advertiser (Montgomery, AL). 20 August 1999.

.The Montgomery Advertiser (Montgomery, AL).20 August 1999.

Image by Dodson M. Curry, 2010

Additional Information