Athenaeum of Philadelphia
Introduction
The Athenaeum of Philadelphia dates back to 1814 when it was established as a library and archive. The building is unique in that it was created in a classic Italianate style, and its holdings chronicle the history and culture of Philadelphia. The collection is also particularly strong in the field of early American architecture and the decorative arts. The archives are home to over three hundred thousand photographs and a thousand manuscript collections. The Athenaeum is both a National Historic Landmark (1977) and an active library and archive, and it is open to the public.
Images
Designed in 1845 in the Italianate Revival Style, the Athenaeum is a National Historic Landmark and public archive supported by private donations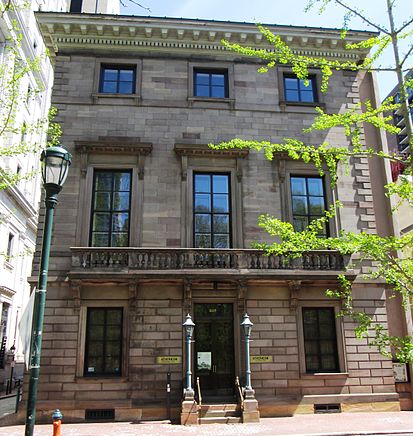 Backstory and Context
The Athenaeum of Philadelphia was established as a member-funded library and archive dedicated to collecting books, artifacts, and other items "connected with the history and antiquities of America, and the useful arts, and generally to disseminate useful knowledge" in order to benefit the general public of the United States. Much of the library's collection duties were concerned with architectural and building design history, housing drawings, photographs, and other items relevant to its specific interests.
The Athenaeum itself is heralded as an innovative building for its architectural design, which was devised by architect John Notman. Built in the Italianate Revival Style, the building was purposefully designed to seem plain on the outside, being built out of brownstone. The interior, however, was lavishly furnished to resemble a British sitting and reading room, with 24-foot ceilings and rooms which adequately contain the Athenaeum's collection of historical artifacts.
Today, the Athenaeum of Philadelphia is open to the public as a library and a museum, free of charge. Patrons may view exhibition galleries on the first floor in order to get a glimpse of the history of architecture and building design. Those interested in more serious research, however, may make appointments with the Athenaeum in order to take tours of the restored reading rooms, or to use the collection of photographs, documents, and drawings related to design history.
Sources
http://www.philaathenaeum.org/mission.html Mission and History. Athenaeum of Philadelphia. Accessed December 19, 2016. http://www.philaathenaeum.org/mission.html.


Additional Information