Clay County Archives and Historical Library
Introduction
Established in 1979, The Clay County Archives and Historical Library was formed from an idea from a meeting led by a circuit clerk named Jack Roberts. Roberts said that the records of the county should be stored in a place where anyone can have easy access to them. The historical society's motto on their personal website is "Preserving the Past for the Present." Their mission is to gather and maintain documents, manuscripts, evidence, records, and instruments that may have historical significance to the area. These documents or articles may have desirability to the association or will be used to promote public interest in them.
Images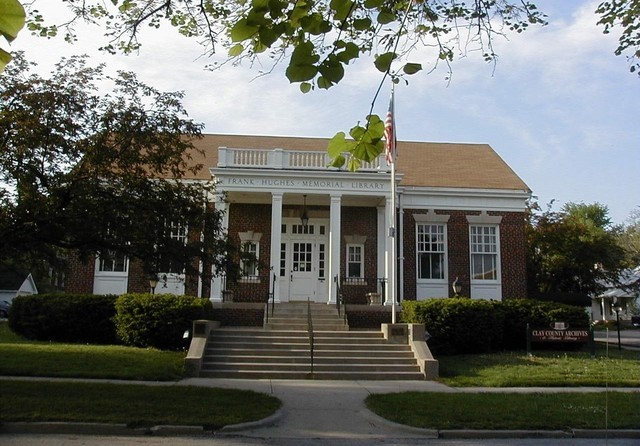 Backstory and Context
Clay County, Missouri was recognized as a county in the state back on January 2nd, 1822. It got its name from U.S. Representative Henry Clay, who represented the 2nd and 5th districts in Kentucky, became a Speaker of the House, became a United States Senator, and eventually became U.S. Secretary of State under President John Quincy Adams. The earliest settlers in the areas were those from mid-southern states like Kentucky, Tennessee, and Virginia as they brought slaves over and practiced slaveholding traditions with them. They grew crops that were similar to those growing in Tennessee and Kentucky which were hemp and tobacco. The culture and traditions led this county to becoming known as "Little Dixie."
The first execution in the county was of a slave named Annice back in 1828. She became the first female slave executed in the state of Missouri and was owned by a man named Jeremiah Prior. Annice was hanged, because she was found guilty of the murder of five children including two of her own in that count. By 1860, slaves made up about 25% of the total population. Members of the Latter Day Saint movement, an independent church group, took refuge in Clay County in late 1833.
However, violent mobs and the Missouri State militia drove the group away from their homes. Their leaders, even one notably named Joseph Smith, were imprisoned for a few months in the Liberty Jail. Clay County has many northern suburbs and even contains a portion of Kansas City. They also own the Midwest National Air Center in Excelsior Springs. Many of their political leaders are from the Republican Party.
The museum owns many photos and books from the early years of Clay County. Those interested in checking the place out can obtain a membership and provide donations so they can use it as funding to keep their research efforts going. One of their popular books is "Liberty's Loving Legacy" published from 1830 to 1899. The City of Liberty first revived the book in 2004 to be made available to the public and remained in effect for 14 years. The library is now bringing it back for use again.
Sources
"About Us," Clay County Archives and Historical Library~Liberty, Missouri . July 6th 2017. Accessed May 12th 2021. https://claycountyarchives.org/j3x/index.php/about-us.
"Clay County Archives & Research", Historical & Cultural Society. Accessed May 12th 2021. https://www.hcscconline.org/clay-county-archives--research.html.
Additional Information