Deering Estate at Cutler
Introduction
The stone home overlooking the Biscayne Bay was built in 1900 and first operated as an inn by Edith Richmond; it was called the Richmond Cottage. In 1916, an immensely wealthy businessman from Maine, Charles Deering, purchased the building and the 444 acres of land. He moved into the home in 1922 and resided there until his death in 1927. The home remained in the hands of the Deering family for over fifty years and fortunately was well preserved. Additionally, despite being located on the cusp of a densely populated and industrial area, the estate land is home to rare and threatened wildlife. Today, the house and land are open to the public for tours and exhibits of all sorts.
The most recent treasure to become a Heritage Park, the Deering Estate, was purchased by the State of Florida in 1986 for $22.5 million and is managed by Miami-Dade County.
The 444-acre site is an environmental, archeological, and historical preserve and is on the National Register of Historic Places.  
Images
Exterior of Deering Estate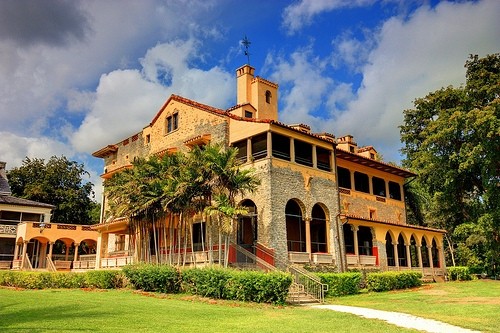 Backstory and Context
Charles Deering hailed from South Paris, Maine and was the son of William Deering, who co-founded Deering, Milikent & Company and then went on to establish Deering Harvester Company which eventually merged with McCormic Harvesting machine Company, forming the International Harvestory Company. Charles, who was Secretary of Deering Harvester, served as the initial chairman of the Board of the international company during the years of 1902-1910.
Charles had a specific taste for fine art and filled his Miami mansion with pieces by Spanish artists such as El Greco, Diego Velasquez, and Rembrandt. According to the Estate's official website, "In total, he amassed more than 4,000 pieces of art and had one of the largest collections of art in the world. His art collection was appraised at $60 million dollars in 1922." Charles was an artist himself and enjoyed painting portraits. Some of his own artwork, such as a painting of U.S. Army General William Denison Whipple, still hangs in the Stone House today.
The Deering site played an important role in the lives of early native populations. In partnership with the County's Office of Historic Preservation, surveys have been completed at the Deering Estate discovering new archeological sites on the property from Paleo to Pioneer periods.
With evidence of human settlements for 10,000 years, the Estate is also home to the Cutler Fossil Site and Cutler Burial Mound. From the Pleistocene era, the Cutler Fossil Site excavations have discovered a Paleo-Indian shelter and bones of megafauna. A number of Tequesta burials have been found in the Cutler Burial Mound, one of few surviving prehistoric mounds in Miami-Dade County. The burial site can only be visited with guided Natural Area Tours.
Sources
http://www.deeringestate.com https://www.youtube.com/watch?v=nL_LFJqUCTE
Buchsbaum, Karen. Can You Name Miami-Dade's Seven Heritage Parks?. August 1st 2018. 32 - 33.
, Wikipedia. Charles Deering Estate. Accessed March 17th 2022. https://en.wikipedia.org/wiki/Charles_Deering_Estate.
Deering Estate History, Deering Estate. Accessed March 17th 2022. https://deeringestate.org/history/.
Additional Information