Thomas Hart Benton Historical Marker
Introduction
This historical marker shares the history of artist Thomas Hart Benton who was born in Neosho in 1889 and lived in the area through his teenage years. He came from an influential family and was the son of a congressman. The Neosho's Most Outstanding Citizens Pathway has multiple plaques honoring famous people from Neosho, such as George Washington Carver. The short trail is publically accessible and north of Big Spring Park.
Images
A scene of the Benton family working on their farm.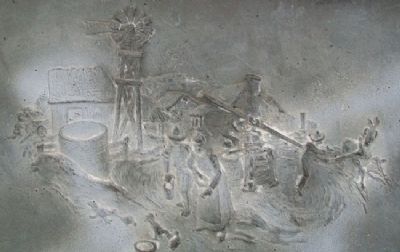 The plaque reads: "Thomas Hart Benton. 1889-1975. Thomas Hart Benton was born at 214 East McKinney St., Neosho, on April 15, 1889, the son of Congressman M. E. Benton, and grand nephew of Missouri's first senator, Thomas Hart Benton. Tom's early years were shared by listening to court house politicians and on campaign trips with his father. His memories of those years and observations of rural America greatly influenced his painting."
Self-Portrait with Rita (1922)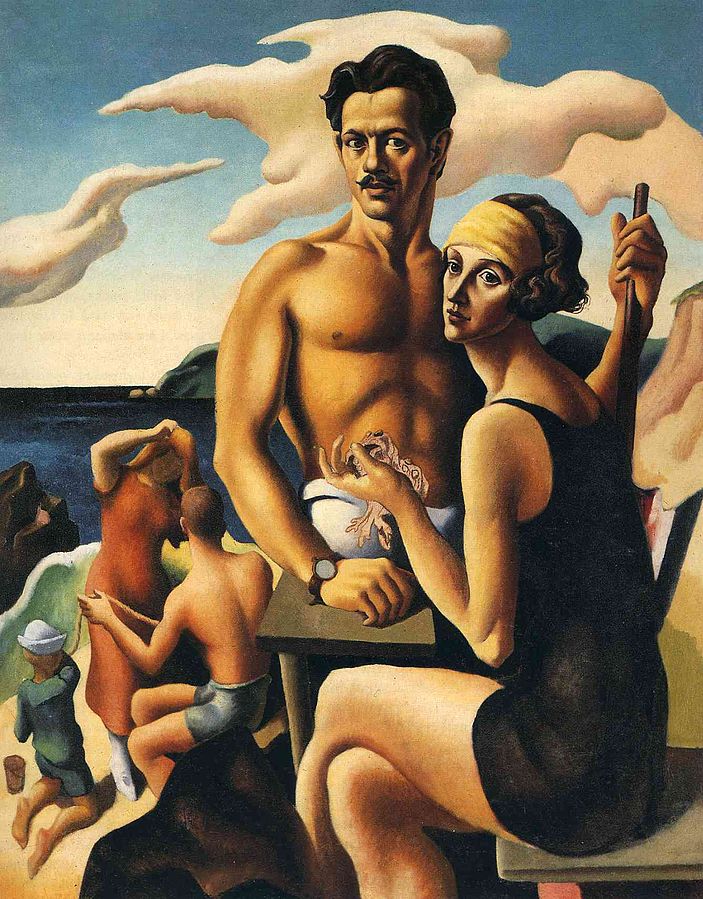 Backstory and Context
Thomas Hart Benton was born on April 15, 1889, the oldest of four children. His parents named him after his paternal great-uncle, the first United States Senator from Missouri in 1821 and later a Representative. Benton's father, Colonel Maecenas Benton, was also a four-time Representative. This rural yet worldly upbringing set up Benton for his future career. Though he gravitated to Midwestern life, he spent much of his time traveling the US and living in cities.
Young Benton spent his falls and winters in Washington, DC, and his springs and summers in Neosho. While in Missouri, the boy took care of the horse and cows on the family farm, swam in creeks, and interacted with local Indigenous people. He had a classic country upbringing. Benton began getting in trouble around Neosho and Joplin soon after his father's political career ended in 1905. When he was not riding the rails or drinking, Benton was drawing weekly caricatures for the Joplin American. Maecenas "was profoundly prejudiced against artists."[1] Benton's father sent Thomas to Western Military Academy in Alton, Illinois, in 1906, hoping to straighten him out. 
Young Benton, however, would never achieve his father's dream of becoming a lawyer, and academic studies never interested him. Instead, he began attending The School of the Art Institute of Chicago in 1907. Benton's mother saw his talent and always encouraged him to follow his passions. Though he found the classwork tedious, Benton enjoyed the city and the opportunity to pursue art. However, he soon felt the need to explore an even more vibrant scene. In 1909, Benton enrolled in the Académie Julian and later the Académie Colarossi in Paris. He began dipping into new styles, such as Impressionism and Synchromism. He delved into radical politics and a mistress, as did many other young men living in pre-World War I Paris. By the time his family stopped supporting his life abroad in 1911, Benton had become a worldly artist. 
Benton arrived in New York City in 1912, immediately surrounded by groundbreaking artists and showcases. He spent the next few years living among fellow young artists and developing his craft until he joined the navy for six months in 1918. In 1920, he met the Italian Rita Piacenza. The couple split their time between New York and Martha's Vineyard, eventually marrying in 1922. However, Maecenas' death in 1924 changed Benton. The young man spent much of the next two years traveling the country, especially the South and Midwest. These journeys continued for the better part of the next decade. He drew and painted the variety of people he saw there--the poor farmers, the white or Black. Benton saw everyone he recorded as worthy of being a subject simply because they had lived difficult lives.
The works Benton created raised his status and began to provide an income. The Indiana Murals, painted for the 1933 Chicago World's Fair, brought him his first mainstream acclaim. In 1934, Benton created a cover for Time magazine. He was able to get a job teaching at the Art Students League in New York just as his son Thomas was born. From 1926 to 1935, he taught his students to paint, especially using live models. His most famous student was Jackson Pollock, a central figure in abstract expressionism. The younger artist first attempted to mimic his mentor but eventually began to use Benton as a force to rebel against. Pollock's drip paintings directly contradicted Benton's focus on the real and objective. By the time his life in New York came to an end, Benton had made a significant impact on other artists of his time.
Thomas Hart Benton's stints in Neosho, Joplin, Chicago, Paris, New York, and the rest of the United States deeply influenced him. The travels show how deeply his childhood in rural Missouri affected him. Despite spending little of his later life in his hometown, Benton's childhood connected him to the people he portrayed. This historical marker is evidence of how vital Benton's representations are. His focus on small-town life gave a voice to those that American artists often ignored.
Sources
Benton, An Artist in America, 12.
Benton, Thomas Hart. An Artist in America. Edition 4. Columbia, MO. University of Missouri Press, 1983.
Wolff, Justin. Thomas Hart Benton: A Life. New York. Farrar, Straus and Giroux, 2012.
Image Sources
https://www.hmdb.org/m.asp?m=42992

https://www.hmdb.org/m.asp?m=42992

https://commons.wikimedia.org/wiki/File:Self-Portrait_with_Rita.jpg

Additional Information