General Sterling Price Monument
Introduction
This monument to Confederate General Sterling Price was dedicated by the state of Missouri in 1915 owing to the influence of members of the local chapter of the United Daughters of the Confederacy, an organization dedicated to vindicating the historic memory of the Confederacy. UDC members dedicated themselves to presenting the antebellum South in a favorable light and worked to influence local schools to adopt books and curriculum that vindicated the Confederacy and minimized slavery. The appearance of this monument to Price in his Confederate uniform demonstrates the political influence of the UDC in the early 20th century as he and his band led devastating raids through Missouri that led to the destruction of many lives.
Images
The United Daughters of the Confederacy raised funds and pressured local politicians to erect this monument to General Sterling Price in 1915.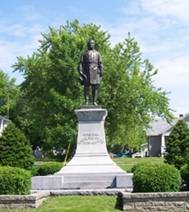 Backstory and Context
Price was elected Missouri's 11th governor in 1852, but the UDC's decision to depict Price as a Confederate general in this monument rather than as an antebellum political leader demonstrates their commitment to vindicating the Confederacy even to the point of celebrating the leader of many devastating raids. As governor, Price did nothing to stop the deadly raids of Missouri pro-slavery men who attacked Free State settlers in Kansas.

Price was initially neutral at the outbreak of the war and had come to see slavery in a negative light. Price had been a conditional Unionist but when Northern troops occupy military posts in Missouri he came to increasingly support the Confederacy. Price led Confederate troops for most of the war but his most famous involvement was the attempt to wage war against Union troops in Missouri in hopes of capturing control of the state and turning political opinion against the Union. From being a moderate supporter of the Union and hoping that Missouri could remain neutral or even help to bring the North and South together, Price became one of the most notorious Confederate raiders and led many deadly attacks on the people of his state.

In September of 1864, Price led an attack on pro-Union and neutral communities throughout Missouri, bringing destruction throughout the state in hopes of reversing his state's growing support of the Union. Price fled the United States and moved to Mexico after the war but returned two years later. He died on September 29, 1867 with a handful of supporters. Few Missourians would believe that he would be memorialized for his service to the Confederacy at the time of his death, but the UDC became increasingly influential throughout the state of Missouri by the early 20th century.
Sources
Castel, Albert. General Sterling Price and the Civil War in the West. Baton Rouge: Louisiana State University Press, 1968.
Additional Information