Fort Belvoir
Introduction
Fort Belvoir is US Army installation located in Alexandria, Virginia. Belvoir is one of the largest Army bases in the vicinity surrounding the Washington, DC area. It began as Camp A. A. Humphreys around 1915, and soldiers trained there as the United States became engaged in World War I. It serves as the proving grounds for many servicemen and women in training. Its long history from a camp in a rural area to a major installation has brought it through every major American war since World War I. Several historic structures and sites exist on the grounds of the fort.
Images
Aerial View of Fort Belvoir. Source:Fort Belvoir. N.d. Military.com, Belvoir, Virginia. Military.com. Web. 24 May 2015.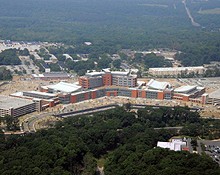 Fort Belvoir when it was Camp AA Humphreys. Camp A.A. Humphreys. N.d. Fort Belvoir, Belvoir,VA. For Belvoir. Web. 24 May 2015.

Backstory and Context
On the eve of WWI, what would become For Belvoir was established as the Camp A.A. Humphreys. This was named in honor of General Andrew Humphreys, the chief of Engineers and a Civil Commander. Its construction occurred under the unforgiving conditions of 1918 winter, with labor being performed mostly by the Black servicemen who were in the segregated regiments. Seven hundred and ninety wooden structures were built for the 20,000 men who were expected to be stationed at the camp. After construction was complete, schools such as the Engineer Training and replacement camp were established throughout the war. The Army gas school also ran here as a way to prepare officers to deal with the deadly poison gas warfare. Camp A.A. Humphreys was also used as medical center during the Spanish Flu outbreak of 1919.
In the post war-period, servicemen also returned to have aided the transition after being released from their duties of the war. The fort was renamed Fort Belvoir, a reference to the historical Belvoir plantation which once existed nearby.
As WWII sprung across Europe and Asia, Fort Belvoir would once again become a major site for the installation of various purposes. Engineers were especially preparing for whatever warfare might come to the shores of the United States during this time period. New expansions included an Engineer Replacement Training Facility (ETRC), which provided engineering training to the draftees. After the war began, the new weapons introduced would expand the curriculum of the program. Unfortunately, the historically Black Woodlawn community was demolished and many of its residents were forced to relocate elsewhere.
A major accomplishment of Fort Belvoir during this era was advent of the obstacle course. Brigadier General William Hodge would introduce this through the use of the ERTC. The course was officially established in November of 1941, just a month before Pearl Harbor. Also notable is the establishment of the Women's Auxiliary Army Corps, (WAAC) which in March of 1943, would make home at Fort Belvoir. This organization employed women in communication jobs as well as vehicle repair.
After WWII, Fort Belvoir would undergo some major restructuring that would have it changed in order to adapt to more modern uses. While the engineering schools would be shut down and reopened again for Korea and Vietnam, two more schools on short-range combat as well as another school to deal with chemical, biological, and radiological weapons. The Research, and Development Laboratories also was established to allow for handling of special weapons. The Defensive Mapping School (DMS), and Defense Systems Management College (DSMC) were also a major legacies on Fort Belvoir of the Post-WWII era, which established in 1957 until they moved to Fort Monmouth, New Jersey. The engineering schools would be moved out of Fort Belvoir in 1988 and today Fort Belvoir's main housing is that of agencies within the Department of Defense.
Sources
United States Army. U. S. Army Fort Belvoir, November 26th 2019. Accessed December 1st 2019. https://home.army.mil/belvoir/.
United States Army Installation Management Command. World War II Period: 1940-1945 [archived Web page], Fort Belvoir. February 20th 2019. Accessed December 1st 2019. https://web.archive.org/web/20190220120148/http://www.belvoir.army.mil/history/WWII.asp.
Image Sources
http://www.military.com/base-guide/fort-belvoir

http://www.belvoir.army.mil/history/Humphreys.asp

Additional Information