The Cannonball House
Introduction
If thoughts of the old Confederacy and the Civil War seem a distant thought in the mind of visitors to Macon, the Cannonball House, named after a Union cannon that once "bounced" into the family parlor, may startle the unsuspecting visitor. Built as a planter's townhouse in 1853, today the Greek Revival-style house is Civil War Museum, managed by the United Daughters of the Confederacy. Interestingly, the house also contains the recreated "Founders' parlors" (or meeting rooms) of the world's first two sororities, the Adelphean (ΑΔΙΙ) and Philomathean (ΦΜ) societies. They were recreated from Wesleyan College, where the sororities first began in 1851 and 1852.
Images
The Cannonball House overlooks Mulberry St.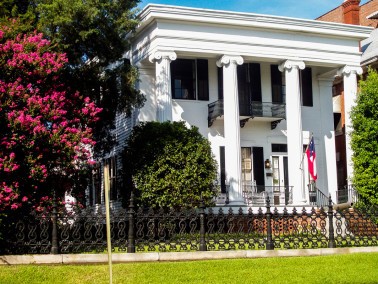 Above the brick kitchen, seen in the picture, were rooms for the enslaved individuals who worked in the house.
The formal dining room of the Cannonball House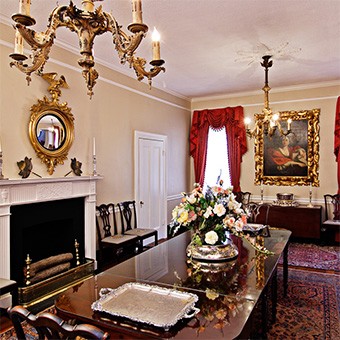 Backstory and Context
The name "Cannonball House" may have stuck, precisely because there was not a plethora of homes competing for the title. In fact, Judge Asa Holt's home (today known as the Cannonball House) was the only home in Macon, GA to suffer damage from the Civil War. That fact alone is remarkable, considering its centrality in George. It had been a key stop in nearly every form of transportation from its founding. Moreover, during the Civil War, the town was home to the Macon Arsenal and prison camp, which housed up to 1,500 Union officers. At one point, the Confederate Georgia's capitol was even moved to Macon, and it held the very last session of Confederate Georgia's Legislature in May, 1865.

All of these facts make it significant (and surprising) that Macon survived the war without significant damage. Instead, all the damage in the entire town can be seen in a repaired columnn and the dents in the plaster of the antebellum Cannonball House. The damage came when Major General George Stoneman attempted to invade the city on July 30, 1864. Using the Dunlap Farm as a base, the Union army fired many cannons into the town, but only the one cannon that landed a Judge Asa Holt's house hit an actual structure. The rest caused no damage. The Union army lost the battle and left Macon.

The Cannonball House provides an interesting glimpse into the antebellum history of Macon. Tours are 45 minutes long and explain the history from the time of building the house through the restoration period. Women's history can additionally be explored through a glimpse into the rooms of the first sororities.
Sources
http://www.gacivilwar.org/story/macon-during-the-civil-war http://www.cannonballhouse.org/history/
Additional Information