Sidney Lanier Cottage
Introduction
The Sidney Lanier Cottage was constructed around 1840, but the home's real fame would come a short time later in the form of Sidney Lanier, who was born in the cottage in 1842. Today the house, while also on the National Register of Historic Places, holds the extra honors of a Landmark of American Music and a Landmark of American Poetry. These honors are a direct result of the young man that lived his first years of life in the house--the budding genius that would one day be known as both poet and musician. Though his life was cut short by a long struggle with tuberculosis (resulting from his five-month stay as prisoner of war in a federal prison as a young man), his works are still commemorated today.
Images
Poet and Musician Sidney Lanier was born in this home in Macon, GA.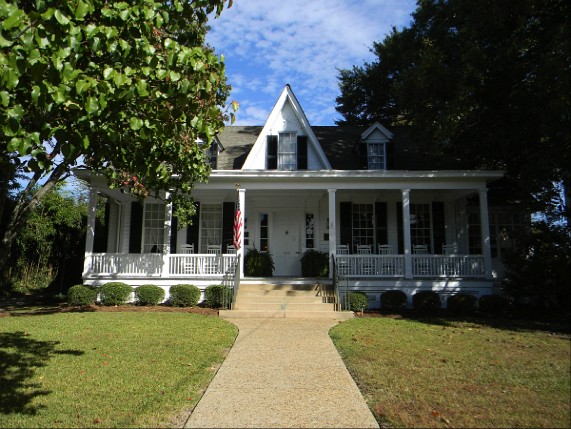 Backstory and Context
There are a few examples in history of artists, who with relatively short lives, make a significant impact. Sidney Lanier is one of those examples, and his work is still well-loved in the Southern states that were home to him. Born in 1842 in Macon, Georgia, as the son of a lawyer, Lanier's childhood at the cottage was dominated by a growing passion for music. He self-taught and studied many different instruments, including the violin, flute, guitar, banjo, and piano.

At age 14, Lanier's family sent him to Oglethorpe College in Milledgeville, Georgia. After graduating with high marks at the age of 18, Lanier was offered a tutorship at the college. However, the outbreak of the Civil War changed his plans for him. In 1861, Lanier enlisted in the Confederate Army, serving alongside his brother. In 1864, Federal troops captured Lanier, and he spent five months as a prisoner of war, during which time he contracted "consumption" (tuberculosis).

Following the war, Lanier used his experiences as a soldier to write Tiger Lilies, delving into the hardships and pain of war. The years 1874 through 1879 were Lanier's most prolific in his literary career. During this time, he also held the position of first flute in the Peabody Symphony Orchestra in Baltimore for seven seasons, and in 1879 he became an English lecturer at John Hopkins University. By 1880, when Lanier wrote his final poem, "Sunrise," he was already quite unwell. On September 7, 1881, Sidney Lanier died in Lynn, North Carolina.



Sources
http://www.poets.org/poetsorg/poet/sidney-lanier http://www.sidneylaniercottage.org/historic-home/
Additional Information