Reynolds Brothers Shoes
Introduction
The Reynolds Brother Shoe was the largest manufacturer of shoes in Utica. They operated from several different buildings over the years. They specialized in the manufacturing of high-quality women and children's shoes. The Reynolds Brothers had the largest factory in Utica. Their first factory was located here at the corner of John and Broad Street.
Images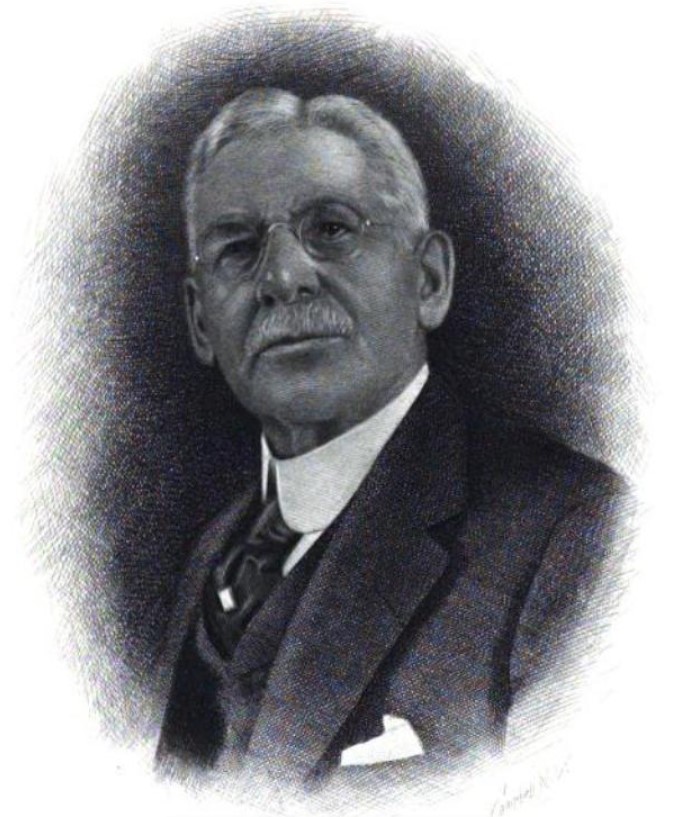 Reynolds Brother Building, Fourth Factory building and showroom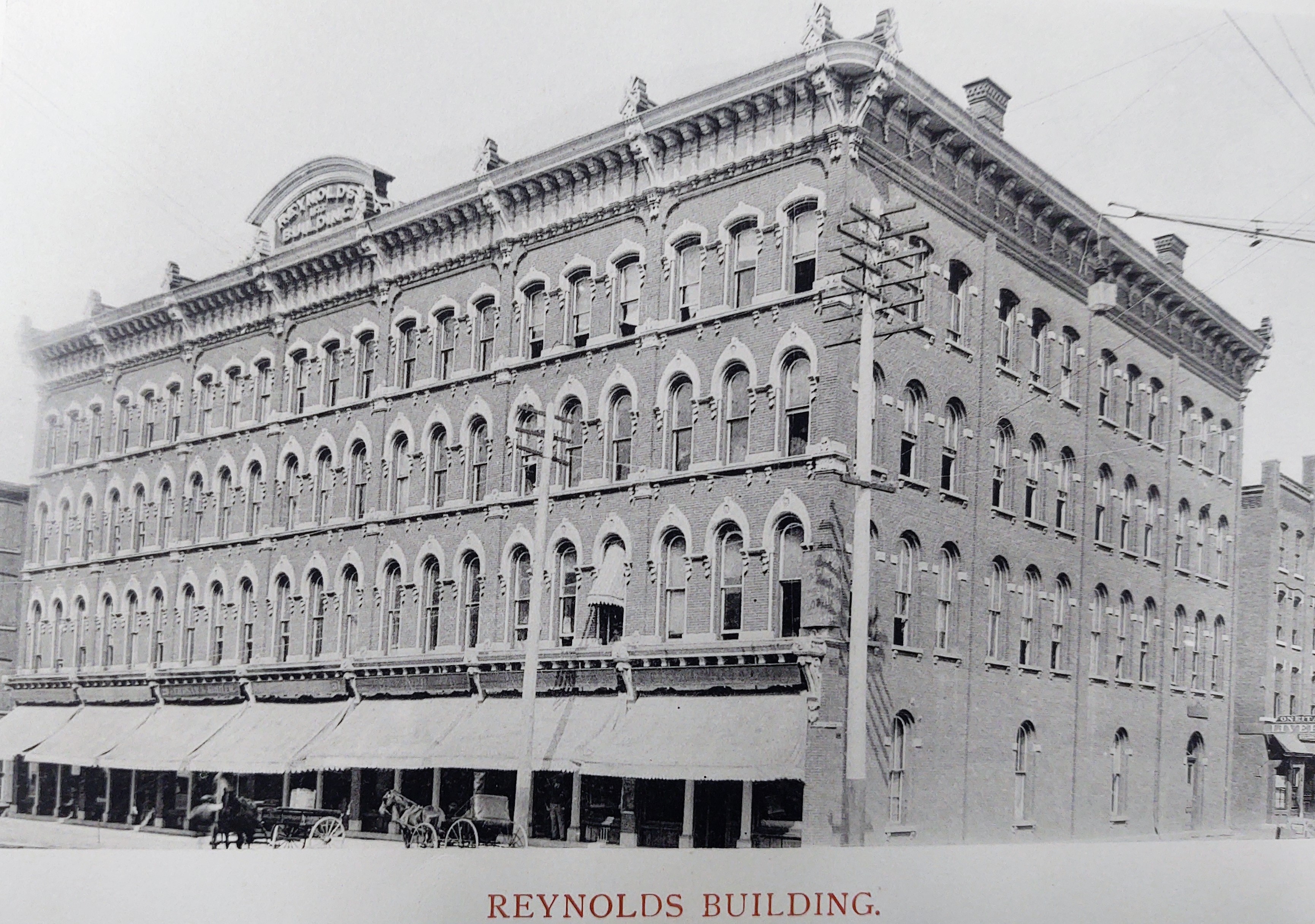 Reynolds Brothers Trade Card Front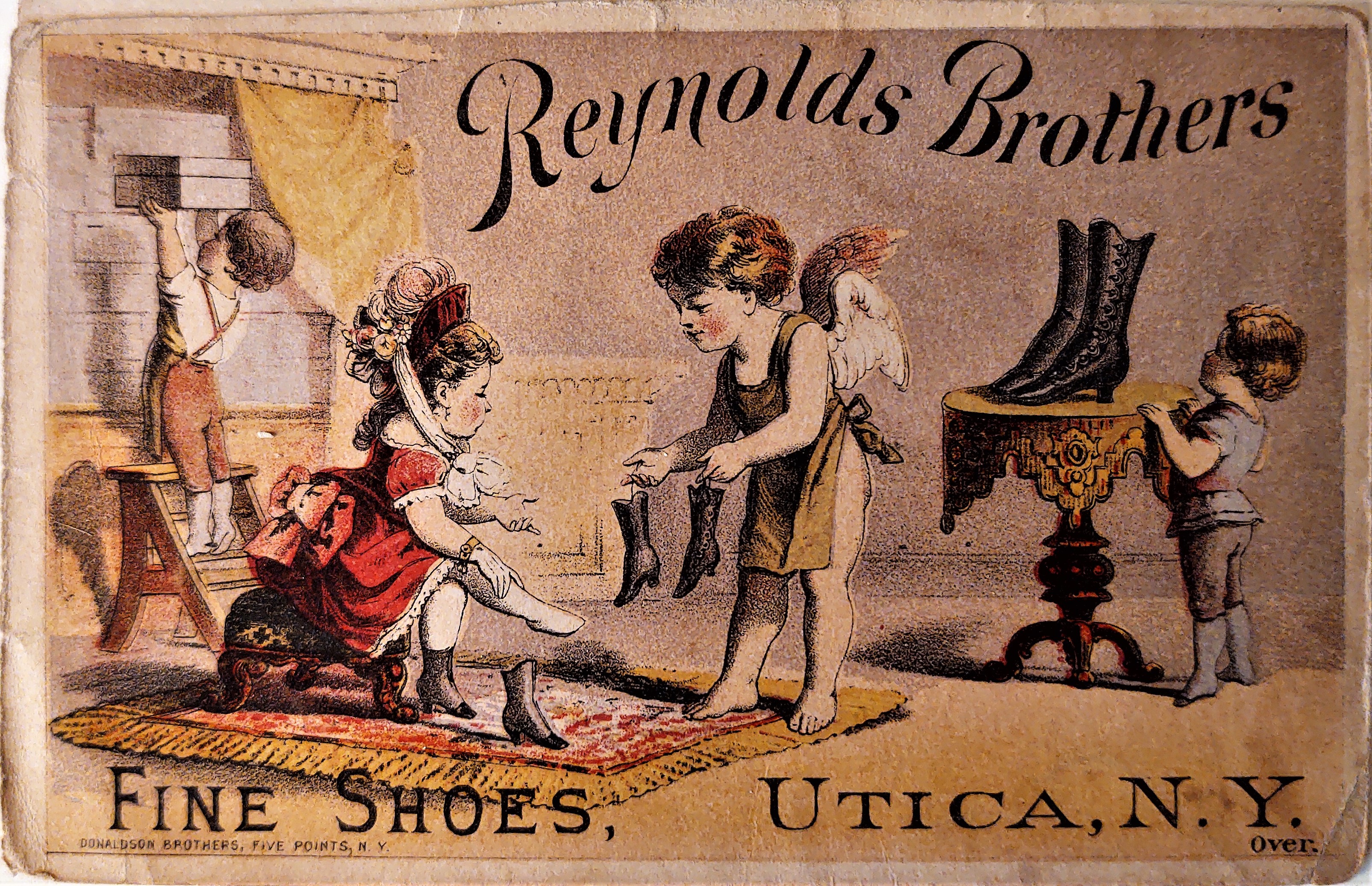 Reynolds Brothers Trade Card Back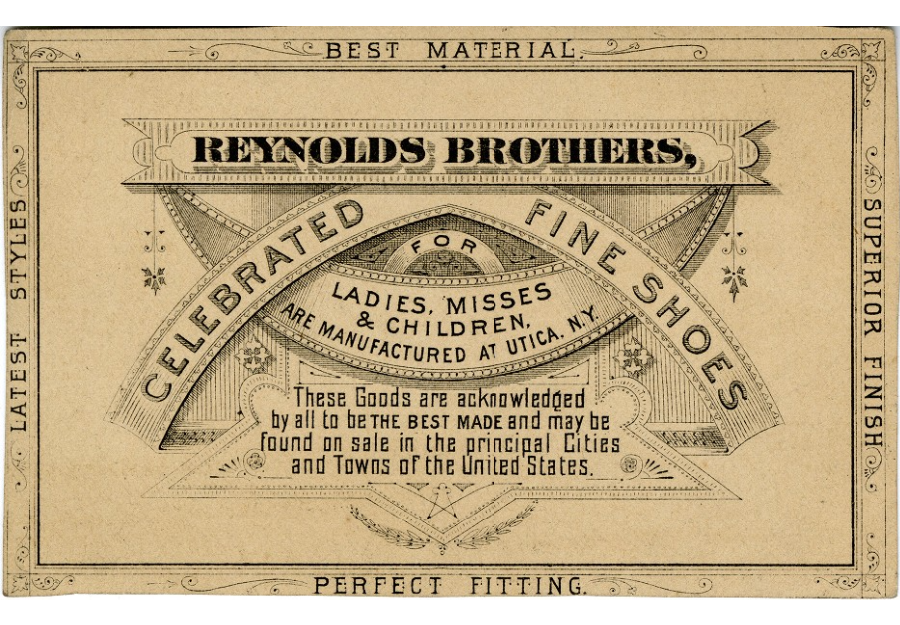 Reynolds Brother Trade Card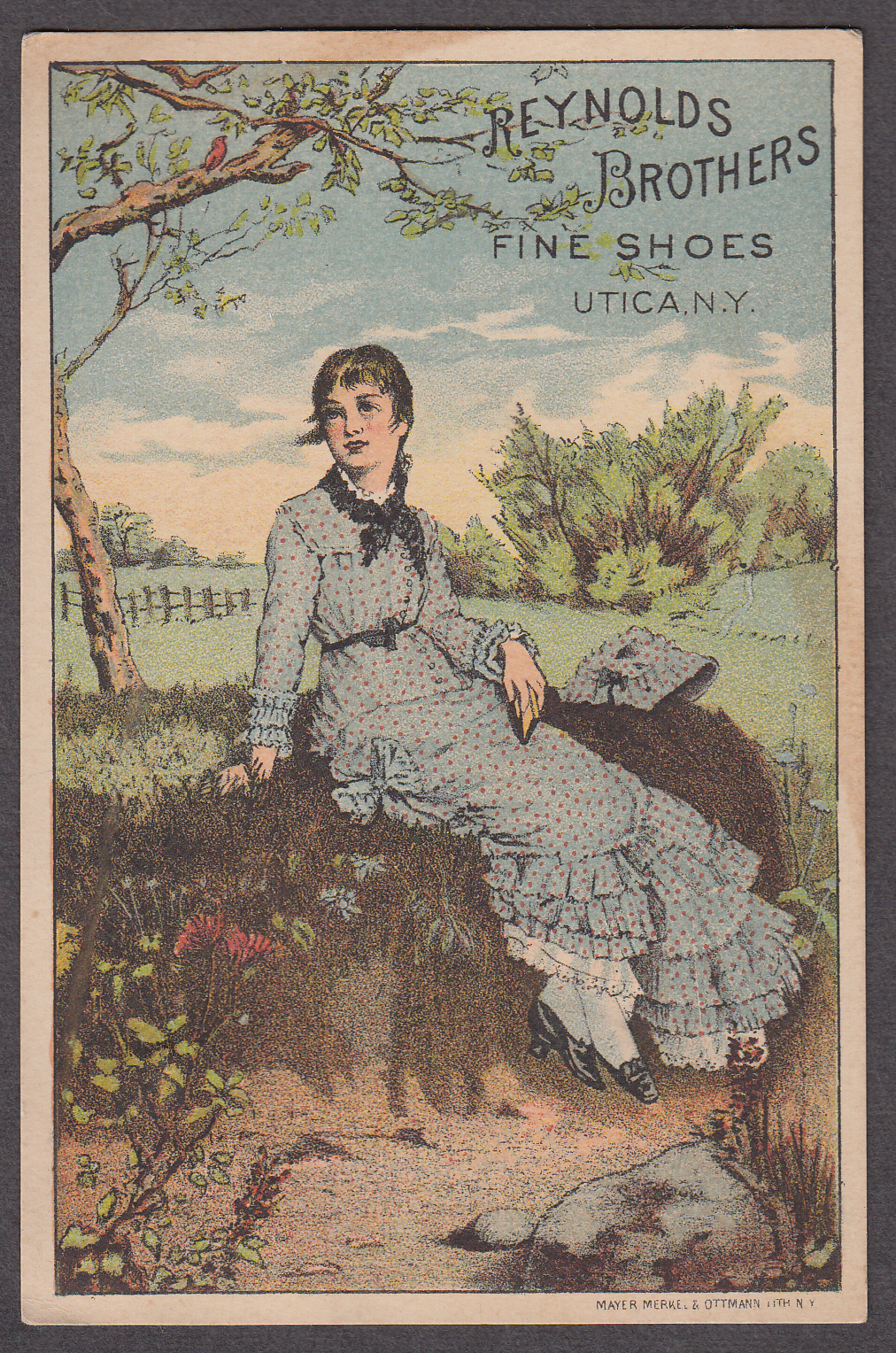 Labor Strike of November 1888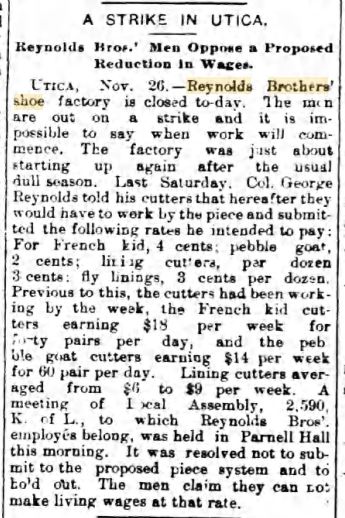 Reynolds Brothers Building towards the end, about 1972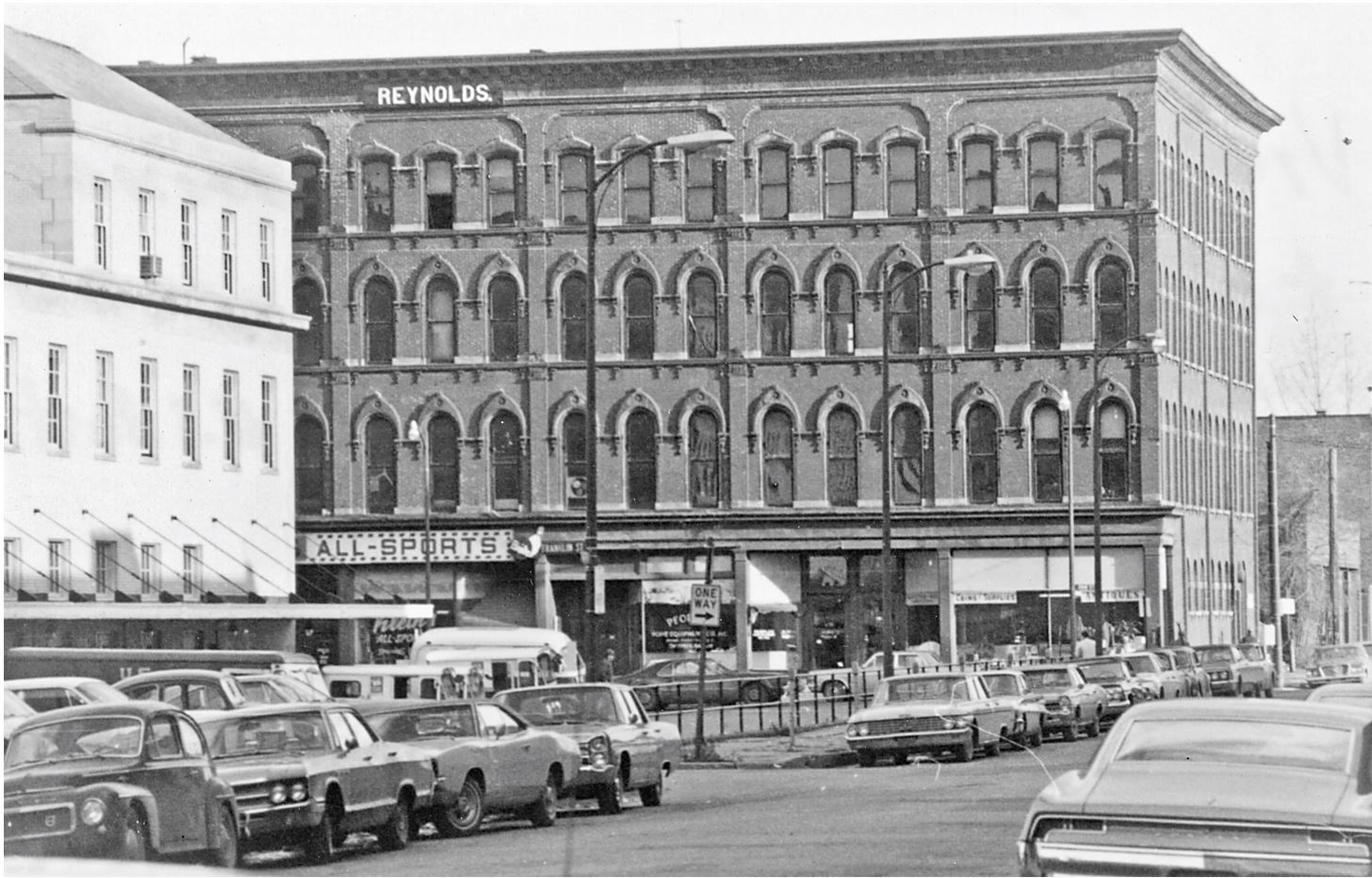 Backstory and Context
Shoe manufacturing became mechanized when steam engines began to be used in factories. Large-scale factories flourished in the 1870s and 80s when Utica made 1,500 – 2,000 pairs of shoes each working day by over two thousand workers.
R. S. & W. H. Reynolds started business in 1865 at 6-8 Fayette street, employing sixty-eight workers and producing 268 pairs of ladies' and misses' shoes daily. In 1866 their brother George A. Reynolds joined the firm, and in 1867 the plant was moved to 21-23 Blandina street. In 1873 this factory was partly destroyed by fire, and the firm purchased the old "Military Hall" on the corner of John and Catharine streets and began the work of enlarging and re-modeling the building. Their shoes bore the trademark UTK and were equal to the finest made in the country. The eldest brother, Samuel, withdrew and moved to Chicago, where he had extensive real estate holdings. When William H. Reynolds died in 1874, George Reynolds continued the business.
Richard Samuel Reynolds Biography:
Richard was born in New Hartford and was educated at the Whitestown Seminary. He was sophisticated in his tastes, quiet in manner, and enjoyed the best in literature. Richard studied telegraphy and began his career. He journeyed westward in 1858 with John Butterfield and worked in Denver when it was a settlement of only 6 log cabins. He was very successful as a telegraph operator, gold hunter, and stagecoach operator. He worked as a telegraph operator in Arkansas and was later in charge of a telegraph office in Colorado. While in Colorado, he began to work for the Wells - Butterfield Express and was put in charge of a 400-mile route!
In 1865, Richard returned to Utica and partnered with his brother, William, to manufacture women's fine shoes. The Reynolds Brothers began on the corner of Genesee and Liberty streets grew rapidly, moved to Blandina Street, and then to the corner of Catherine and John streets. At the start, the Reynolds Brothers made about 120 pairs of shoes a day and grew to about 1,500 pairs a day. Their shoe factory was the largest of five in Utica and had a reputation for representing quality and fair pay. Richard S. Reynolds was instrumental in establishing one of the great manufacturers which for many years made Utica an industrial center, and spread its name afar."
In the 1880s, the company employed 1,000 workers and made one thousand pairs of shoes daily. They did a business of $800,000 a year, and the total sales of the factories in Utica were $2,000,000 yearly. (The equivalent of $63,000,000 today).
Reynolds had ongoing trouble with organized labor and strikes and permanently closed the factory in November 1893. The building continued to be used but had a terrible fire in 1901. It was rebuilt but torn down as part of urban renewal in 1974.
We now go to the Hurd building, one of the last remaining architectural remnants of Utica's once thriving shoe district.
Sources
Accessed May 31st 2022. www.oneidacountyhistorycenter.org.
Image Sources
Oneida County Histroy Center

Oneida County Histroy Center

Oneida County Histroy Center

Oneida County Histroy Center

Oneida County Histroy Center

Rome Daily Sentile, Nov 26, 1888

Oneida COunty History Center