Charles J. And Clara B. Schmidt House
Introduction
Built in 1897, The Charles Julius and Clara Bosch Schmidt House, an example of Missouri German Vernacular, survives as the oldest remaining building on its block. The block, part of a German enclave, later became divided and platted as Schmidt's Subdivision. Charles J. Schmidt, the first resident owner, worked as a carpenter and homebuilder. Schmidt likely subdivided this land himself, intending to build houses on the lots. Missouri-German builders contributed to the Missouri-German Vernacular architecture of the neighborhood, which speaks to the abundance of German immigrants that came to Missouri during the period. 
Images
Charles J. and Clara B. Schmidt House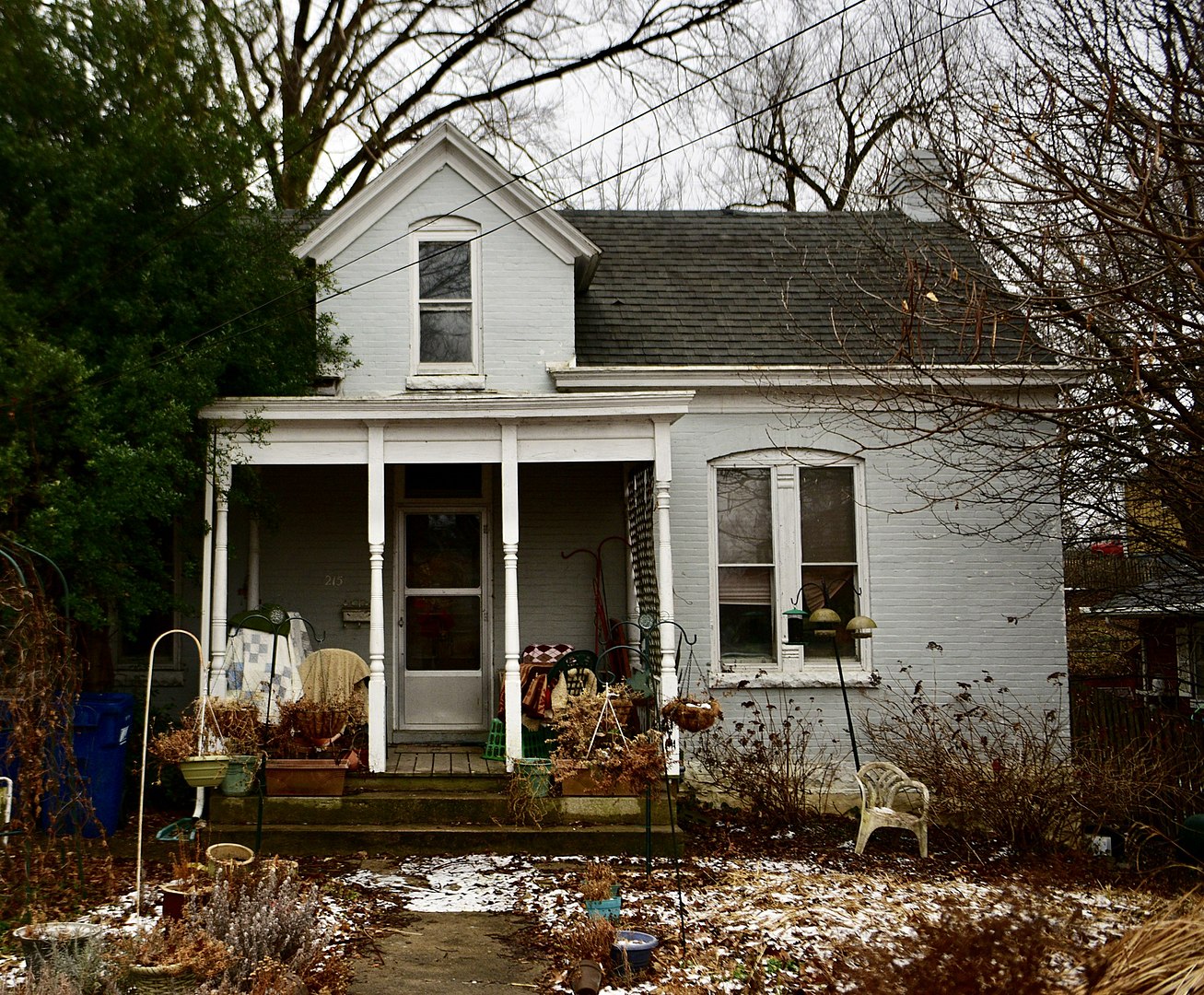 Backstory and Context
The house sits on a block once owned by Wilhelm and Wilhelmina Schmidt, who purchased the property from Adam and Levi Routsnong at the end of the Civil War in 1865. Wilhelm and Wilhelmina married in 1854 after emigrating from Germany. They settled in a Bavarian enclave within Jefferson City. Indeed, by 1870, German-born people made up nearly fifteen percent of Jefferson City and vicinity residents. 
The Charles J. and Clara B. Schmidt House, constructed in 1897, mainly consists of a German Vernacular design, but some Victorian details speak to the influence of American architecture. Some indications point to Charles as the home's builder, but the concrete proof to support that argument is lacking. However, Wilhelm, a horticulturist, planted a large elm tree in the backyard of the historic house, which still stands today. 
Although Charles Schmidt was the property's first resident owner, his mother, Wilhelmina Schmidt, owned the property and rented it to the home's first resident, Joseph Weiss. When he passed away in 1905, Wilhelmina transferred the house to Charles. Eight years prior, in 1893, Charles married Clara, and they went on to have eight children. As a result, Charles enlarged the house to accommodate his large family. After Wilhelmina died in 1919, at the age of 91, the block she owned was subdivided, platted, and given the name "Schmidt's Subdivision."
Charles enjoyed success as a carpenter, and he became president of the local carpenter's union in 1913. Craftsman unions increased substantially after the 1890s. Between 1860 and 1910, the U.S. population tripled, as did the nation's industrial workforce; many comprised of immigrants. The Gilded-Age clash between business owners and workers led to numerous unions, strikes and sometimes violent worker uprisings. The establishment of the American Federation of Labor, a national federation of unions for skilled workers, gave greater strength to the skilled labor movement. And carpenters regularly joined unions; membership in the United Brotherhood of Carpenters reached 200,000 by 1910, and then 400,000 by 1920.
Charles also participated in singing groups while Clara led in organizing activities for the German Evangelical Central Church. They maintained much of their German heritage, helped partly by the abundance of German Americans in Jefferson City. Charles lived in the house until 1943, and the historic home remained in the Schmidt family until 1991, when the estate of Pauline Schmidt, daughter of Charles J. and Clara B. Schmidt, sold the house.
Sources
Beetem, Jane Rodes. "Registration Form: Schmidt. Charles J. and Clara B. House." National Register of Historic Places. mostateparks.com. 2002. https://mostateparks.com/sites/mostateparks/files/Schmidt%2C%20Charles%20J.%20and%20Clara%20B.%20House.pdf.
Bergerson, Andrew Stuart and Thorsten Logge, eds. German Migration to Missouri: A Transnational Student Research Project. 2019. https://www.geschichte.uni-hamburg.de/arbeitsbereiche/public-history/ebooks1/gmm-1-2019.pdf.
Burnett, Robyn and Ken Luebbering. German Settlement in Missouri, New Land, Old Ways. Columbia: University of Missouri Press, 1996.
Feurer. Rosemary. Radical Unionism in the Midwest, 1900-1950. Champaign: University of Illinois Press, 2006.
Johnson, Hildegard Binder. "The Location of German Immigrants in the Middle West." Annals of the Association of American Geographers 41, no. 1 (1951): 1–41. https://doi.org/10.2307/2561181.
Suhrbur, Thomas J. "The Economic Transformation of Carpentry in Late-Nineteenth-Century Chicago." Illinois Historical Journal 81, no. 2 (1988): 109–24. http://www.jstor.org/stable/40192223.
Image Sources
By Jim Roberts - Own work, CC BY-SA 4.0, https://commons.wikimedia.org/w/index.php?curid=66540213

Additional Information