San Diego Air and Space Museum
Introduction
Located in San Diego's Balboa Park, the San Diego Aerospace Museum is one of the country's premier museums dedicated to aviation history. The museum receives hundreds of thousands of visitors per year and houses many rare aircraft including the Spitfire Mk. XVI, a Navy F6F Hellcat, and an A-4 Skyhawk jet. It offers various educational programming which includes lectures, workshops, and school days. The museum also houses a library that contains thousands of books, manuals, personal papers, and two million images and videos. It is the first air and space museum in the country to be accredited by the American Alliance of Museums and it is also affiliated with the Smithsonian Institution. In 1986, the California legislature declared the museum to be "California's Official Air and Space Museum and Education Center."
Images
Museum's current location in the historic Ford building.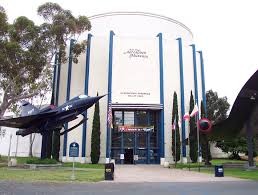 Backstory and Context
The museum was founded in 1961 by local aviation enthusiasts, including a U.S. Navy veteran. It opened in 1963 in a vacant building in Balboa Park and was an immediate success; almost half of a million people visited it during the first six months. The library and archives opened in 1965. Plans were in motion to move the museum to the larger, vacant Ford building in the park, but a devastating fire destroyed much of the original museum and its contents. Thanks to a community wide effort, the museum opened in the Ford building in 1980.

The museum continued to grow its collections and enhance programming over the following decades. This included a 2006 acquisition of the former General Dynamics Low Speed Wind Tunnel at San Diego's Lindbergh Field, where companies and individuals can test equipment and students can study aerodynamics. The museum also pays homage to the historic building in which it now resides with an online exhibit entitled Wheels to Wings. The old Ford building is an represents an interesting history in its own right. Out of five Ford Motor Company Exposition buildings from the 1930s, this is the only one that remains. Its edgy architecture is a product of modernist trends of the 1930s.

Sources
"Museum History," San Diego Air and Space Museum, accessed March 30, 2017, http://sandiegoairandspace.org/museum/museum-history

"Low Speed Wind Tunnel," San Diego Air and Space Museum, accessed March 30, 2017, http://sandiegoairandspace.org/museum/low-speed-wind-tunnel

"Introduction to the Ford Building," San Diego Air and Space Museum, accessed March 30, 2017, http://sandiegoairandspace.org/exhibits/online-exhibit-page/introduction

Additional Information